A race that has surged to international prominence in just over a decade, RORC's Caribbean 600 is now one of the most popular events on the Caribbean circuit and one of the major middle-distance ocean races on Earth. For its 12th edition, the annual race around 11 Caribbean islands drew a record-setting fleet of more than 70 boats and 700 sailors representing at least 37 nations. With a forecast that was atypically light compared to the oftentimes brutal trade winds that dominate the region, 73 teams took to the start under sunny skies and on Monday, February 24, in Antigua.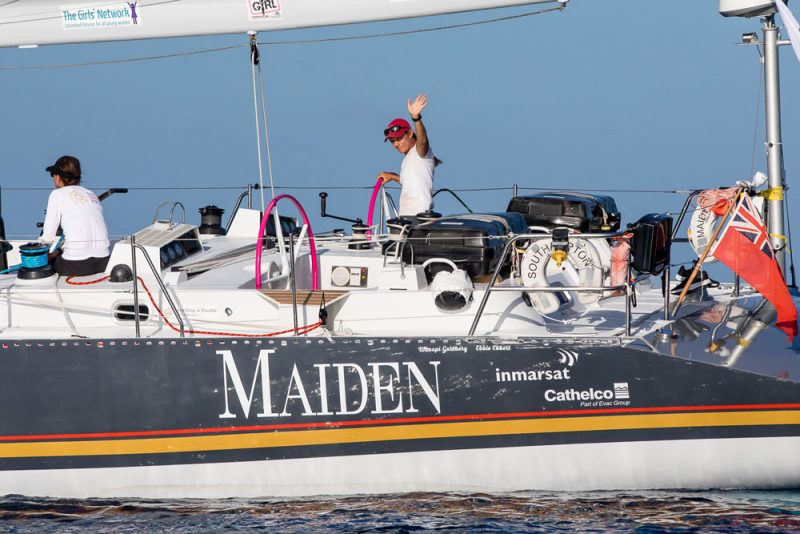 Unfortunately, Ron O'Hanley's American Cookson 50 Privateer never made the start. They apparently hit an uncharted rock before the start, smashing off their rudder and forcing them to retire before their race even began. "Our instruments were showing us in 20 feet of water off Half Moon Bay, but we must have hit a rock." Half Moon Bay lies on the southeast coast of Antigua. "The rudder broke right off. ABSAR (Antigua Barbuda Search and Rescue) got to us in 30 minutes and did a really professional job — we owe them a huge thanks," said Ron.
Multihulls
It was a drag race to the first turning mark at Barbuda, where much of the fleet parked up in a wind hole before restarting en masse. This phenomenon, not uncommon in a race around 11 islands, has been accentuated this year by the lighter-than-average forecast. No matter how big the wind hole, a maxi-trimaran will find a way to punch through. That's exactly what the trio of MOD 70s that highlighted the eight-boat MOCRA multihull division did. With Jason Carroll's Argo, Peter Cunningham's Powerplay and Giovanni Soldini's Maserati reunited for the first time since last year's California Offshore Race Week and Transpac, the three 70-footers picked up where they left off. Argo and Powerplay enjoyed a private match race up front while Maserati languished behind.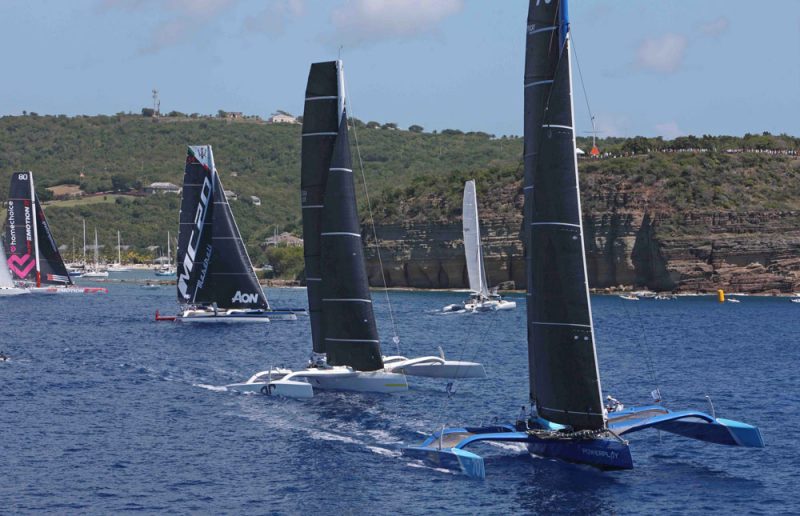 This match race would extend all the way around the race course, with Argo and Powerplay swapping the lead a number of times in their own private duel. Maserati would come roaring up from behind when the two leaders would slow behind an island only to accelerate away again. At the end of a thrilling 600-mile-long tussle, Peter Cunningham's Powerplay — again with Northern Californians Matt Noble and Paul Allen aboard — came out victorious. Argo finished just four minutes behind after about 46 hours of racing. Maserati came home two hours later to claim third on line honors. A difference in boat setup and sail inventory sees Argo with a slower handicap however, and therefore Argo beat Powerplay on MOCRA handicap. They all trail Adrian Keller's fast 78-ft English-flagged cruising cat Allegra, which is still on the racecourse.
Monohulls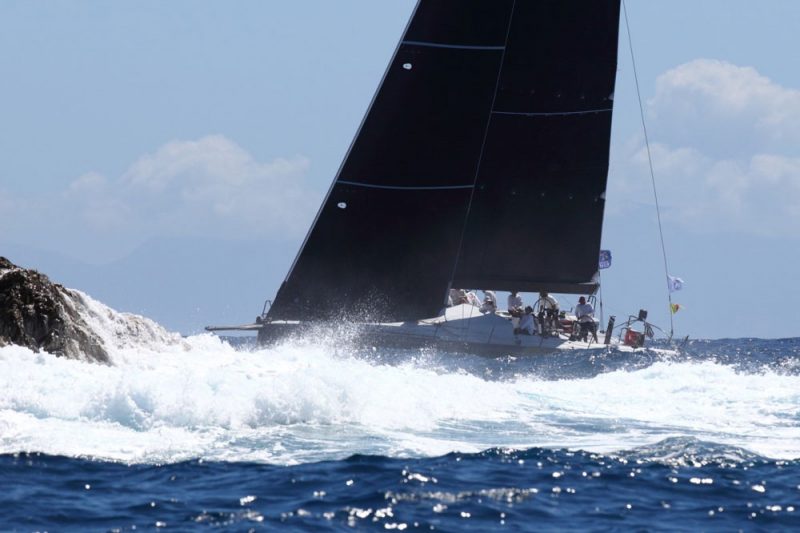 In the monohulls, the 2018 Pacific Cup-winning and syndicate-owned Mills 68 Prospector led for much of the race before the Askew brothers' Volvo 70 Wizard passed her. The monohulls are all still on the course and have quite a ways to go, but it's beginning to look abundantly clear that the only TP 52 entered in the race is going to walk out with some hardware. Tilmar Hansen's German-flagged TP 52 Outsider currently sits third on monohull line honors and is leading the IRC Zero division on handicap. Eric de Turckheim's globetrotting French-flagged 54-footer Teasing Machine — a serious contender in every race that she enters — is also factoring very well, though it is far too early to call a winner.
Receive emails when 'Lectronic Latitude is updated.
SUBSCRIBE