Happy March, everyone. We've got your new issue of Latitude 38. Here's what's inside this month:
A Shout Out to the Parents and Volunteers
In this month's Sightings, we take a moment to thank the countless volunteers who make junior sailing possible. Many of you have a different name besides 'volunteer' — you're also called 'parents'. Regardless of your role or how many hats you wear, we want you to know that we appreciate you. It is on your shoulders that a large portion of sailing's future is carried. You are helping to usher in the next generation of instructors, mariners, professional sailors, and perhaps even sailing-magazine writers.
In this month's Youth Sailing Through the Generations, we take a look at some of the sailing institutions that have produced grandparents, parents and kids who are all actively sailing in a junior program as either instructors or students. Nowhere are generational strata better represented than at Richmond Yacht Club. From October to April, RYC runs a 16-week program for juniors ranging from beginning to advanced. The program is run by volunteer instructors who are almost exclusively parents. "I've never seen this type of program at another yacht club," said Nick Nash (whose father Chris is also an instructor at RYC.)  "It's been a great place to grow up and bring my kids to a nurturing environment where everyone encourages the younger generations." Nick —  who went on to have his own kids in the program  for nearly 12 years — echoed his father's experience of meeting generations of sailors. "Even at 40, I run into people on the dock saying, 'I knew you as a child,' all the time. Every current instructor is an ex-junior-program kid who had their kids in the program."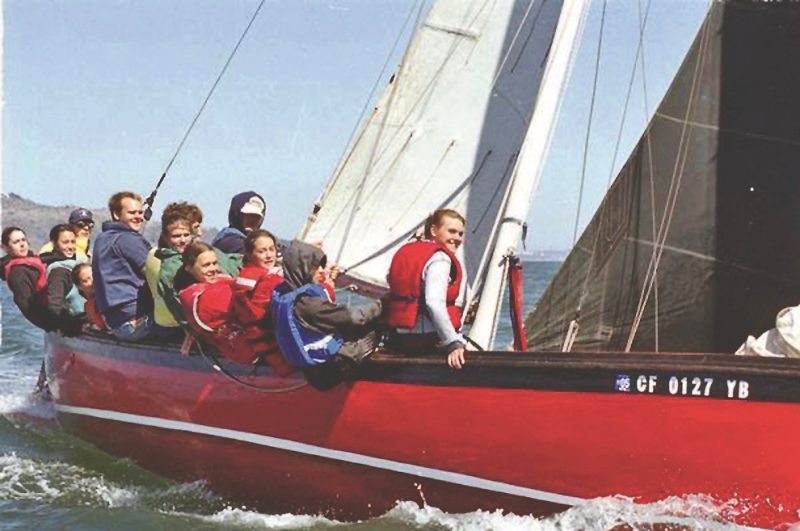 The Dumbest Thing I Did While Sailing
"A gust of wind caught the sail just right . . . and, as it lifted, the spinnaker filled," wrote Sandra Snyder about an embarrassing — but endlessly relatable — incident that happened to her and her husband David Wilson on their 46-ft steel ketch back in the '80s. "Suddenly it was fully out off the port side with me holding the ineffectual control line. I looked over my shoulder to yell for David and discovered he was in the process of heading skyward! My first thought was, 'This is a hell of a time to be playing around,' but he was doing it suspended from the halyard and flying up off the deck."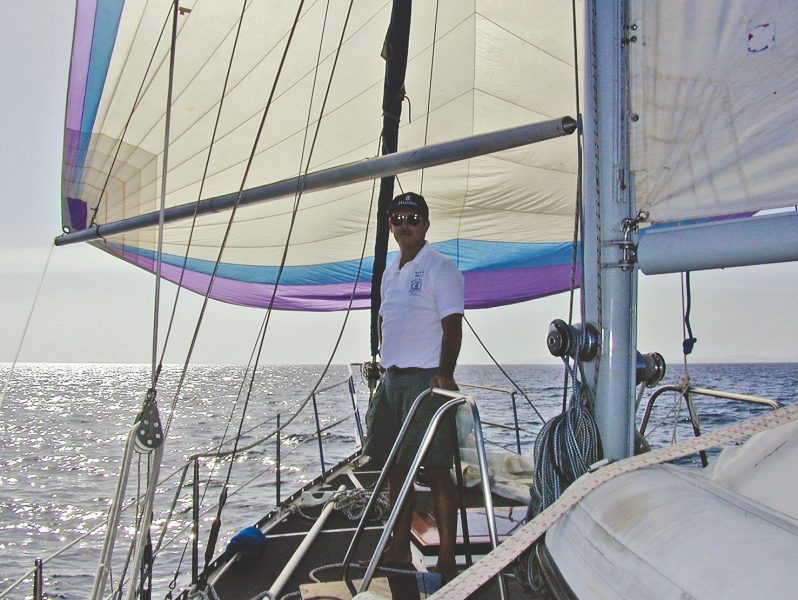 The Three Bridge Fiasco that Could Not Be Seen to be Believed
When vision is impaired, other senses become more acute — and more critical. On January 25, a low, dense fog obscured San Francisco Bay, and the single- and doublehanders in the Three Bridge Fiasco found themselves tuning in to the sounds around them.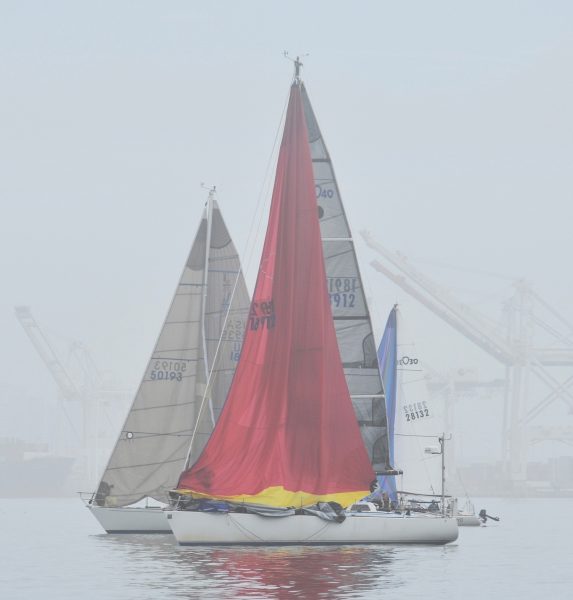 The noises started during the night with the song of foghorns on the Golden Gate Bridge. By 8 a.m., sailors preparing their boats in the San Francisco Marina were assaulted with the amplified urgings of outdoor boot camp trainers. The airwaves, on VHF 71 and 72, swelled with race check-ins, with no dead air between.
A Tour of Some Bay Area Do-It-Yourself Yard Work
"The days of Joshua Slocum's Spray, felling your own trees and building a boat in a field, are long gone — for most — but the boat repair undertaken by the self-sufficient sailor is still in full swing today," wrote Mitchell Andrus in this year's boatyard tour story, which focuses on sailors doing their own projects.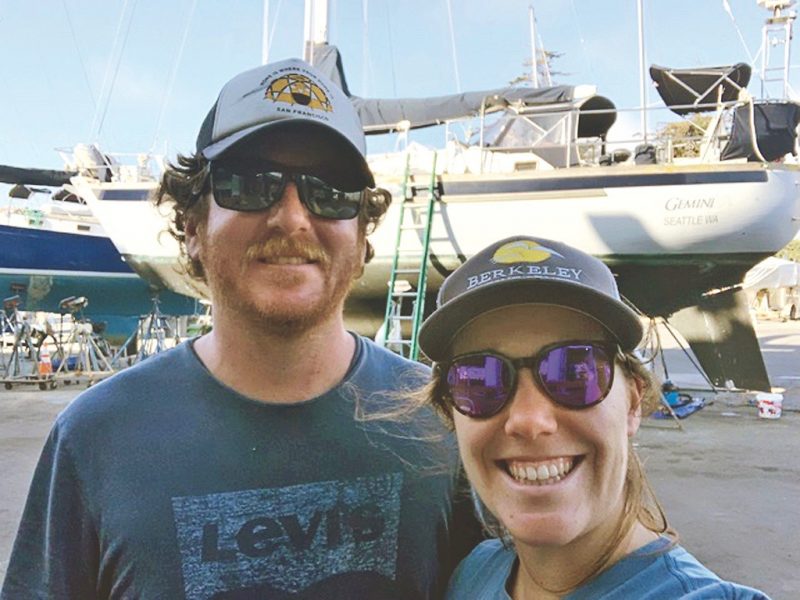 "What do boatyards think of DIY boat owners? Even yards that allow DIY-ing in California have strict rules and regulations. I found a few recurring themes among the DIY boat owners I interviewed: Most of them are considered 'young sailors' . . . . [almost] everyone is under 40 years old, most of them have more time than money, and they're interested in self-sufficiency. I keep using the pronoun 'they' but must admit I'm one of them. I share the same endless gratitude for the yards that allow us the opportunity to cover ourselves in bottom paint. Sure, maybe we sail a little slower than the commuter cruiser, but we get there on our own means."
And So Much More for Your March
Let's not forget about this month's Letters and the first installment of a long, thoughtful discussion about NOAA's five-year plan to phase out paper charts. We also have Max Ebb — which we're calling March Maxness — where Max and Lee discuss the accuracies and glaring inaccuracies of boat waves and wakes as depicted by artists. We've got a full lineup of Changes in Latitudes, including the full telling of Zingaro's bad day at sea. And, of course, we'll have The Racing Sheet, World of Charter, and a special appearance by Eye on the Bay, where we take a look at some local boats enjoying last month's stellar weather.
Don't forget that you can pick up your new Latitude or click on this link for a treasure map at your local waterfront (be sure to scroll down to 'Pick up a Copy').
Receive emails when 'Lectronic Latitude is updated.
SUBSCRIBE