On January 11-12, Del Rey Yacht Club in Marina del Rey hosted their second US Sailing two-day Offshore Safety at Sea Seminar.
The 48 participants came from as far away as London, Anchorage and Manhattan. They also included the first junior sailor from DRYC: 11-year-old Helen Booker-Poletti attended the class, along with Karyn Jones, a renowned national match racer.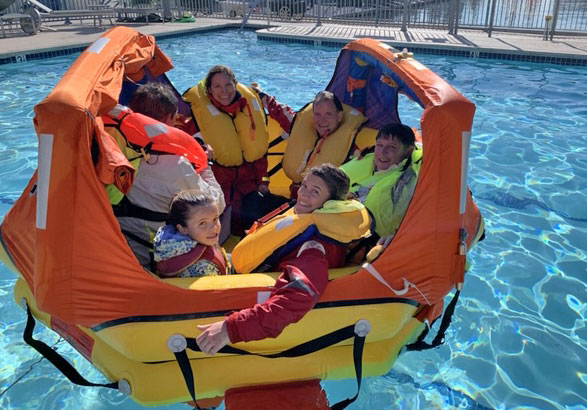 The first day was classroom only. The time flew with Bruce Brown providing his experience, expertise and anecdotes. Students learned about crew-overboard recovery and personal safety gear, including the care and maintenance of it. The topics included forms of emergency communication, giving assistance to other craft, fire precautions, marine and heavy weather, storm sails, damage control and repair/maintenance, SAR (search and rescue), pyrotechnics and signaling gear. Bruce said that most victims don't die of hypothermia but perish from drowning. Most said they did not realize how much they would learn, and most of them had been boating for a number of years.
DRYC fleet surgeon Dr. Robert Merz presented the portion on medical topics. Being a sailor himself, he shared his experience and did an outstanding job with the slideshow presentation. He gave us a description of what goes on in the ER versus being on a boat with an injured party. There were questions about other incidents that occur, and Dr. Merz supplied the needed information. All gained a new perspective of what could happen and how to handle the injured party, especially if they're unconscious.
Gary Green spoke about his and wife Rosalie's experience having to abandon their boat in Mexico and waiting five hours to be rescued in rough seas.
On the second day, following an hour of classroom, groups formed for instruction in personal safety gear, damage control, maintenance and repair, firefighting and flares. The participants learned how to rig a Lifesling for rescue using real scenarios that included unconscious victims.
Everyone had to go into the pool with all foulies on, including boots. They learned how to survive while waiting to be rescued. They did a group huddle and learned how to form a caterpillar group, expressing amazement at how much warmer they were. Then they also learned how to get into the liferaft — no easy feat for some. All were surprised that being in the water for 25 minutes was not as bad as they'd thought it would be.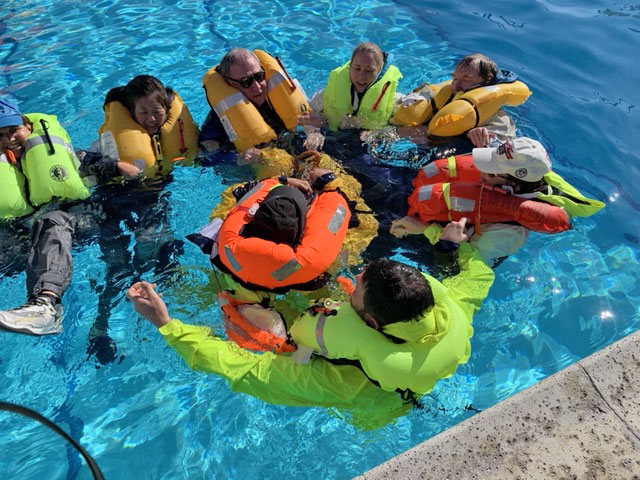 The seminar closed with a raffle awarding 75-ft throw ropes. The couple who rescued the Greens happened to have a throw rope aboard.
This course is geared for anyone who spends time on the water. It does not matter if they own a boat.
Graduates earn a five-year personal certificate that might one day save lives. One can't exactly call an Uber in this situation. The Chicago to Mackinac, Pacific Cup, Transpac, Newport to Ensenada, and NHYC's Newport to Cabo races require Safety Certifications.
DRYC's education committee, chaired by Howard Katzman, sponsored the event. Seminar instructors were:
Liferaft Training/Cold-Water Survival/PFD Training: Mike Hakala and Bruce Brown
Crew Overboard Rescue: Captain Wendy Sarnoff
PFD Rearming: Dave Robertson
Fire Fighting and Flares: Dave Robertson and Bruce Brown
Meals included in the entry fee featured a continental breakfast on Saturday and the skipper's breakfast on Sunday. Lunch was a buffet of roast beef and turkey with numerous salads, ending with cookies and brownies for dessert.
Editor's note: Many more Safety at Sea courses and other sailing-related seminars dot the West Coast schedule during the next couple of months. We'll post a healthy list of them in a 'Lectronic Latitude next week, and you'll find also find them in the Non-Race Calendar section of the February Latitude 38, coming out on Friday.
Receive emails when 'Lectronic Latitude is updated.
SUBSCRIBE