Diary of a Schooner Charter Cook, Part 4
Readers — This is part 4 of our writer-at-large Monica Grant's continuing series about her new gig as a charter cook aboard the schooner Seaward. Her husband Jay is the captain.
After sailing for days, we made our first shore stop at Bahia Tortugas, anchoring just a few hundred yards from the beach. Over several ferry-boat shuttles, we took everyone to shore to explore the town.
Jay and I, and our daughter Amber, who had joined us in Newport, walked the streets in a wandering fashion. Many of the homes looked unoccupied, as did what we took to be stores or businesses. How could this town survive? There were people about, driving by, watching us silently from verandas or behind closed windows, but there was little that showed any form of employment or means of income. As we wandered we were accompanied by a local dog that seemed to have a mandate to escort us though the town.
Our wanderings took us to the local church that we had spotted from the boat, and as we walked through the gates we were met with dozens of people exiting the ornate, old-looking building. We had stumbled across a funeral. As nonchalantly as possible we crossed the courtyard and, hoping to become invisible, stopped under a large tree to take in the coastal vista.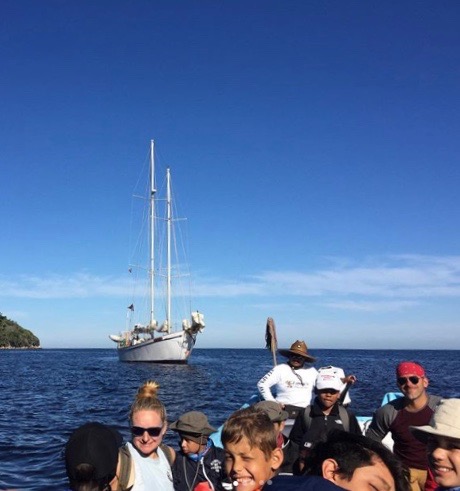 After the deceased and the pallbearers had been loaded into the back of a pickup truck, the remaining mourners followed the vehicle out the gate and along the dusty street. We waited until everyone had left before we silently and slightly awkwardly made our way back to the beach. Here at least were signs of life. Fishermen were milling around half a dozen pangas, sorting lines and working on other tasks. And at the end of the pier a handful of young boys were dropping their lines into the water, laughing and heckling each other as they fished.
All too soon the 10 days were coming to a close and we were farewelling our guests, many of whom had now become like friends. The voyage had been hard work: 560 meals, plus one last breakfast, were achieved by how many hours preparation and cooking? I have no idea, and no desire to find out. But I do feel I succeeded in doing my job, and by the end of the second week I was creating even more free time and was actually taking part in crewing the boat.
Is it too soon to say, "I got this?"
Receive emails when 'Lectronic Latitude is updated.
SUBSCRIBE