Early last week, Michael Moradzadeh of Tiburon had been considering entering his Santa Cruz 50 Oaxaca in the Three Bridge Fiasco. His plans for Saturday changed, but still involved getting the boat out.
"I had the squid from a 2008 or '09 Opening Day on the Bay, and had been itching for another chance to use her. I made the squid myself from a surplus Chinese parachute and some spinnaker cloth donated by Pineapple Sails. The Quid Pro Quo / Squid Pro Quo pun occurred to me, and I reached out to the Trump Chicken people to see if we could team up. They took it from there, and we met on the boat to get out for a day on the Bay."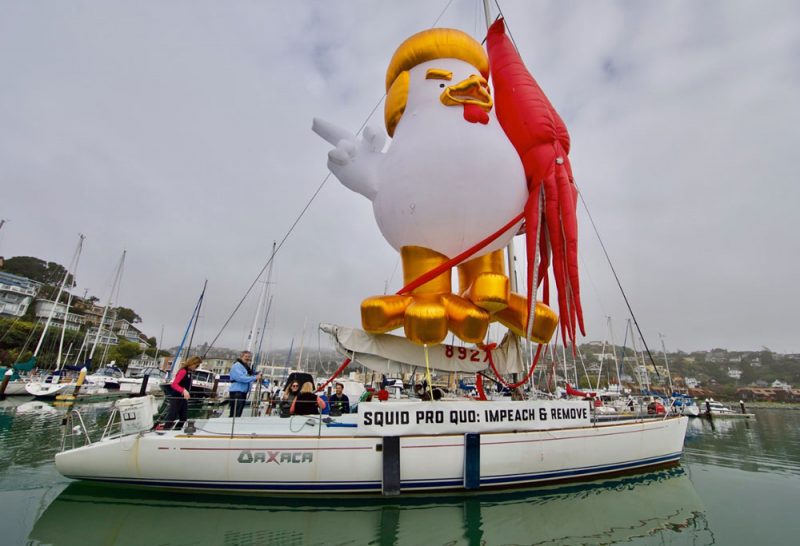 The inflatable squid is 60 feet long. The 33-ft inflated chicken topped with a golden pompadour has made previous appearances on the Bay, including stints around Alcatraz wearing a prison shirt on the past two President's Days.
Oaxaca's crew and the "Chicken people" gathered that morning in heavy fog. "Don't worry," Moradzadeh chirped. "It will burn off."
They inflated and hoisted the chicken and squid and headed out from Oaxaca's slip at Corinthian Yacht Club. In the fog, Moradzadeh got off course. "I found myself on the coast of Sausalito before we turned left to head over to Blackaller Buoy and run down the Cityfront. A shotgun salute from the race deck greeted us as we passed Golden Gate YC." Volunteers from the Singlehanded Sailing Society were starting the Three Bridge Fiasco off the GGYC race deck.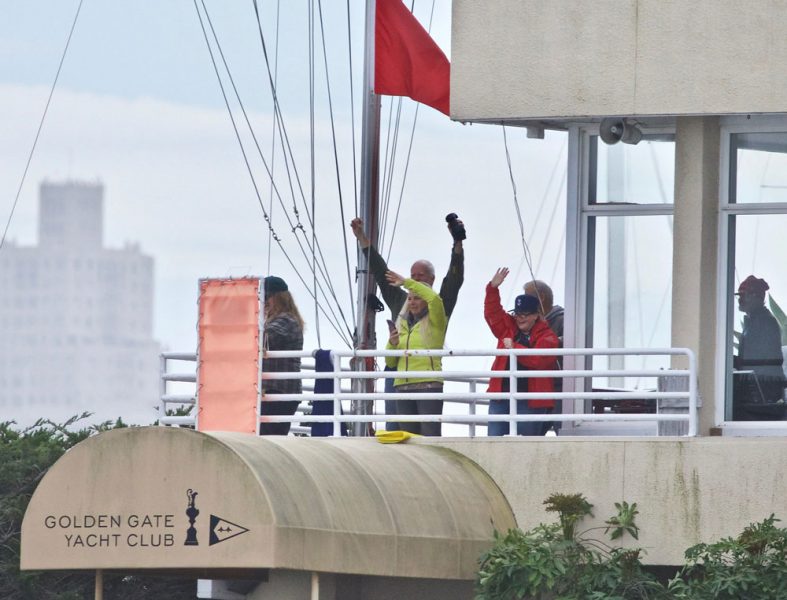 "Wherever we went, we got smiles and thumbs up. Except that one guy at Pier 39 who thought it important to flip us his own bird. I offered back to him the observation that perhaps he was not setting the best example for his child."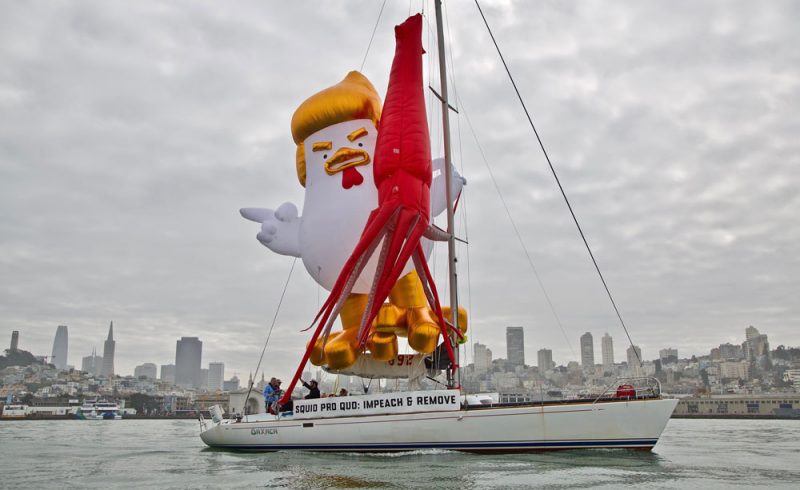 "We carried on to the Ferry Building, doing a couple of beauty turns there before turning north again, passing Alcatraz and then heading home as our generator ran out of gas and the deflation process kicked in. It was a most satisfying day, and perhaps less frustrating than the drift I had been contemplating earlier that week."
Saturday evening, while we were driving home from our own unfinished Three Bridge Fiasco, we heard Moradzadeh interviewed on KCBS radio. The stunt also made it into the San Francisco Examiner.
Receive emails when 'Lectronic Latitude is updated.
SUBSCRIBE