In the terrible wake of Hurricane Dorian, the official death toll in the Bahamas climbed to 50 yesterday. But as rescuers are only now getting to some of the hardest-hit areas of the low-lying archipelago — like a demolished neighborhood in Marsh Harbour on Great Abaco Island — the toll is expected to rise.
Dorian, at category 5 storm, was one of the strongest Caribbean hurricanes on record, according to The New York Times, and the worst disaster in Bahamian history, leaving in its wake a truly grave and horrific situation. The Times said that nearly 70,000 people were in need of food and shelter, with an estimated $3 billion in property damaged by the storm.
"A Reuters journalist on Sunday saw government workers, wearing disposable hazmat suits, rubber boots and masks, remove one body from a rubble-filled teal building," The Times reported in another article. "Nearby, nearly a dozen workers creeping across the surrounding hellscape found and marked three more corpses that need to be removed before heavy machinery, slated to arrive from Nassau on Monday, begins clearing out the wobbly mountains of plywood riddled with rusted nails that once housed thousands."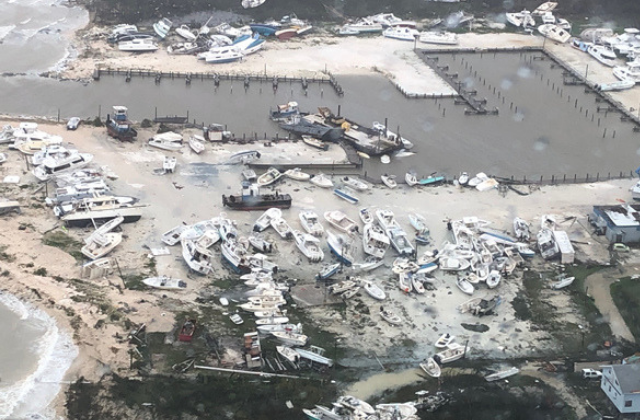 As is often the case during such tragedies, the silver linings often come though the outpouring of support.
"Six-time NBA champion Michael Jordan has pledged $1 million to organizations assisting with Hurricane Dorian relief efforts," Fox News reported. A cruise ship was one of the first vessels to arrive in Grand Bahama last week, packed with doctors and nurses, according to The NY Times. "Bahamas Paradise only sails to the Bahamas, and so company officials decided that instead of sidelining its ships and waiting for better times, it would launch a humanitarian mission to help the thousands of people forced from their homes who lacked food and running water.
"Bahamas Paradise joined Royal Caribbean, Disney, Norwegian and Carnival and other cruise companies in providing among the most robust corporate responses to Hurricane Dorian."
West Coast sailors SV Delos have started a Dorian relief page, and are currently matching funds. "In support of relief efforts we pledge to 100% match Delos Tribe contributions. So for every $5 you donate, we will match your donation and contribute $5 as well for the first $2,500 in donations we receive. Let's turn $2,500 into $5,000! For about the same as a cup of coffee we can get together and make a huge difference."
Sadly, tragedies can also bring out the worst in people. "The people of the Northern Bahamas are suffering in a way that most people/communities will never suffer," said Wiley Sharp Catamaran Expert on his YouTube channel. "Yet I've already received phone calls about buying Dorian Salvage boats. If you have any interest in capitalizing off of the disaster, while the Bahamians are without food, medical aid, or hope — then you can [email protected] off."
This story has been updated.
Receive emails when 'Lectronic Latitude is updated.
SUBSCRIBE