Bay Area Man Will Set Sail to Hawaii in 8-ft Boat
As far as we know, the smallest boat ever to sail to Hawaii is the 10-ft Yankee Girl. In 1981, relying partly on outboard power in low-wind conditions, 41-year-old Gerry Spiess made it from Long Beach to Honolulu in 34 days. Forty years later, Wilbur Spaul hopes to do Spiess one better by making the same 2,200-mile crossing in his 8-ft sailboat Chubby Girl. But it will probably take a bit longer.
Wil spent about 18 months building Chubby Girl at a friend's house in Walnut Creek. Like Yankee Girl, she is self-designed and self-built, constructed of marine plywood coated with fiberglass and epoxy. As mentioned, the boat is 8-ft LOA (the same length as an El Toro) and draws about 4 feet. Empty weight is about 1,100 pounds. Loaded with stores, electronics and Spaul, it will weigh about twice that. (Yankee Girl also came in about 2,200 pounds, loaded.)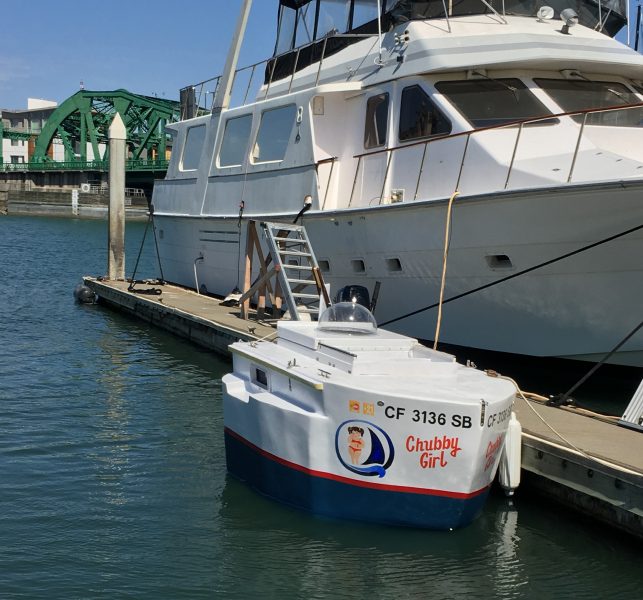 Weather willing, he hopes to depart the Bay for Hawaii sometime in October to coincide with several milestones. One is his 70th birthday. 2019 also marks the 40th anniversary of Spiess's first ocean crossing (in 1979, from Virginia Beach to Falmouth in 54 days). Chubby Girl's trip will also serve as a dedication to Spiess himself, who passed away in June.
Spaul is a very experienced sailor. Among many adventures in the last half century, he lived aboard the 42-ft trimaran Wind Rose for 21 years and singlehanded the boat from San Francisco to Florida.
Spaul is a realist about the pending voyage. He's built Chubby Girl to be watertight, even during rollovers. El Sobrante naval architect Jim Antrim ran some stability numbers and suggested several tweaks to the design, which Spaul has been implementing over the last few months. Pineapple Sails in Alameda built the boat's twin jibs and free-floating mainsail, and Hansen Rigging, also in Alameda, is putting the A-frame-type mast and rigging together.
Spaul thinks in the right conditions, Chubby Girl will be able to average 2.5 knots. At that speed, he figures the trip will take 50 to 65 days. Just in case, he is provisioning for up to 80 days.
So why is he doing it? "The personal challenge," he says.  "I've been thinking about this for the last 45 years — I just really want to know if an 8-foot boat can make the passage."
Look for much more about Wil Spaul and Chubby Girl in an upcoming issue.
Receive emails when 'Lectronic Latitude is updated.
SUBSCRIBE