Thirty-four people are presumed dead after a fire broke out on the 75-ft diving vessel Conception on Monday off the Channel Islands. "Most of the passengers had come from several towns in the San Francisco Bay Area," CNN reported. The Conception was on a three-day Labor Day scuba diving trip, and reportedly had several families onboard. Ages of the victims range from people in their teens to their 60s, according to the Santa Barbara Sheriff's Office. "Of the 39 aboard, 33 passengers and one crew member are presumed dead. Only five people — all crew members — were found alive, and the bodies of 20 people have been recovered off the coast of Santa Cruz Island."
Yesterday, the Coast Guard suspended their search for victims. "It is never an easy decision to suspend search efforts," said Captain Monica Rochester of the Coast Guard. "We know this is a very difficult time for family and friends of the victims."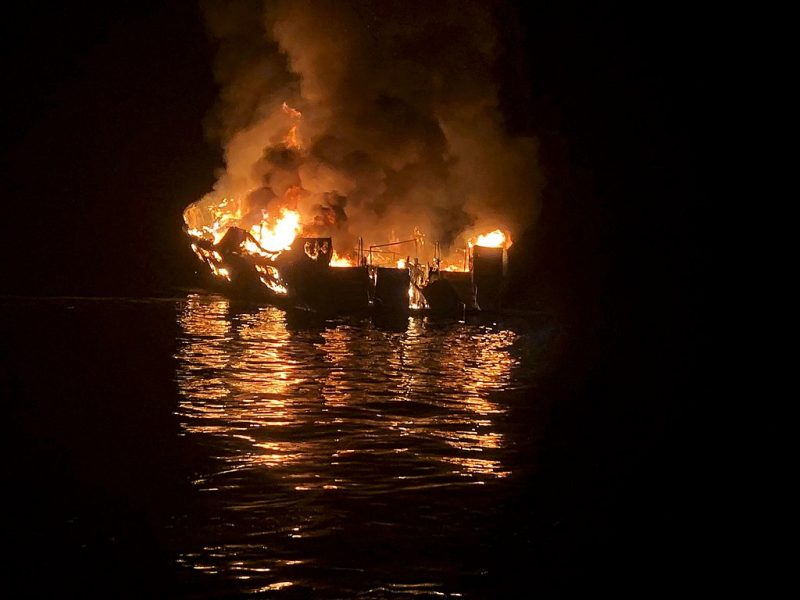 The cause of the fire is unclear, and is being investigated by the National Transportation Safety Board, or NTSB. "There are many boats like [Conception] that operate around the California coast, according to experts and longtime divers," the New York Times reported. The Conception was considered California's crown jewel liveaboard dive boat, and the NY Times reached out to former guests. "Most said they had great experiences, and while some said that the tightly packed bunks unsettled them, many others said they felt fine."
The Los Angeles Times interviewed Marjorie Murtagh Cooke, the former director of the NTSB's Office of Marine Safety, who said, "'Vessels have to have two exits for escape by law for the sleeping quarters. It appears that both exits from the sleeping quarters bring you up inside the vessel.' Cooke, a marine safety expert at the consulting firm Robson Forensic, said the exits from the sleeping quarters — a staircase and a hatch, based on images made public — lead to the mess and galley, which appear to be one large room. 'If both escape routes from the sleeping quarters lead to the same area, a fire there could potentially block the only means for passengers to get out,'" Cooke told the Times.
"With 30-plus people dying, the investigation could lead to changes in the way vessels are designed or protected depending on the findings," Cooke was quoted as saying.
Our hearts go out to everyone affected by this terrible tragedy. With the cause of the fire still unknown, it's only natural to speculate, and, in our grief, to want to blame someone.
This morning, NPR quoted artist Sebastian Orth, who knew several crew members at Truth Aquatics, who ran the Conception. "I feel really bad for the crew members who had to jump off and couldn't do anything. That's got to be terrible for them because I'm sure they didn't want to jump off the boat and do that."
We will bring you the results of the investigation into the fire aboard Conception as they become available.
Receive emails when 'Lectronic Latitude is updated.
SUBSCRIBE