Dust, shards of fiberglass and broken dreams filled the air over the Oakland Estuary on Wednesday, as roughly 10 sailboats — most of them designated as abandoned, derelict and illegally anchored — were destroyed. Some vessels were seized by Oakland and Alameda Police Departments, who share jurisdiction of the Estuary, while a few vessels were voluntarily surrendered.
The cleanup — which is partially funded by a grant from the state of California — is part of a Bay Area-wide program to remove "marine debris," or vessels that are considered unsafe, a danger to navigation, or hazards to marine life and the environment. Underlying the issue of seized boats are, in many cases, homelessness, drug abuse, and the increasing pressures of a housing crisis — not to mention an aging fleet of plastic classics.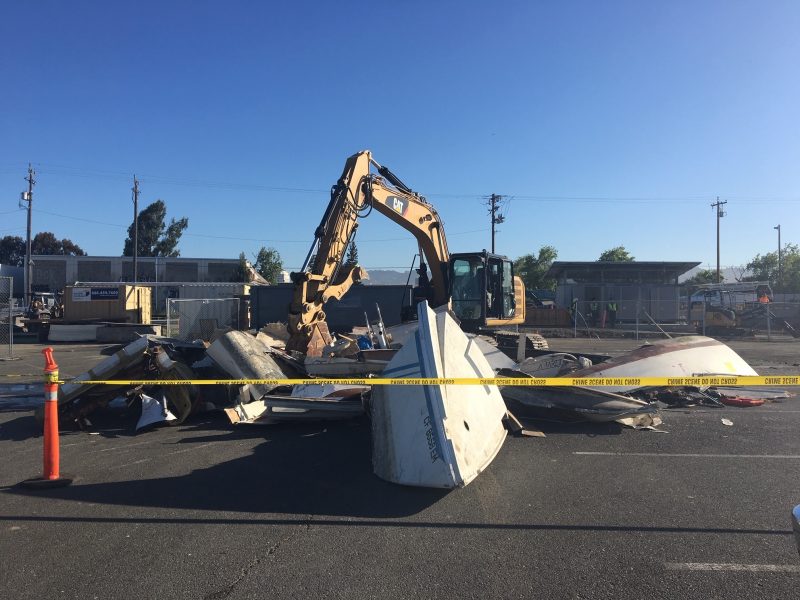 According to reporting from SFGate, Oakland and Alameda PD, "insist[ed] that owners were given months of warning that the boats would be removed," as is standard practice when identifying marine debris for removal. Boats were seized from public and marina docks, as well as from anchorages in the Estuary.
Oakland Harbormaster Brock de Lappe said there are "no legal anchorages anywhere on the Estuary. If you're anchored-out, you're breaking the law. Some of those boats had been there for months."
Video from KTVU showed several boats being crushed by a backhoe at the boat launch ramp and the adjacent parking lot at the Jack London Aquatic Center on the Oakland Embarcadero, a sight that sent shivers through some of our readers who commented on our Facebook Page.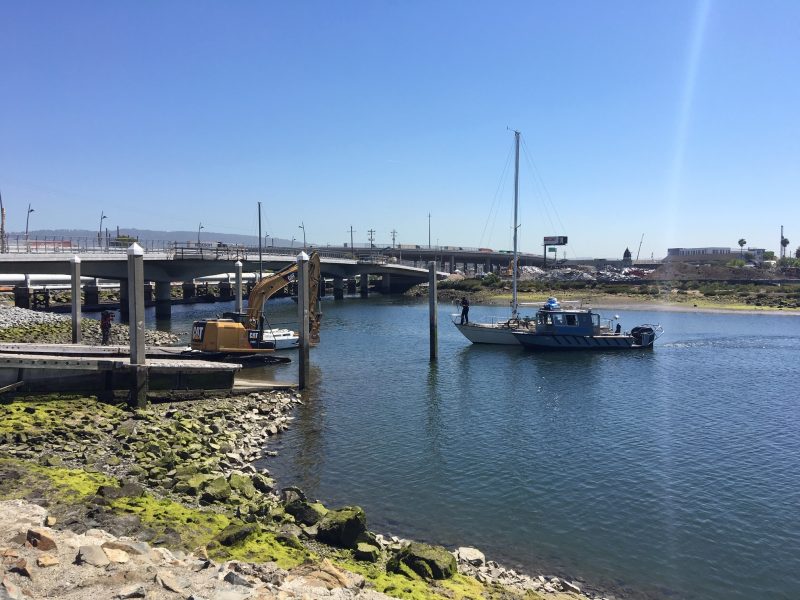 "I don't like seeing boats crushed. There's no joy in that for me," said de Lappe, who was part of the Oakland Estuary Cleanup in 2013 when he was the harbormaster in Alameda. "I have a vested interest in seeing the Estuary be what it should be."
Many of our readers wondered why the boats that were crushed — one of which was a totally-decent looking Santana 22 — couldn't be sold or donated. "The paper trail to get a boat like that and pass it on to someone else is virtually impossible," de Lappe said. "Who was the last legal registered owner of that boat, and how do you track that person down?" In addition, "There are a lot of boats from the '60s and '70 that are reaching the end of life, and the blue-collar generation from the '60s and '70s are also aging out," de Lappe said. "And they're not being replaced by the younger generation, because they don't have the discretionary funds for boating."
In the past, de Lappe said that Bay Area harbormasters would obtain abandoned vessels through lien sales, then resell them for a song to people willing to remove the boats from their marinas. But this well-intentioned practice led to the swelling of the Bay Area's anchor-out population, especially in Richardson Bay, where liveaboards had, until recently, been tolerated.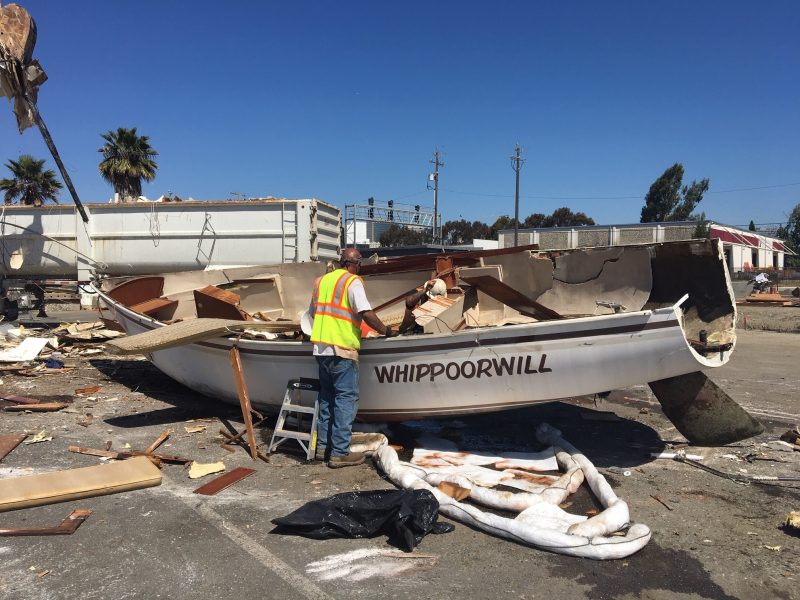 We've spoken with a number of Bay Area harbormasters who say they get dozens of calls a day from people looking to live aboard a boat as an affordable housing alternative. For people with even fewer means living on the fringes, old boats have become a last resort, and in many cases, this population becomes a danger to themselves and others on the water. Union Point Park, located on the Oakland side of the Estuary, is currently locked in a legal battle over a homeless encampment there.
And there's a darker side, still.
"A lot of time when we search these abandoned boats, we find remnants of narcotics [and] stolen property," Oakland Police officer Kaleo Albino told KTVU. "We have found multiple boats in the past being used as what you would call a meth lab."
De Lappe said that he wants the Estuary to be a true Gold Coast on the Oakland Embarcadero. "I don't want to see it be a crime-ridden place — that's not my idea of a safe Estuary. It's a gorgeous spot."
We will have more on the Oakland Estuary in the coming weeks.
Receive emails when 'Lectronic Latitude is updated.
SUBSCRIBE