Peruvian Tall Ship Sails in the Gate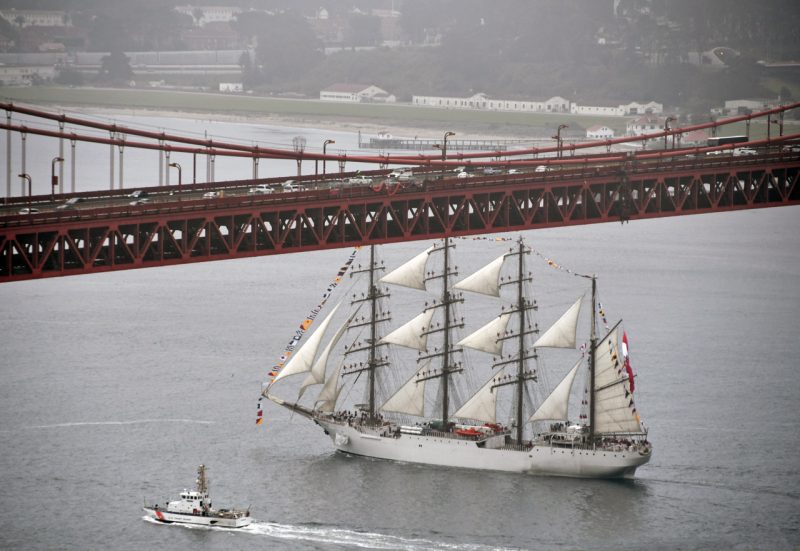 A hardy crew of sailors were onboard Call of the Sea's Schooner Seaward this morning to welcome the BAP Union as she sailed through San Francisco's famous Golden Gate. As the Union entered the Bay and sailed gracefully beneath the Golden Gate Bridge, we considered ourselves to be among the fortunate few who witnessed this once-in-a lifetime spectacle. (According to Wikipedia, 'BAP' stands for Buque Armada Peruana, which translates to English as Peruvian Navy Ship.)
The Union is a 378-ft LOA four-masted barque with a hull stretching to just over 324 feet. From the deck of Seaward's 83 feet, we were awed by the sheer size of the vessel and the skill of the 257 sailors who adorned the yardarms and decks to present themselves as our guests.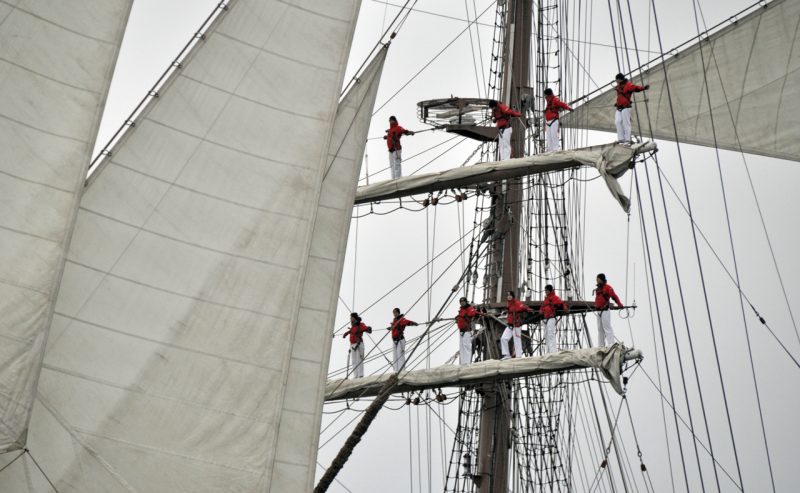 Call of the Sea CEO Steven Woodside says the Union's visit to the Bay Area is a great boost for sailing and tall ships in particular. "From the very first moment of seeing the Union emerge from the clouds I was excited." Woodside says he sees this as a great opportunity to promote and encourage sailing and education, particularly for young people. "It's going to grab young people. It's going to inspire them to learn more about the waters on which they're living."
Deborah Novachick, founding member of Tall Ships Welcome SF Project, feels the BAP Union's visit represents an opportunity for young people to not only experience shipboard life, but to also learn more about the world in which they live. "I see her as a sailing university. A beautiful, beautiful sailing university teaching a new generation of young people how to participate in the world in a peaceful and respectful way. I see it as an incubator for future leaders."
Built in 2015, the Union is a sail-training vessel operated by the Peruvian Navy. She will will be open to visitors throughout the weekend at San Francisco's Exploratorium at Piers 15-17. Tuesday morning at 8 a.m., she will depart for her next port of call, Vancouver, Canada.
Receive emails when 'Lectronic Latitude is updated.
SUBSCRIBE