Three days out from La Rochelle, the lone American entry in the Velux 5 Oceans Race, Brad Van Liew, has already amassed a 50-mile lead over his nearest competitor. As the boats search for the northeasterly trades off the coast of Portugal, Van Liew's Le Pingouin has taken a hitch out to sea, no doubt to close the east-west separation between him and his nearest competitior, Polish sailor Gutek Gutkowski aboard Operon. Amazingly, Van Liew has been able to manage 8.3 knots over the 6,540-mile course while battling a cold.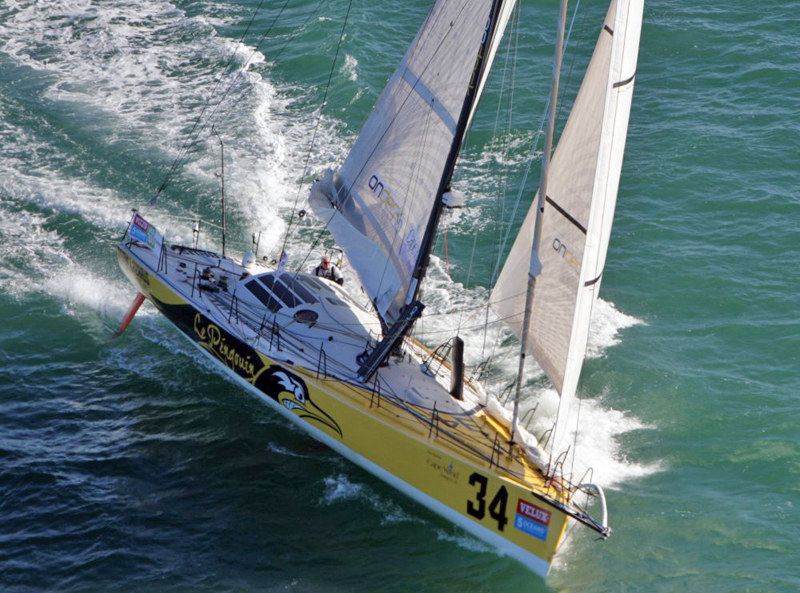 "I've had a couple of 20-minute naps but that's about it," Van Liew reported. "I can race the boat, and I can do all the physical stuff but my head still feels pretty stuffed up and my throat is very sore."
Van Liew's Eco 60 is one of the fastest of the new re-purposed class of Open 60s that are required to be at least two generations old, and he's put the speed to good use in building his lead. An essential part of the Eco 60 class is using less fossil fuel to round the globe, and since the start, Van Liew has had a headache of a reminder of the many different forms petroleum can take.
"Ironically, my super-duper, eco-friendly hydro-generator picked up a trash bag which got wrapped around it and broke the system holding it down," he said. "So I've been trying to find a new way to hold it down, and you'll be pleased to know that I did manage to retrieve the trash bag."
Canadian Derek Hatfield, sailing Active House — which took American Rich Wilson around the world in the last Vendée Globe as Great American III — said he's looking forward to the temperature getting warmer, and is frustrated with his speed as he sits in fourth, 144 miles behind Van Liew.
"I'm a bit disappointed with my position since the start," Hatfield reported. "I can't seem to sleep too much, and the wind is so light that you have to concentrate all the time on the weather and keeping the boat going."
Belgian Skipper Christophe Bullens has arrived back in La Rochelle aboard Five
Oceans of Smiles Too — formerly Artech — having completed a 48-hour mini-qualification sail, to test the new boat sourced just a week before the start after his original one was dismasted.
"It's a very good boat," Bullens said. "The sails are good and the boat is very fast. I have a few jobs to do and I have to learn her a bit but that will be okay."
Bullens aims to set off on Friday morning for Cape Town.
Receive emails when 'Lectronic Latitude is updated.
SUBSCRIBE