Crime — or Lack of it — in Cabo
Folks about to start the 17th Annual Baja Ha-Ha from San Diego next Monday morning might be interested in the opinion of Ha-Ha vet Mike Miller on personal safety down around Los Cabos, which is the name for the Cabo San Lucas-San Jose del Cabo corridor.
"After finishing my 2.5-year cruise of Mexico in '02, I settled into one of the safest, nicest, and most tranquil little places in Mexico — San Jose del Cabo, the sister city to Cabo San Lucas, just 20 miles down the corridor. This is also home to the three-year-old Puerto Los Cabos Marina. Although still not fully developed, it's open for business, welcomes Ha-Ha folks, and has many services nearby. Jim Elfers, author of The Baja Bash, is the harbormaster.
"For the record, there haven't been any known acts of piracy in the region since the late 1800s when the Manilla galleons used to be jumped. So I'd like to assure the many cruisers and their families headed this way that they have a greater chance of being assaulted on the streets of the United States or Canada than down here in the Los Cabos area. Well, we did have a big crime issue here two years ago, but those kids finally got caught spraying graffiti on buildings. Nobody got shot, nobody got beheaded, and the kids even had to repaint the buildings as part of their punishment.
"I'll be stopping by for the Ha-Ha Awards Party in Cabo, and I won't be coming in an armored car, nor will I be bringing any bodyguards. And I certainly will not feel one iota of anxiety while attending the party or while freely walking the streets of Cabo San Lucas.
"If everybody keeps watching the over-sensationalized news media in the States and Canada, everybody will be too afraid to come on down here and see the real truth — and beauty. I'm telling folks in the Ha-Ha and other cruisers that the only crime they're likely to experience is how much cheaper it is to live down here than wherever they came from. Here in San Jose del Cabo, folks can make their way to Shooter's Bar in the downtown plaza and watch all their favorite NHL/NFL/NBA games. Beers are 10 pesos each — or about 85 cents. And the original tamale lady is working there on the plaza, selling her homemade tamales — the best you've tasted in a long time — for about $1. So for $1.85, you can have an ice cold beer and a homemade Mexican tamale while watching all the sports action. Now that's a crime! Try to find a deal like that in the States.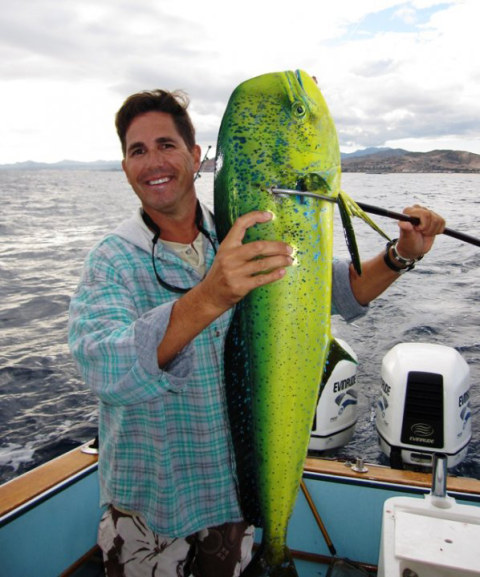 "As for the fishing, I'll let the above photo indicate what it's been like lately. It's 85º today, and the water temp is about 80. What's the November weather going to be like in the States?"
Latitude's only slight disagreement with Miller is that Cabo, like any town that attracts countless hard-partying Americans on four-day weekend vacations, does have typical petty crime issues. After midnight, there will no doubt be a few people offering to sell pot, as well as a few pickpockets and hookers. So just stay in the well-travelled streets and well-lit areas. And while you can drink to excess and be wild and crazy in the clubs, don't be drunk and stupid on the streets of Cabo. There is a large and very tourist-friendly police presence, and if somebody goes overboard playing the fool, the Policia pick-up truck with six police in the back swoops down, and the next thing that person knows, they are in the Cabo clink until the next morning. We've been in Cabo for the end of 16 Ha-Ha's, and never once had a problem. Then again, we're usually back on our boat by midnight.
John and Rose Olson of the Mazatlan-based M/V Serena Ray also want to share their opinion on safety in Mexico:
"We just had to add our '5 pesos' regarding concerns crusier might have about safety in Mexico. We couldn't agree more with Latitude's recent 'Lectronic feature dispelling some of the myths surrounding personal safety in Mexico. We suspect that a majority of the fear-mongering is spawned and/or fueled by those who have never even set foot in Mexico!
"We actually came to Mexico with the '08 Ha-Ha Class (s/v Eager Dreamer aka Eagle Dancer, Eager Beaver, Early Leaver) and will soon be starting our third full cruising season here. We had actually planned to head south to Central America in '09, but realized we simply enjoyed Mexico too much to leave so soon. There was so much more we wanted to see and experience.
"Count us among the gringos and ex-pats who really do feel safer in Mexico than in most large cities in the United States. We have now spent considerable time in the larger coastal cites — Mazatlan, Cabo, La Paz, PV, Manzanillo — as well as many small out-of-the-way villages. Without exception, the locals we have come to know have been friendly, welcoming, and very helpful. By the way, we have yet to meet — or even hear of — a cruiser who has left Mexico for reasons of fear or safety. In fact, most who have had to leave can't wait to return."

For the record, both of the above letters were unsolicited.
Receive emails when 'Lectronic Latitude is updated.
SUBSCRIBE