USCG Alerts Mariners to Fleet Week Safety Zone
It's Fleet Week time! In case anyone hadn't noticed, the Bay is hosting an array of Navy ships, bands, onshore displays, and of course, the much-anticipated Blue Angels air show. This year, as in the past, the USCG has increased its presence on the water and has shared a map showing the safety zone that has been set in place until the end of the activities on Sunday, October 9.
"We look forward to a safe and secure San Francisco Fleet Week 2022 and hope everyone enjoys their time on the water celebrating our military and first-responder public servants," said Capt. Taylor Lam, Coast Guard Sector San Francisco commander.
Coast Guard units participating in this year's events and providing safety and security coverage include crews from Coast Guard cutters Terrell Horne, Elm, Tern, Hawksbill and Sockeye; stations San Francisco, Rio Vista, Vallejo, Golden Gate and Monterey; air stations San Francisco and Sacramento; Coast Guard Maritime Security Response Team West; Pacific Strike Team; and Maritime Safety and Security Teams San Francisco, Los Angeles/Long Beach, and Seattle.
In other words, be safe and observe the boundaries. Every year, there's that one boat that insists it can sneak through — "I'll nip along the edge here. They won't even notice." And every year we watch as two or three patrol boats bear down on the misguided mariner. Don't be that person this year.
The safety zone is scheduled to be enforced from approximately 11:30 a.m. to 5 p.m. Friday through Sunday, during the Navy Blue Angels air show. The following map has been offered to help skippers identify the zone.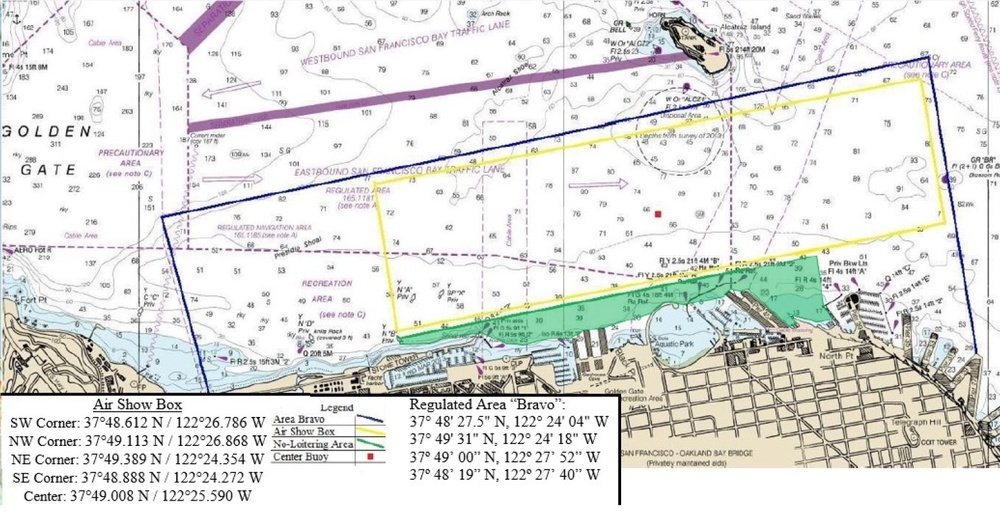 Mariners should monitor VHF-FM channel 16 for up-to-date information regarding regulated areas for safety and security. And for more information on this year's events, you can contact the San Francisco Fleet Week Association at [email protected], or visit https://fleetweeksf.org/ for a complete list of events.
Additional information about the protective zones and areas to watch from the water is posted at https://homeport.uscg.mil/port-directory/san-francisco.
Receive emails when 'Lectronic Latitude is updated.
SUBSCRIBE