Tickets on Sale for 18th Annual International Ocean Film Festival
The 18th International Ocean Film Festival (IOFF) is set to roll and ticket sales are now open. This year's annual Festival will screen a record 80+ films from 17 countries, including 10 premieres and nine award-winners, over 18 days.
"Spring has rarely felt as hopeful as it does this year, or been more eagerly anticipated," said the Festival's executive director, Ana Blanco (a Bay Area local). "While we look forward to once again gathering in person for next year's Festival, this year we will once again bring the oceans to you via our virtual Festival with an unprecedented array and scope of films and filmmakers, including interactive content and conversations with filmmakers."
In addition to the films, the Festival will host lively Q&A panels with film directors, marine scientists, and industry experts, as they discuss the films and share insights into ocean conservation, preservation, and legislation. Plus there is the Student Film Competition, featuring films from middle school and high school students (grades 6 through 12) from 12 countries around the world.
The Festival accepts films of all genres that focus on any of the varied aspects of the ocean, and topics include (but are not limited to) marine wildlife, conservation efforts, ocean environments, coastal cultures, ocean sports and exploration, ocean heroes, and innovative technology designed to help protect the ocean. And the films can be documentaries, narratives, shorts, animation, and full-length films from around the world.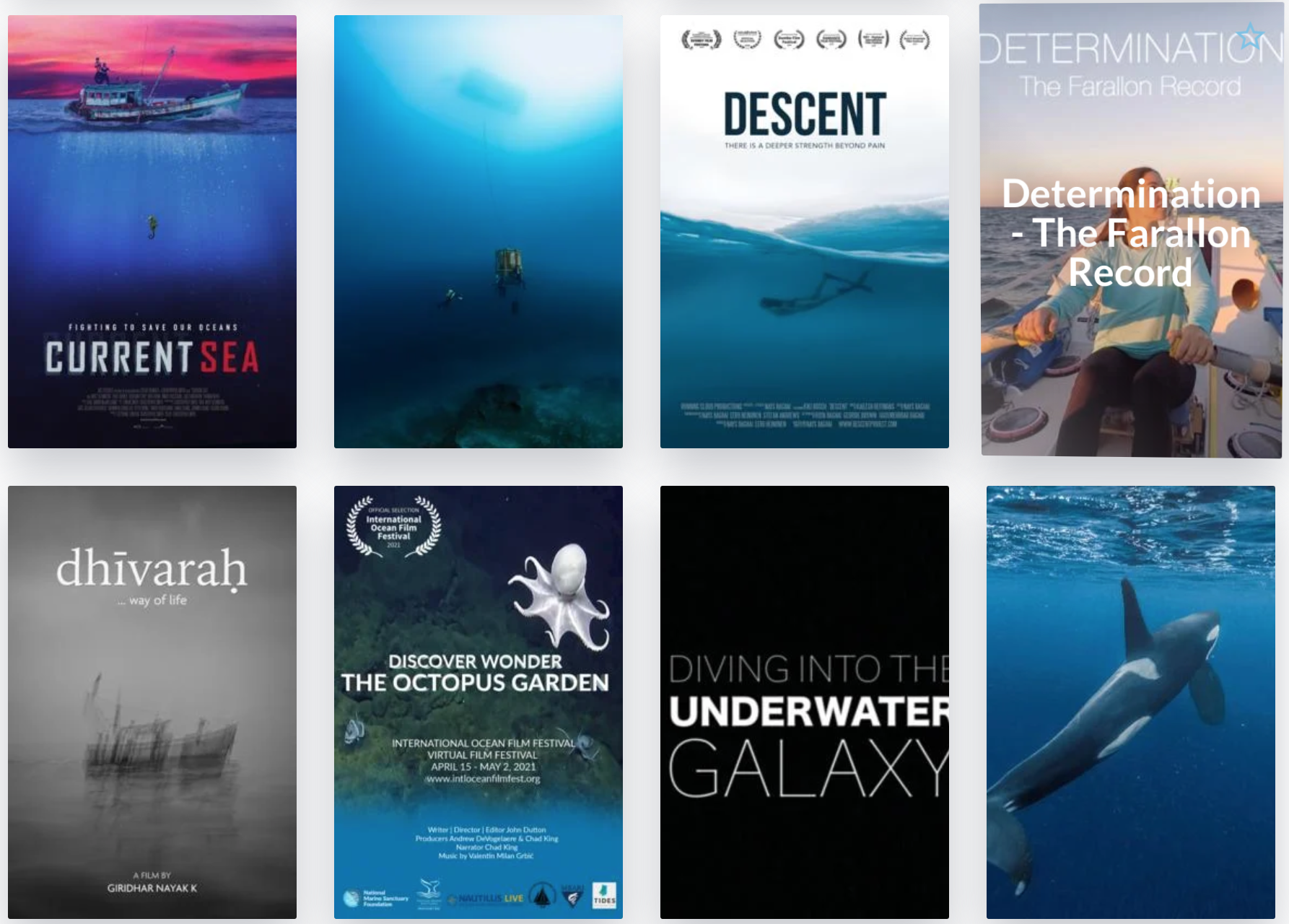 This year's film list includes titles such as 50 Shades of Sharks (La vie privée des requins) – Alexis Barbier-Bouvet, Didier Noirot, France; The Last Lightkeepers – Rob Apse, USA; Entangled in Costa Rica – Innoceana/The Vegan Pirates, Costa Rica; Changing Seas: "A Decade After Deepwater" – Alexa Elliott, USA; Caballito de Totora: Surfriders of Peru – Phil Wilson, USA; and literally dozens more. The list also includes Determination – The Farallon Record by Danielle Sellwood about Lia Ditton's circumnavigation of the Farallon Islands in preparation for her row across the Pacific. You can see the film guide here.
Watch the IOFF trailer (Credit: Yuko Inatsuki) to get a taste of the films on offer:
The Festival runs from April 15 to May 2. You can check out the ticket options here.
Did you know? IOFF is a San Francisco-based organization that was launched in 2004, and is now the premier venue in North America for ocean-related films. IOFF Executive Director Ana Blanco began her ocean-related career while volunteering with the Bay Area nonprofit group Blue Water Foundation, an "all-volunteer nonprofit dedicated to bringing the joys & challenges of sailing to San Francisco Bay Area under-served youths." Ana worked with the foundation for around six years before joining the team at International Ocean Film Festival.
Receive emails when 'Lectronic Latitude is updated.
SUBSCRIBE