The Debate Over Sausalito's Marinship Is Not Over, Part 2
On Wednesday, we examined the strange dichotomy of Sausalito's working waterfront. The Marinship generates the lion's share of the city's tax revenues, but the mile-long waterfront is also sinking into a rising sea and in need of massive infrastructure upgrades, the exact costs of which aren't known by city officials. Sausalito is currently in the midst of debating the city's new General Plan, or a blueprint for future growth, where some of these issues have been laid bear.
Despite its economic benefits and geologic drawbacks, there have been calls to develop housing in the Marinship. The pressure to build housing in California in general is extreme: The state has mandated housing targets of up to 3.5 million additional homes by 2025, which can translate to several hundred units in towns like Sausalito. Some local officials also told us that there's a common misunderstanding of the tax revenues generated by new housing developments. What's more, the idea of housing is often paired with broader social goals, such as affordability, or promoting diversity.
But let's not lose sight of the goal. In the end, we're just talking about keeping the working waterfront working, and having a voice about the kind of community we'd like to live in.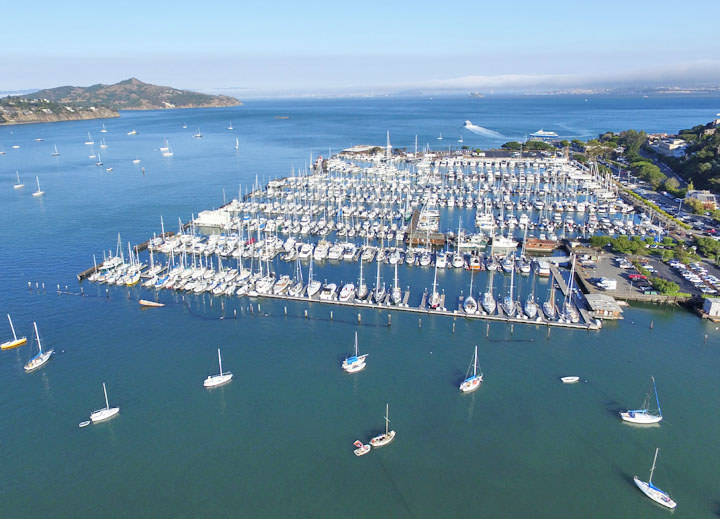 Who would like to see more liveaboards in marinas, for example? Sausalito councilmember Joan Cox — the only incumbent who's running for one of the three open city council seats in the upcoming election — told us that she's been lobbying the Bay Conservation and Development Commission, or BCDC, to raise the liveaboard cap from 10% per marina to 15%. Cox also said that she supports increasing the number of floating homes in the Marinship. (Cox told us today that "BCDC staff has preliminarily declined our request, but we are continuing to pursue it.")
But the rest of the Sausalito City Council has voted to explore the idea of housing in the Marinship.
Sausalito mayor Susan Cleveland-Knowles was among the majority of the city council "who voted 4-1 to take a look at changing zoning rules that prohibit housing in the 225-acre Marinship district," the San Francisco Chronicle wrote last month. Cleveland-Knowles said that affordable housing "is the only way we can increase diversity in this town. There is no other potential place for this." Chronicle writer Carl Nolte went on to say that opponents believe that "the housing idea is really the first stage of major development — the use of diversity as an argument for housing is really a kind of modern day Trojan horse."
We've heard the term 'Trojan horse' used several times when talking about the Marinship. Sources familiar with development have said that high-density housing can drive out existing businesses, especially if those businesses could be considered a "nuisance" to the new residents. Marin Post writer Bob Silvestri quoted a former city official, who said, "The minute housing is approved in the Marinship, its manufacturing, light-industry, working waterfront is a goner, because no one wants to open their window to the sounds and smells of a true working waterfront."
(To really get into some technical minutia: There will also be a kind of zoning-law "gap" as the 1980s-era Marinship Specific Plan, or MSP — which originally created protections against housing in the working waterfront — will be folded into the new General Plan. This "migration" of the MSP into the General Plan will take until 2023, and one city official told us they're worried that development could effectively be "snuck in" during this legal lax period. The official said it's important that the city keeps its promise to businesses and residents that they will not fully retire the MSP, and the restrictions embodied therein, until the city updates the housing elements and zoning ordinances in the General Plan.)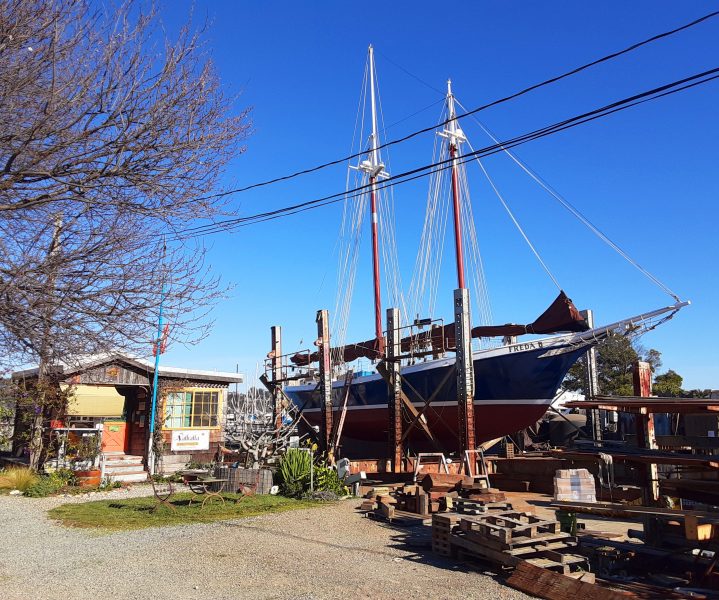 We support the many laudable social goals, such as diversity, that cities like Sausalito are trying to achieve. In local politics, every part of the city must bear at least some of the burden of taxes, public services and those broader goals that keep a municipality functioning and adapting to the future. No section of town or industry can be completely exempt. At the same time, no section of town or industry can shoulder the entire burden, or solve a city's many complex social issues. "Racial justice is a much bigger issue than housing in Marinship," the Chronicle quoted Sandra Bushmaker, a former Sausalito city councilmember, as saying. "Housing and residential would change the landscape of Marinship," Bushmaker added.
We hope that places like Spaulding Marine Center, the Bay Model and Call of the Sea — all of which are in the Marinship — will continue to attract a diverse sample of the Bay Area's population. This is, admittedly, a small step, but a step nonetheless, which already aligns with the missions of the aforementioned organizations.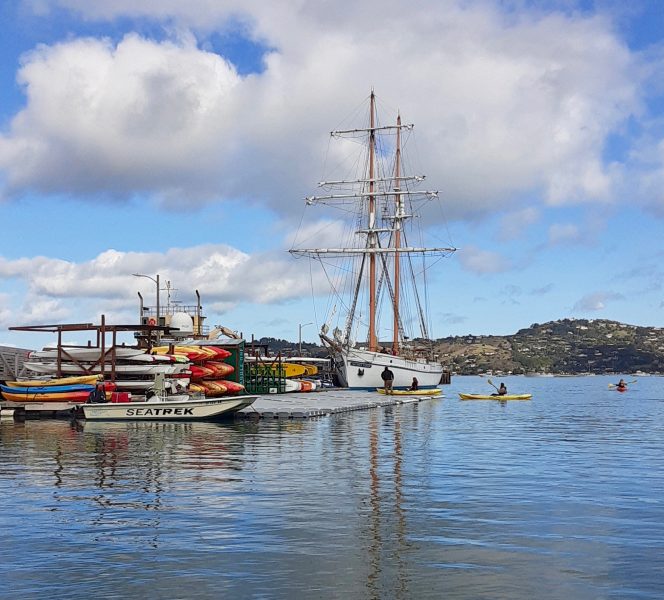 With all of this said, Sausalito has also used housing, and specifically marinas and liveaboard slips, as a vehicle for cleaning up Richardson Bay and addressing homelessness. Last year, Sausalito began the Safe Harbor Program that put long-term anchor-outs in slips. (The program also included social services to assist people in finding work; about eight people were enrolled.) "Safe Harbor transitioned from a pilot to permanent program, but hasn't expanded because of the pandemic," Cox told us. "But, we were told we could possibly qualify for additional grant funding needed to increase Safe Harbor-type units because they are so financially reasonable. Project Homekey [a state program to combat homelessness] is being used to provide vacant hotel rooms, but leasing a slip is far less expensive than renovating hotel rooms."
Who's Going to Pay for Infrastucture?
Next on a long list of sobering considerations is this: No one really has the money to fix the Marinship, including the city of Sausalito itself. One city official estimated that Sausalito's yearly projected COVID-related budget deficit was around $3 million. Regarding the Marinship and its many structural issues, we heard one unofficial estimate that $1 to $2 billion would be required to bolster the working waterfront. A source familiar with large-scale developments said that no sensible investor would do anything of substance in the Marinship until the city addressed the infrastructure problems.
According to a study commissioned by the city earlier this year, "… Major infrastructure projects — such as sea-level-rise protection, subsidence stabilization, and utilities, roads, sidewalks, and lighting — cannot be completed by any individual parcel owner. Rather, these would require area wide infrastructure plans, with public financing allocating a fair share to each parcel …"
"Funding will definitely require public-private partnership," said Janelle Kellman, who's running for city council. Kellman reiterated that no one's really sure how much money is needed for infrastructure. "The city can't negotiate with property owners or make forecasts until we know the costs involved. And in the interest of fairness, we cannot simply rely on assessments from developers who have a financial interest in the data they represent; we must assess costs independently."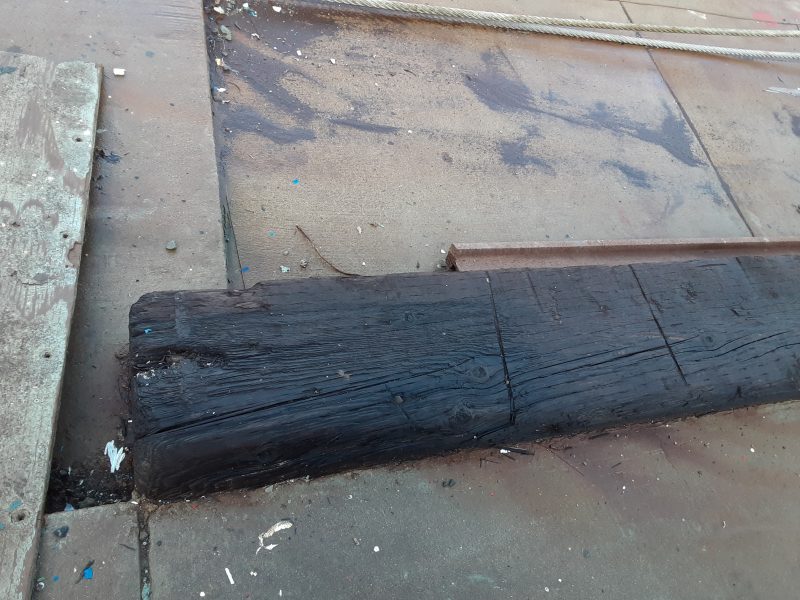 So how much money do housing developments even generate?
"Property taxes don't actually provide the type of windfall that people expect," Kellman said. "People assume we'll put this giant development, and that it will generate all this money." Consider a hypothetical $112 million development, which could represent around 300 units of housing. Property tax in Sausalito is one percent, of which the city gets 11.5%; so in the hypothetical development, the city would only net somewhere around $140,000 in property tax.
In addition, more housing requires more public services for all those new residents. That means more police and firefighters, more schools, more infrastructure, more traffic and pressure on roads, etc.
We hope we can all agree that replacing a booming economic sector with housing will not create the kind of community we're looking for. We also hope that in addition to the raw economic value of the Marinship, there's a way to value its economic diversity, unique culture and heritage in the marketplace. If these values could compete with multi-million-dollar developments, then we'd been well on our way to keeping Sausalito salty.
This story has been updated.
Receive emails when 'Lectronic Latitude is updated.
SUBSCRIBE