Why Is San Diego Bay More Welcoming Than San Francisco Bay?
When we travel to San Diego for the annual start of the Baja Ha-Ha, one of the things we marvel at is the coordination and collaboration of the many agencies that share jurisdiction and responsibilities around San Diego Bay. At times it can feel bureaucratic, but the result is a bay that is terrific at welcoming visiting sailors and, compared to San Francisco, does a much better job managing the shoreside services needed for boaters. On San Francisco Bay we've witnessed the 40+ year battle with anchor-outs on Richardson Bay and elsewhere. San Diego Bay has managed to find a regulated compromise, with both anchorage areas and 462 moorings managed by the San Diego Mooring Company available to rent. According to Vanessa Hoffman of the San Diego Mooring Company, all the boats on moorings are required to be registered or Coast Guard-documented, and must have liability insurance for wrecks or oil spills, naming the San Diego Mooring Company as additional insured. All boats must also have a free, once-per-year Coast Guard Auxiliary inspection for seaworthiness.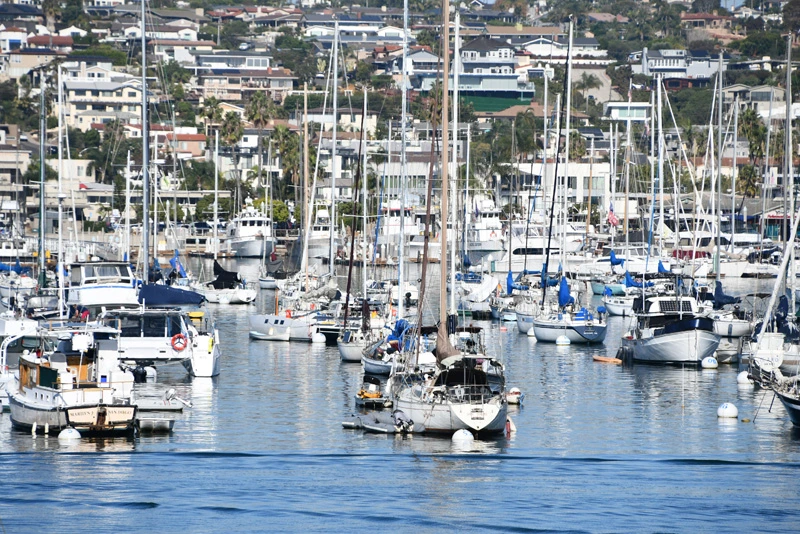 Conditions are indeed more benign in San Diego, so mooring fields are easier to set up and maintain, but there are successful mooring fields along the snowy coast of Maine, with 12-foot tides, and throughout the far northern reaches of Europe. It's also true that there were many more boats anchored and moored throughout San Francisco Bay from the 1840s to perhaps the 1950s. Recreational sailing was enjoyed by many long before the first marina was ever built.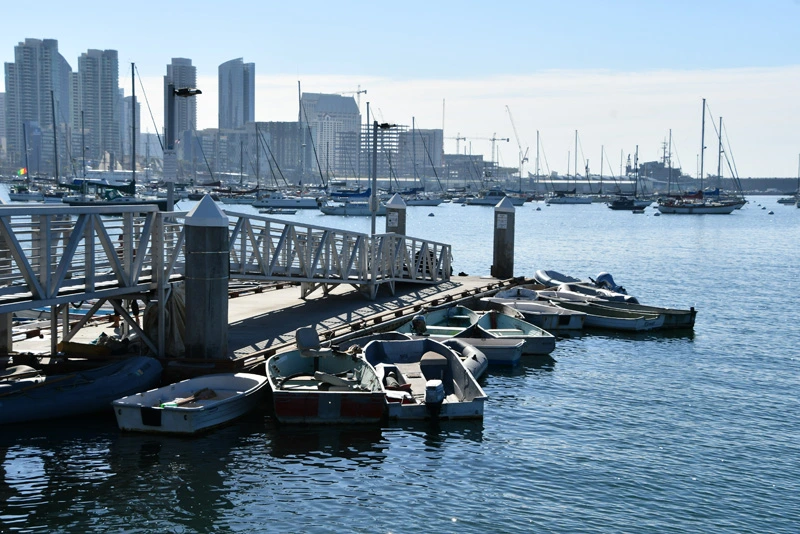 Cruising into San Diego Bay on your way south to Mexico is generally a welcoming experience. Cruisers pull into the Harbor Police Dock at the end of Shelter Island, which is staffed with Harbor Police who work with sailors and boaters daily. The Harbor Police Dock has 26 slips, up to 65 feet in length, where cruisers can stay for up to 15 days out of 40. The Harbor Police can direct and permit cruisers to anchorages, and help cruisers find space around the bay. Finding space can be tricky because most marinas are full, with waiting lists, making it especially helpful to have a public agency that understands the needs of transient cruisers. If you google San Diego Harbor Police you'll find their website and lots of helpful information for visiting sailors. Googling San Francisco, Alameda or Sausalito Harbor Police, we couldn't easily find anything useful for visiting sailors. The Port of San Diego and the San Diego Working Waterfront work hard to protect and promote recreational boating amid a densely populated urban setting.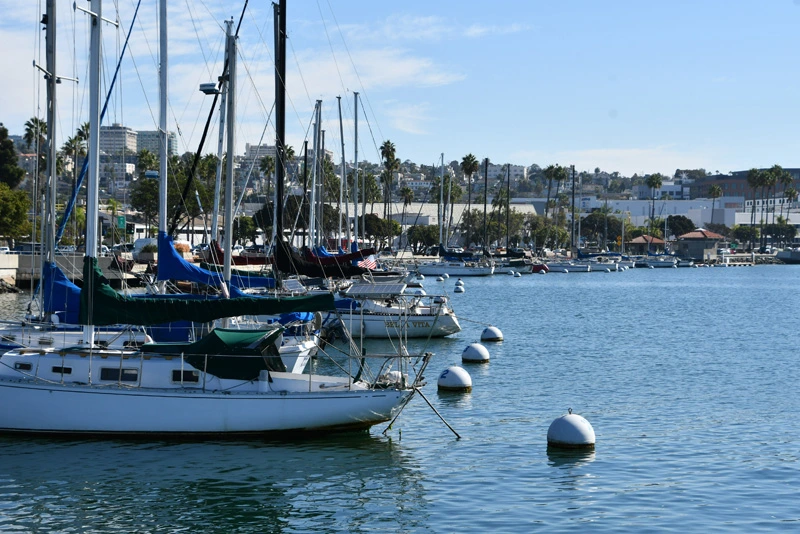 Does San Francisco Bay actually need or want temporary or permanent moorings? Ayala Cove is a good example of how a well-managed mooring field can be a boon for boating and boaters. It's one of the Bay's few protected coves that benefits from allowing the safer, more densely spaced and more environmentally friendly mooring balls on the Bay. It has a dinghy dock for visitors, providing easy access to the shore. One of the best places for a mooring field would be the endlessly controversial Richardson Bay. Mooring fields protect eelgrass by reducing anchoring, and allow for better management of the anchorage. Day-use moorings could also exist on the east side of Angel Island, or off Paradise Cove or China Camp. There's room for mooring fields in the Oakland Estuary, and likely along the east shore of the San Francisco Peninsula.
Yacht clubs and marinas pick up the slack where municipalities fall short, but this misses some of the benefits of having municipalities involved in their waterfronts. The marinas on San Francisco Bay would also benefit, as boaters would have more options for boat usage. This in turn would create a more boating-friendly culture with their local communities, and create better connections with municipal governments that often see waterfronts only as development opportunities, rather than as a recreational and healthy lifestyle benefiting all citizens.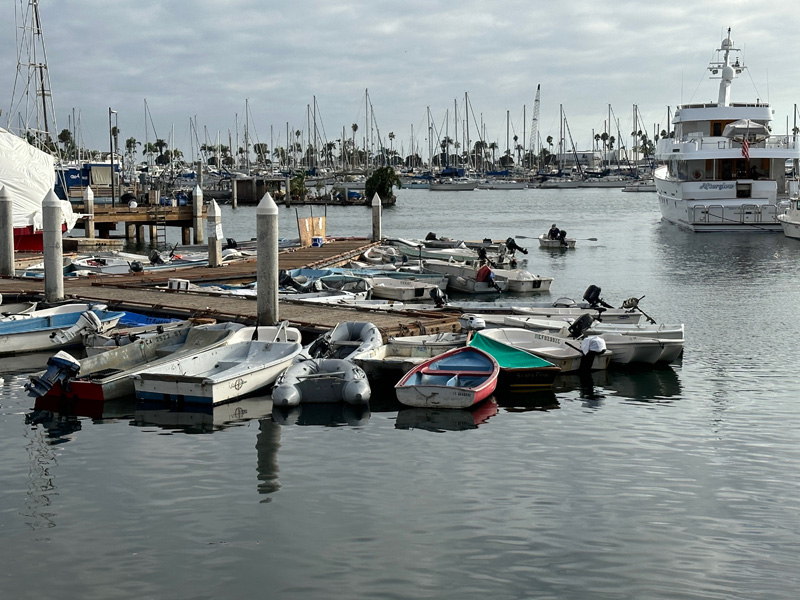 Welcoming anchorages, mooring fields and dinghy docks are features of most waterfront communities along most of America's coastlines. Despite being a fabulous sailing mecca, San Francisco Bay appears to have a unique deficit of welcoming facilities for visiting boats, or for encouraging local sailors to cruise San Francisco Bay. Bay Area municipalities would benefit their residents and the character of their towns by providing more welcoming facilities to visiting boats, whether they've come from Seattle or are simply local cruisers exploring the Bay. San Diego hasn't solved all the challenges faced in managing limited harbor space in a congested urban area. But the agencies, businesses and communities involved work well together and appear to be far ahead of San Francisco Bay when it comes to welcoming visiting sailors or providing services for local anchoring, mooring and recreational boating access.
Receive emails when 'Lectronic Latitude is updated.
SUBSCRIBE