Sailing's Brain Trust Identifies Unknown Sabot
Recently we brought you the story of Ben McGinty's new sailboat and invited readers to help determine whether the little ship was indeed a Naples Sabot, as Ben suspected. Several people responded with anecdotes and information that confirmed Ben's thoughts about his new purchase. And along the way, we all learned more about Sabots.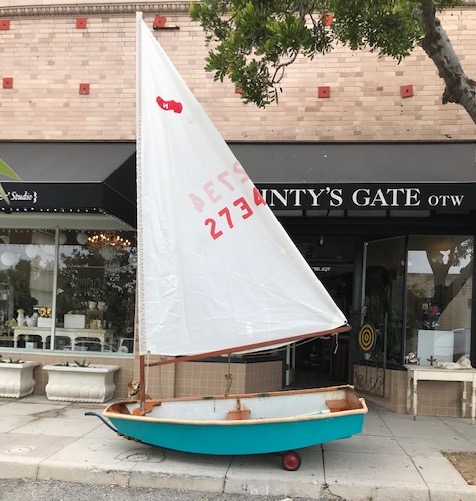 Kyle Clark said the leeboard visible in the photos was a telling factor. "Yes, that is a very old Naples Sabot. Naples as opposed to a Windward or US Sabot because it uses a leeboard as opposed to a centerboard. I can see the mounting bracket on the rail for the leeboard, but not the full leeboard fitting or the board itself. If you want to sail in any direction other than dead downwind, you will need to add the leeboard." Eric Mears agreed with Kyle and pointed out the "leeboard fitting on the starboard side, just forward of the oar lock."
Jim Gossman suggested the boat was built by Schock — makers of other small sailboats such as the Snipe, Thistle, Lido 14 and a host of others. "Yes, it's an authentic Naples Sabot. Just like an El Toro, but with a leeboard. Naples is the island in Alamitos Bay, Long Beach, where my daughter took sailing lessons on ours. Great dinghies for rowing too."
Tony Spooner gave thought to the sail when making his judgment call. "It's a Naples Sabot. A pretty old one, [judging] by the sail #. See the insignia on the sail, and the bracket on starboard side for the leeboard. Fun little boats. I had my three kids go through the Lido Isle Yacht Club's junior program in Sabots. Lots of great memories of regattas from Alamitos Bay to Mission Bay. All three helped me finish our tri (now in New Zealand), and have loved helping to cruise it around the South Pacific for the last eight years. One more thing, Ben, it's a bit hard on the Sabot to sit in it, on its trailer. Really localizes the stresses. Have fun."
Jerelyn Biehl from International Naples Sabot Association (INSA) agreed with the consensus above and also added information by way of the boat's sail number. "If that is indeed the hull number — 2734 — for this Naples Sabot, it was built in 1961 as per INSA records. The two known owners were John Casagrands of Burbank, and Milo Stuckey of La Jolla/Mission Bay Yacht Club. A measurement certificate was issued on the hull when built, but no records on the builder."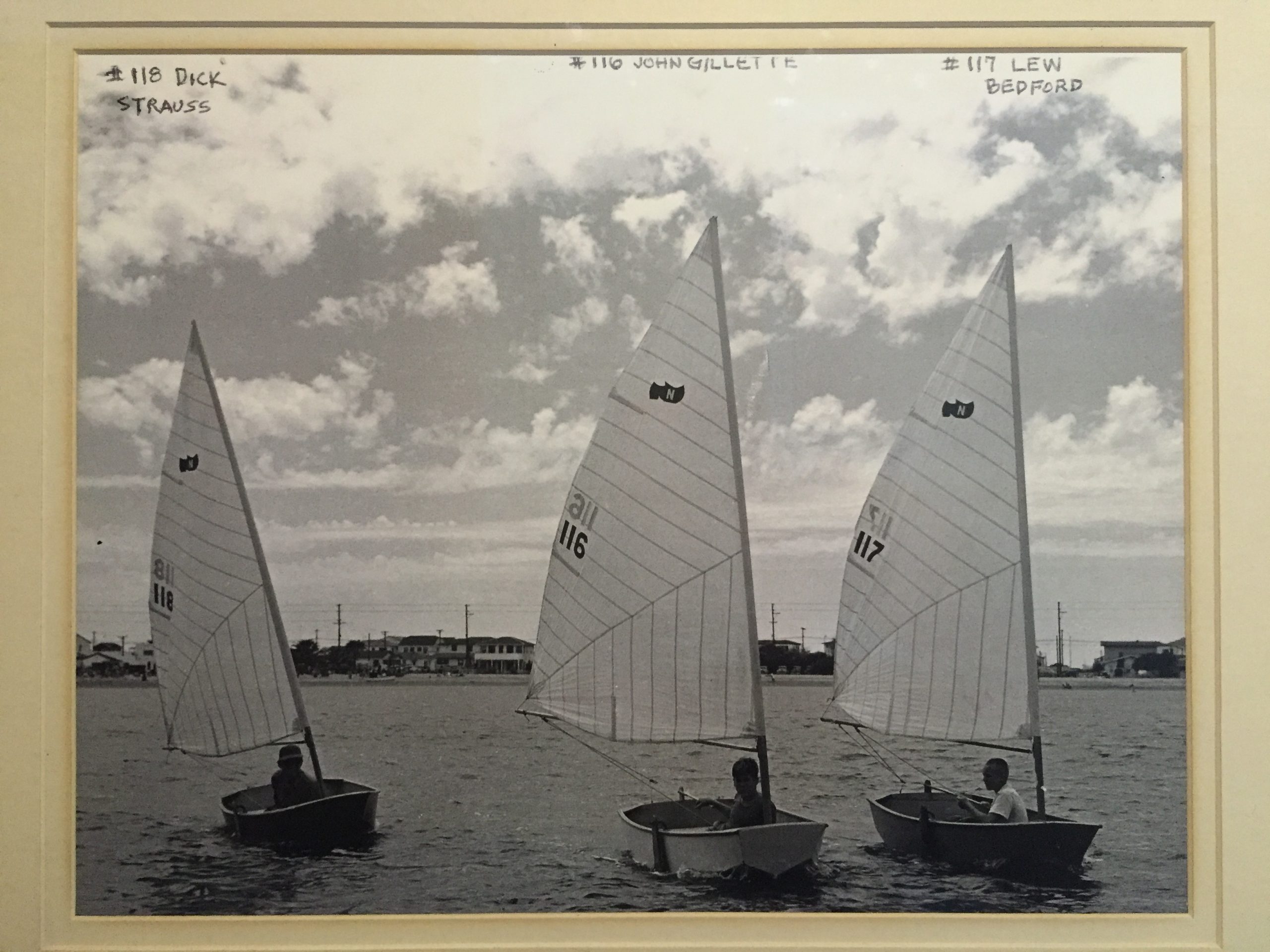 To throw a spanner into the works, Tom Walchli questioned whether the boat was built by Schock based on the hull construction. "Yup, old Naples Sabot! I can't tell from the pic; is the hull wood? If so, then it's probably not a Schock. Also, as I recall the Schock knees in the bow were glassed in. (I was Schock's service manager for most of the 1980s) Lots of people home-built them in the '60s. If the owner is interested, I have some cool aerospace foam-filled leeboard handles that my dad and I made in the '70s, and would be happy to send him one! Have fun sailing your new, old mini-yacht!"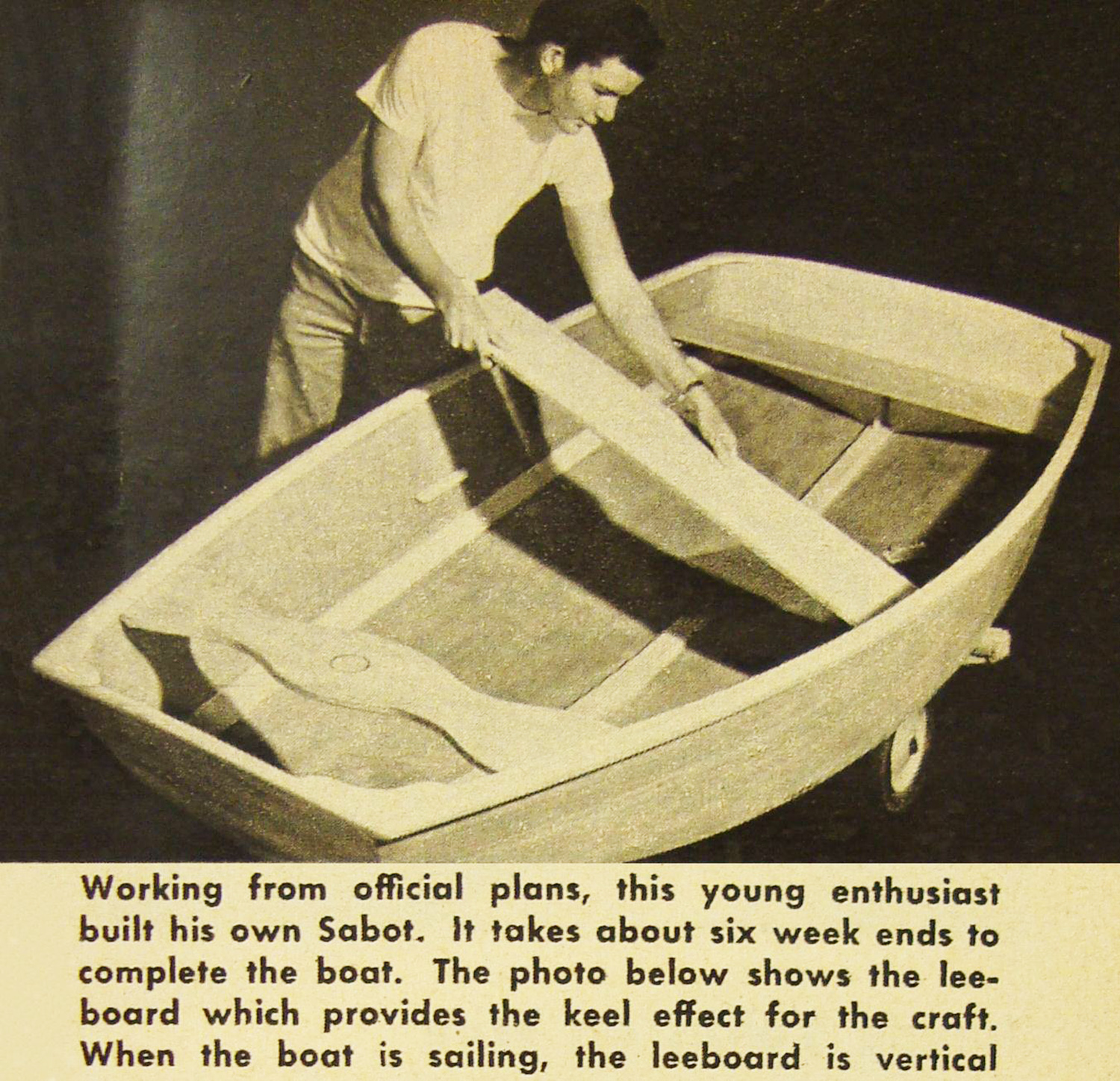 All of the above comments were of course of great value to Ben, who found the boat at an estate sale.
"Hello, all! Thanks for the info! I figured it was a Naples, just felt so from its vintage style and look. And will do, Tony. (Just couldn't help myself for that photo op). She came with the leeboard, battens, a tiller and paddle. She needs some oars though!
"Thank you, John (Latitude), for posting this and the comments helping identify this boat. I look forward to learning more if anyone has any info. Thanks again." – Ben McGinty.
We are beyond stoked with the response Ben has received to his question. Thanks, everyone, for your contributions; you have confirmed what we have always believed — the sailing community is awesome!
Oh, and Ben . . . what will you name your boat?
Receive emails when 'Lectronic Latitude is updated.
SUBSCRIBE