Saildrone Captures Footage from Inside the Eye of the Hurricane
In past we've shared a few stories about Saildrone, the Bay Area boatbuilding company that has built a number of uncrewed surface vehicles (USV) that travel the world's oceans collecting data. The most recent news we shared about Saildrone was regarding its 72-ft craft, the Saildrone Surveyor. This particular USV was equipped for high-resolution mapping of the ocean seafloor. This week we learned that a USV has been capturing footage from inside the eye of Hurricane Sam, currently situated off the USA's East Coast.
We found the following video clip accompanying description on Saildrone's Instagram page.
View this post on Instagram
We think it's fair to say that many of our readers have experienced sailing in a storm. But how many of us have sailed through a hurricane, and had the time and stomach to watch the ocean and the weather at the same time?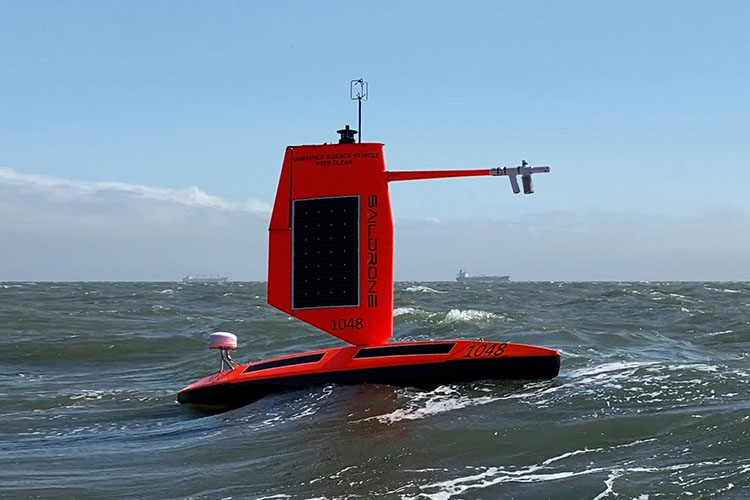 In June this year, Saildrone announced that it would send five USVs into the Atlantic's hurricane zones. Here is what they wrote about their mission:
"Saildrone USVs are highly maneuverable, wind- and solar-powered vehicles designed for long-range data collection missions. Saildrone USVs are the only autonomous vehicle that can collect meteorological and environmental data above and below the sea surface and withstand the extreme winds and sea state present during a hurricane.
"The vehicles will be deployed from the US Virgin Islands and equipped with ruggedized 'hurricane wings' designed especially for operating in winds over 70 mph and waves over 10 feet.
"'The new hurricane wing is a game-changer for the collection of in situ data in the most extreme weather conditions on earth,' said Richard Jenkins, Saildrone founder and CEO. 'Saildrone will be able to go where no scientific vessel has ever ventured, right into the eye of the hurricane, and gather data that could make communities around the world safer from these destructive storms.'"
Although we aren't scientists and therefore are largely unable to determine anything significant from watching the footage above, we do think it's pretty cool.
Receive emails when 'Lectronic Latitude is updated.
SUBSCRIBE