A lot of regattas are on the calendar for this weekend. The first weekend of the month is the busiest for midwinters on San Francisco Bay, but some clubs are canceling tomorrow's races. "Winter Series #3 scheduled for January 7, 2023, is cancelled for safety concerns," wrote Stan Phillips of Sequoia Yacht Club in Redwood City.
He pointed to the forecasts for 2:00 p.m. on Saturday:
PredictWind:
PWE 26 knots
PWG 24 knots
ECMWF 15 knots
NOAA weather:
SSE wind 17 to 20 knots, with gusts as high as 32 knots. Rain.
Windy:
HRR gusts 30 knots
GFS gusts 31 knots
ECMWF gusts 27 knots
NAM gusts 34 knots
"Flotsam in the water will be difficult to see in these conditions. News reports included notice that San Francisco sewer treatment plants overflowed, with warnings not to swim in the Bay," added Stan.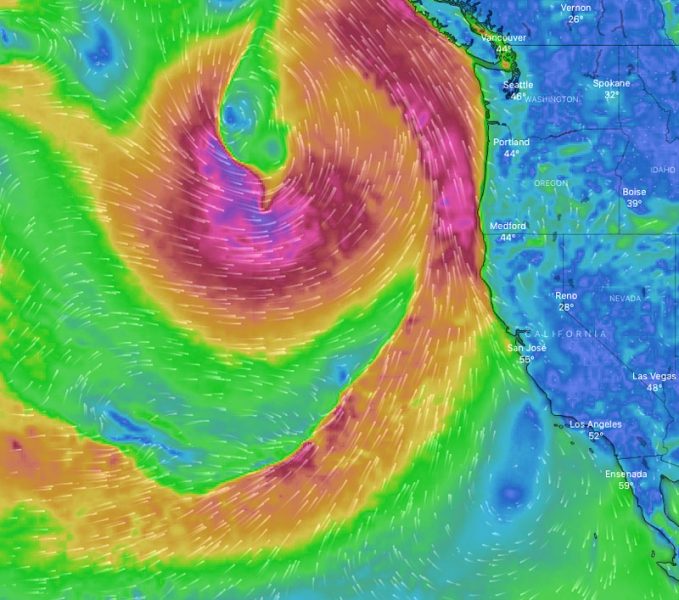 Golden Gate YC, Tiburon YC and Vallejo YC have also canceled their races scheduled for Saturday. So far, Encinal YC's Jack Frost race is still a go, but that could change. Update as of January 6 at 4:30 p.m.: "Encinal has canceled the Jack Frost race for Saturday with a make-up on 3/4/23," says Charles Hodgkins, PRO for the Jack Frost Series. He sent this message to the registered skippers: "After consulting the EYC flag and reviewing the available wind models for Saturday that all have gusts 30+ knots over an ebb tide, we have decided to abandon racing on Saturday and re-schedule it on March 4."
Sunday's forecast is not quite as foreboding as Saturday's, and a couple of Bay Area clubs have races scheduled. "So far this series the weather gods have given us excellent racing conditions," wrote Mary Wand of Sausalito YC, which runs a Chili Midwinter Series.
"We are hoping our luck continues this Sunday, but the weather and wind forecasts are inconsistent, generally showing a rainy morning with a dry afternoon and moderate winds, but with some predicting a wetter and windier afternoon. A little rain won't hurt us, but if the conditions appear to be dangerous, we will make the decision to abandon or postpone ahead of the noon first warning. Any announcement will be made from shore, as described in Section 7 of the Sailing Instructions, but also please watch your email on Sunday morning. We will notify all racers of our decision prior to the time you need to leave your dock and arrive at the starting area."
Update as of January 6 at 4:45 p.m.: "As of this moment, the Richmond YC Small Boat Midwinters are still a go for Sunday, January 8," writes Nancy Pettengill, race chair for the RYC series. "It appears that the weather gods have granted us a brief window of opportunity to sail during the midday hours of Sunday. We'll be making a final go/no go decision at 10 a.m. on Saturday, January 7. RYC will be posting the status of the midwinters on the RYC web page and Facebook page in addition to notifying all registered competitors and all of our volunteers."
Check with race organizers if you've got racing in your plans for the upcoming weekend, and feel free to comment below with inside intel (but not criticisms, please). We'll update this story if we receive more information.
Receive emails when 'Lectronic Latitude is updated.
SUBSCRIBE