Burn, Baby: A Question on Marine Flare Exercise Protocols
Eric Spross from Sausalito was sailing his Swan 431Terral a few weeks ago, when he heard a Sécurité call on Channel 16. The San Francisco Yacht Club boat Victory was advising mariners that it would be conducting flare exercises in Raccoon Strait. As Eric and his crew were motoring nearby, they had a pretty good view of what was taking place.
"As we watched the smoke (which looked great from 100 feet away on a calm day) and red handheld locator flares (which didn't show up so well during daylight), we were inspired to imagine doing the same thing ourselves.
"Wouldn't this be a great way to dispose of expired flares (cf. Latitude 38, October 2022, 'Expired Flares Are Still Difficult To Throw Away'), while giving us all valuable practice?"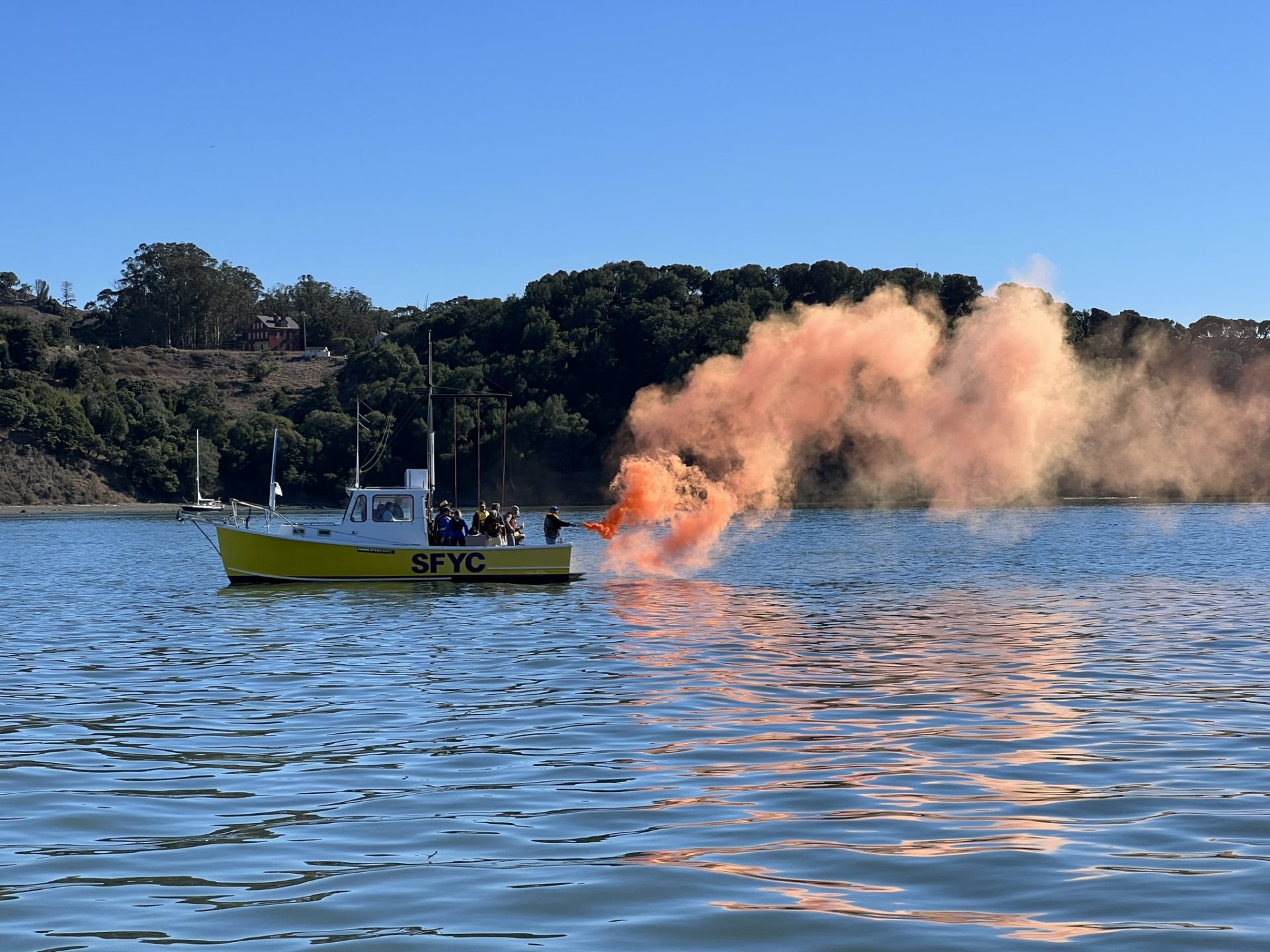 Eric acknowledged there are some good reasons why we all don't conduct the same exercises. "Perhaps emergency responders — official as well as good Samaritan — might not hear every announcement, and might not want to beat to quarters unnecessarily. Or, are there environmental concerns? We did, after all, observe what looked like burning slag and an active smoke flare being discarded into the water."
Eric added that he was unable to find any published protocols about conducting marine flare exercises, and "I wasn't invited aboard the SFYC Victory." So the question he asks is, "Do we all just incant Sécurité three times into the radio, and then set about exercising? Or is there more to it?"
We conducted our own internet search and were unable to find anything, other than some photos of the USCG conducting their own flare exercises. We then reached out directly to the Coast Guard, and in due course we received the following information.
1.) The phone number to call when scheduling a training exercise for flares is (415) 399-3539. This is Coast Guard Sector San Francisco's Command Center incoming call line. 2.) The broadcast type that the Coast Guard watchstanders will relay is a Safety Marine information broadcast. They will begin the broadcast on the international distress and hailing frequency (Channel 16) and then transition to the Coast Guard's Liaison frequency (Channel 22A) to broadcast the safety message.
Any individual or group wishing to practice using flares needs to give the Coast Guard a minimum of one day's notice. In the case of San Francisco Bay, mariners are to call Coast Guard Sector San Francisco's Command Center at (415) 399-3539. The Coast Guard will require the name of the captain and crew (and presumably vessel details, though this wasn't mentioned), what they plan to do, e.g. deploy marine flares for training, when, where — latitude and longitude — and the type and quantity of flares.
This all seems quite straightforward and easy to do. So, how about it, readers? Now that we have some information about the official protocols for conducting marine flare exercises, is this something you will do? Have you ever taken part in a marine flare exercise, or conducted one aboard your own boat? We're keen to hear how often sailors do this and how it has worked out for them.
Let us know in the comments below, or email us at [email protected].
[Note: the article has been corrected after it incorrectly stated that Victory was the St. Francis Yacht Club committee boat.]
Receive emails when 'Lectronic Latitude is updated.
SUBSCRIBE