Boaters in Orange County Warned About Hazardous Effects of Oil Spill
Boaters in Southern California's Orange County have been warned about the hazardous effects of the recent oil spill that occurred on October 1, 2021, due to a ruptured pipeline. In a public notice issued by California State Parks and California Coastal Commission's Boating Clean and Green Program, mariners are warned against coming into contact with the oil in any way whatsoever. The oil is classified as a hazardous substance and can cause a variety of symptoms, including skin irritation.
The warning goes so far as to advise boat owners against cleaning their boats themselves, or cleaning them in an area "that has not been identified by the response as an official vessel decontamination site." The notice advises that if your boat has come into contact with any oil, or for any other claims, you should call 1 (866) 985-8366.
And if you see oiled wildlife, do not touch the animal. Report your observations to the Oiled Wildlife Care Network on 1 (877) 823-6926.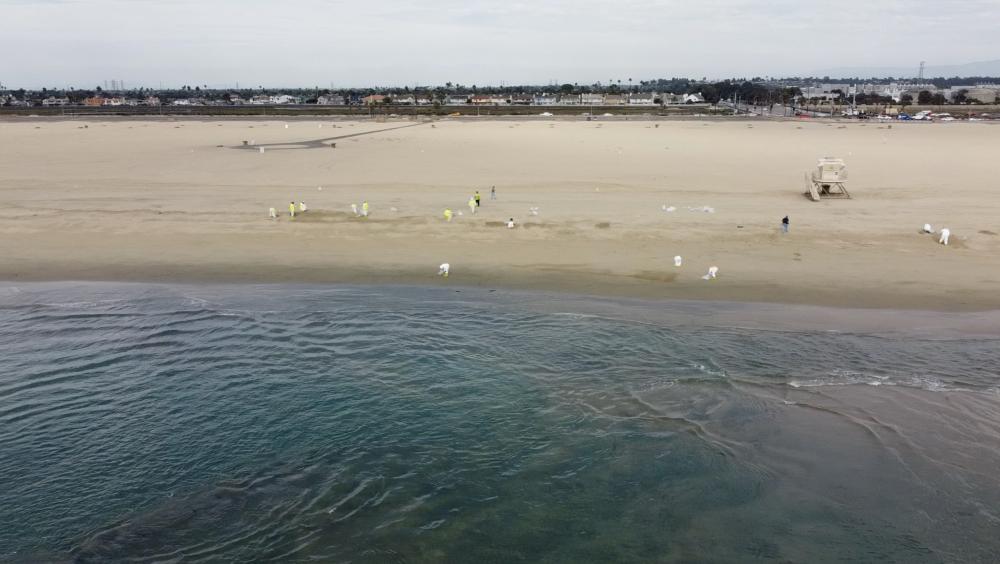 The most recent update from Southern California Spill Response advises that as of 7:30 a.m. Friday, the following progress has been made:
More than 900 people are conducting response operations
To date, 5,544 total gallons of crude oil have been recovered by vessel
13 barrels of tar balls were recovered yesterday
Approximately 172,500 lbs of oily debris have been recovered from shorelines
Shorelines continue to be surveyed and cleaned
Four overflights were conducted on Thursday and five are scheduled for Friday
14,060 feet of containment boom have been deployed
For the latest wildlife information visit https://owcn.vetmed.ucdavis.edu/pipeline-p00547-incident
In Orange County, the public can expect to see Shoreline Cleanup Assessment Teams and work crews equipped with protective gear monitoring, inspecting, and cleaning the beaches to ensure that appropriate cleanup actions are taken. For your safety, the public is advised to avoid any contact with visible oil on the beaches.
Assessment teams are checking the following locations in San Diego County for any visible signs of oil:
North Team: Santa Margarita River
Harbor Beach/Oceanside City Beach
Agua Hedionda Lagoon
Del Mar Fairgrounds/San Dieguito Lagoon
Los Penasquitos Lagoon
La Jolla Shores/Scripps
A USCG press release issued late on Thursday states that the oil spill has been designated as a Major Marine Casualty.
Marine casualties are categorized based on their severity to include reportable marine casualties as the lowest level of severity, serious marine incidents as the next level, and major marine casualties as the highest level. A Major Marine Casualty is a marine casualty involving a vessel that results in one or more of the following:
The loss of six or more lives.
The loss of a mechanically propelled vessel of 100 or more gross tons.
Property damage initially estimated as $500,000 or more.
Serious threat, as determined by the Commandant and concurred with by the NTSB chairman, to life, property, or the environment by hazardous materials.
The joint investigation is being led by the Coast Guard, with assistance from the National Transportation Safety Board (NTSB), Bureau of Safety and Environmental Enforcement (BSEE) and the Pipeline and Hazardous Materials Safety Administration (PHMSA).
Below is a courtesy video, published by the USCG District 11, showing the pipeline as it was being examined on October 7 by the Coast Guard and partner agencies.
"Vessel owners impacted by the oil spill can file a claim by calling 1-866-985-8366. If your vessel has been impacted by the oil spill, we want to remind people not to clean their own boats, and to not use soaps or dispersants. If you spot oil, please contact [email protected]."
For further updates and information about the oil, please go to www.socalspillresponse.com.
Receive emails when 'Lectronic Latitude is updated.
SUBSCRIBE