Online College or Sailing to Hawaii — Which Would You Do?
In spring this year, we shared the story of a couple of 19-year-old college students who took off from the mainland and sailed to Hawaii aboard a 1964 Cascade 29. In October's Latitude 38 we bring you the whole story — the why, the how, and what it meant to the young sailors who, initially, had little to no offshore sailing experience. You'll also learn how their boat, Osprey, became Drifty One.
In 2020, Bella Siegrist and Tyler Savage were completing high school and planning to attend college in Bend, Oregon, when suddenly, the world shut down due to COVID-19. Their options were to attend online classes from their home in San Diego or to wait out the pandemic and find something else to do in the meantime.
"It was actually kind of Bella's idea to sail to Hawaii," Tyler said.
"I grew up in Hawaii. I think I was missing my friends that day," Bella explained. "Only a small percent of me actually wanted to do it. But then Ty took that idea and was going crazy with it."
Tyler did what all young sailors would do — he typed YouTube into his computer search bar and looked for videos of people sailing to Hawaii. There he found Sam Holmes, who had spent nearly 30 days sailing a 23-ft Ranger across the Pacific.
"During the video I had absolutely no intention of actually doing it. Being alone for that long, on a small boat, and not having anywhere to go; just having the waves and no way to go home seemed pretty miserable. But then when he actually arrived, and walked on dry land, it looked like such a great feeling and such a great accomplishment. And it just made Bella and me wonder, how could that change us?"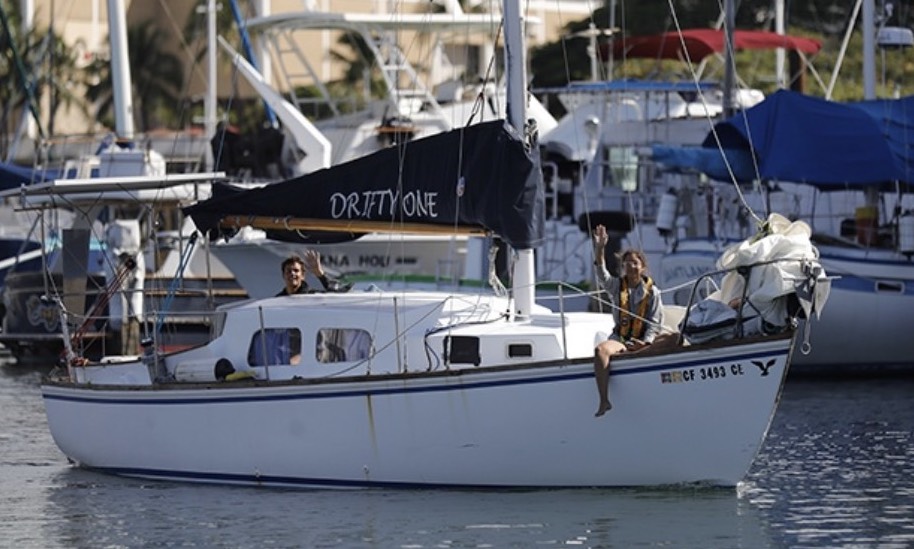 The couple had no ocean sailing experience, and next to no money. But through patience, persistence and a lot of hard work, they set off from San Diego on May 15, 2021, and spent the next 21 days sailing across the Pacific. By the time they reached Hawaii, Tyler and Bella had gained a boatload of life-changing experiences. They had both intended to enroll in college on the island, but as life will happen, neither has commenced college this fall. Bella took a job as a personal trainer, while Tyler started working on charter boats. Tyler has now completed his 25-ton skipper's license and at last word was waiting for the paperwork to be processed.
Read the full story at Latitude38.com.
Receive emails when 'Lectronic Latitude is updated.
SUBSCRIBE