Olympic Sailing Will Begin Tomorrow in Enoshima
Some sports have already begun competition in the Summer Olympics, and the opening ceremonies — such as they are in a country operating under a state of emergency — were performed by masked participants yesterday in front of empty stadium seats. Sailing events will start on Sunday, July 25 (actually tomorrow, Saturday, on our side of the dateline), with Laser, Radial and men's and women's RS:X Prelims, and will run until Wednesday, August 4 (August 3 in the US).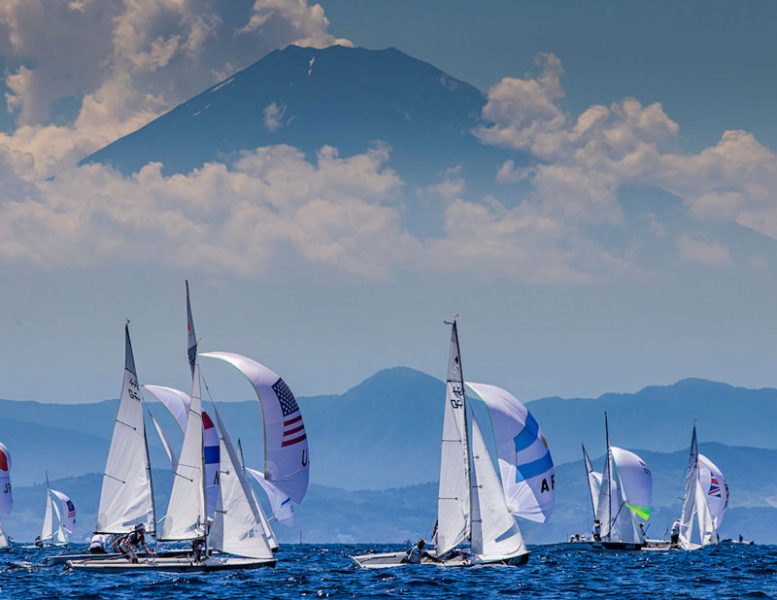 Meet the Team
The US Olympic Sailing Team are:
Riley Gibbs, Long Beach, CA, and Anna Weis, Fort Lauderdale, FL, Nacra 17. We profiled Gibbs in the May 2020 issue of Latitude 38.
Charlie Buckingham, Laser, Costa Mesa, CA. We profiled Buckingham in the May 2018 issue of Latitude 38.
Paige Railey, Laser Radial, Clearwater, FL. Though an East Coaster, Railey is a member of St. Francis Yacht Club.
Luke Muller, Finn, Fort Pierce, FL. Muller is a graduate of Stanford and a member of StFYC. This will be the Finn's last hurrah as an Olympic boat.
Pedro Pascual, Men's RS:X, Miami, FL.
Farrah Hall, Women's RS:X, Annapolis, MD.
Stu McNay, Providence, RI, and Dave Hughes, Miami, FL, Men's 470. At age 43, Hughes is the oldest member of the team.
Nikki Barnes, St. Thomas, USVI, and Lara Dallman-Weiss, Shoreview, MN, Women's 470. Barnes is another StFYC member.
Stephanie Roble, Miami, FL, and Maggie Shea, Chicago, IL, 49erFX.
Coverage on NBC
NBC's Olympics website will broadcast the Sailing events of the Summer Games daily. NBC's and the US Sailing Team's social media channels will feature highlights. Veteran sailing commentator Gary Jobson will anchor the daily broadcast, which will begin at 8 p.m. PDT every day of racing and run for two hours. There will be two televised race areas per day, the Enoshima and Kamakura courses. As the classes rotate through those two areas day to day, different athletes will be featured on the broadcast. Replays will be available after each racing period concludes. The first day of broadcasting will be Saturday, July 24. See the schedule here.
Access through World Sailing
World Sailing will run a dedicated website for the Olympic Sailing Competition with full results, news, imagery, video and links available. The full schedule is available here. The daily schedule and all race results will be available here. Daily morning reports previewing the action and evening reports reviewing the racing and features will be available throughout the Games here. Find out what TV station will broadcast sailing at the Games here. World Sailing will feature some videos across its social media channels.
Receive emails when 'Lectronic Latitude is updated.
SUBSCRIBE