May Day Brings May Latitudes
Since sometime way back in 1977, Latitude 38 has never missed publishing a monthly issue. We might be living in strange times, but the times are not strange enough to make us miss an issue now! Thus the May issue of the magazine blooms, in print and online, on May Day. Even as we post this, our dedicated delivery drivers are making the rounds of Bay Area distribution points. Subscriptions, including 137 additional 'Shelter-in-Place Specials', go out in today's mail. FedEx Ground boxes will ship on Monday.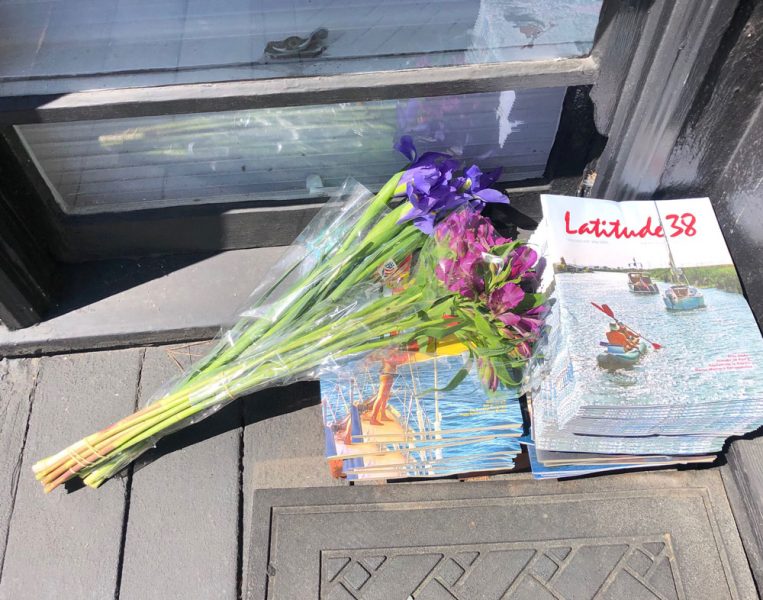 The Yacht Racing Association of San Francisco Bay is sending May magazines to their current mailing list, as they did with the April issue — a pleasant surprise for sailors staying home. The YRA, like Latitude 38, is doing all they can to see sailors through this temporary inconvenience.
Getting the magazine to you is only a small piece of our operation, however. We pour the vast majority of our time and energy into content. In addition to stepping up our postings on 'Lectronic Latitude during the pandemic, we included the following in the May issue:
A look back at the Master Mariners Regatta.
A feature on Electric Drive.
A profile of pro sailor and Olympic hopeful Riley Gibbs of Southern California.
Part 2 of our celebration of the Islander 36's 50th anniversary.
Max Ebb on the Graveyard Shift.
Sightings includes part 2 of a San Francisco sailor's Clipper Race saga, reviews summer reading selections, updates the status of the Delta Doo Dah, Baja Ha-Ha and Summer Sailstice, reports on the restoration of the schooner Viveka, and rings eight bells for a sailing maven and matriarch.
Racing Sheet goes Spinning and Drifting with Captain Midnight, sails some virtual beer can races, checks in with Santa Cruz Yacht Club, wraps up a last few Midwinters standings, issues updates on events ranging from the Singlehanded Farallones to the Tokyo Olympics, and, alas, rings eight bells again, this time for schoonerman Paul Plotts of Dauntless.
World of Charter features a guide to the fleet of Bay Area Crewed Charter Vessels.
Changes in Latitudes includes reports from Convergence, currently holed up in Mexico; Baja Fog, starting their cruise with one crisis and ending with another; Bay Wolf, proudly watching a seasoned sailing daughter sail away with the Coast Guard; and a bunch of Cruise Notes.
Calendar continues to be a challenge, and we encourage readers and event organizers to keep us posted on schedule shuffles.
Letters, Loose Lips, and Classy Classifieds wrap up this issue, with lots of help from our display advertisers. Now more than ever, we encourage you to support the businesses that make Latitude possible.
Find your May issue here, or read it online here.
Receive emails when 'Lectronic Latitude is updated.
SUBSCRIBE