The Long and Short of the Corinthian Yacht Club Fall Series
With normal summer and fall racing suspended due to the COVID-19 pandemic, the Corinthian Yacht Club stepped up with a successful Friday night series using strict guidelines for wearing masks or sailing with crew in a "social bubble." That series ended in August. Playing it forward, CYC designed a new Fall Series using the same COVID safety guidelines. The six-race series began Saturday, September 19, and continues every other Saturday through November 28.
A healthy 46 boats signed on, with 32 boats sailing Race 1. The J/88 and J/70 divisions sail two short courses each on Saturday with multiple laps between Little Harding and a mark set a mile to windward. The three PHRF Divisions, the J/24, Cal 20 and Non-spinner Divisions sail one of 18 possible long courses. All but one of these long courses feature one or more roundings of a temporary mark set near Point Diablo and/or the Point Bonita #2 buoy. The long courses range in length from 12.2 miles to a whopping 26 miles.
Last Saturday saw southwest wind in the mid-teen range for the most part, with the expected lower-speed variable wind inside Raccoon Strait near the CYC clubhouse start/finish line. With the first start at 12:35, the noon 3.3-knot flood became a major factor in getting beyond Belvedere and into the countercurrent along the lower end of Richardson Bay. The fast-boat divisions went out to Point Diablo and back. The rest were assigned the single inside-the-Gate course available, a twice-around Yellow Bluff and a temporary mark set near Point Stuart with a final loop around Little Harding before the traditional Elephant Rock-to-finish leg. When the two one-design fleets joined in with their Little Harding/windward course it made for a busy race track.
San Francisco YC was also running their Women's Edition Catch Me If You Can club race using both Yellow Bluff and Little Harding as marks, with a start/finish line set near the CYC Point Stuart temp. There were lots of inflatable marks to look for or avoid. The CYC and SFYC committees tied their combined Yellow Bluff marks together, forming an interesting object to search for against a group of small fishing boats in the area.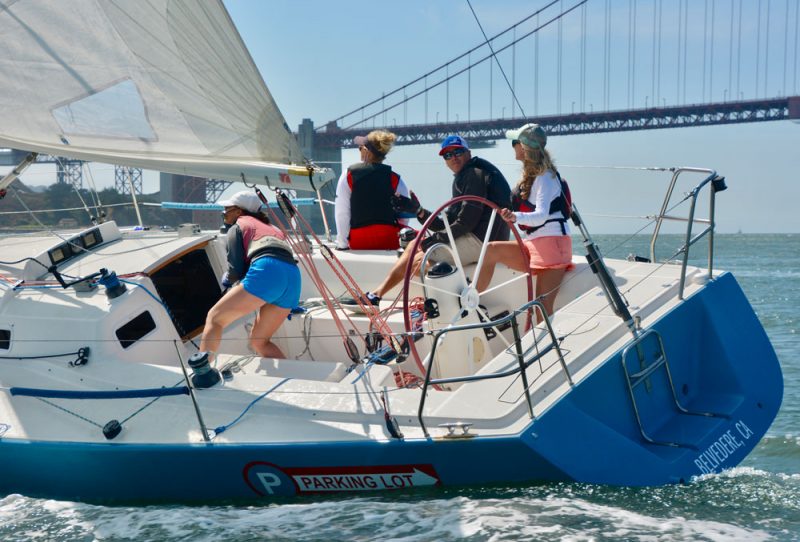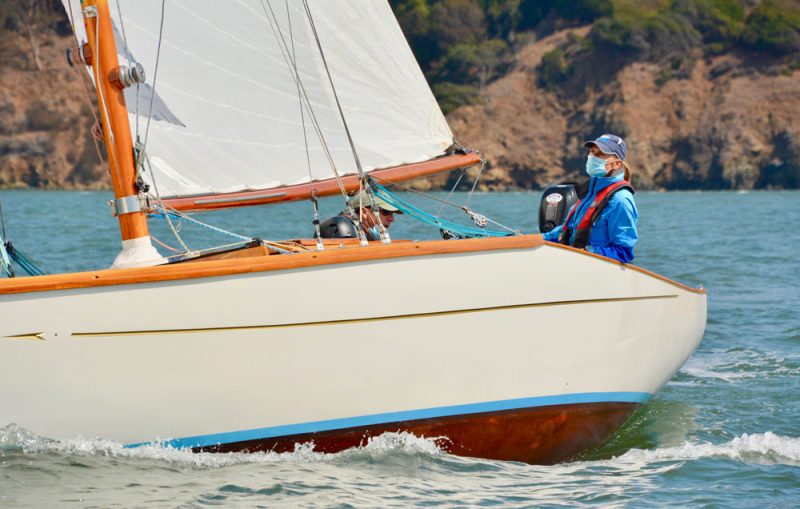 It was a swift race, even for the large boats sent out under the bridge to Point Diablo and back. In that division, Daniel Thielman's Melges 32 Kuai corrected out ahead of Ruben Rocci's J/111 Swift Ness. Mark Kennedy's Melges 32 Nuckelavee took third place out of six boats. Sailing the 12.3-mile inside-the-Bay course, Rich Korman's Moore 24 JR won the seven-boat PHRF 2 division, followed closely by Paul Zupan's IOD One Hundred and Blake Davis's T650 Flight Risk. PHRF 3 saw John Rook's Ranger 33 Liquid Asset coming in first, with Pat Broderick's Wyliecat 30 Nancy second, and Peter Birnbaum's Catalina 34 Surprise third out of five boats. Among the four Non-Spinnaker boats, Edward Elliot's Beneteau First 40 TREX won. Bryon Reeves' Sabre Spirit 36 Katester placed second and Gregory Demetrulias' Beneteau 40.7 Argo third.
Paul Van Ravenswaay's Feral Rooster took top honors in the five-boat J/24 class, followed by Jasper Van Vliet's Evil Octopus and Brandon Mercer's Tenacious Cuttlefish. Wilson Partridge's Lady Bug took all honors in the Cal 20 division. The J/70 class featured Scott Sellers' 1FA, followed by Justin Foox in Flotek in a two-boat race. Sergey Lubarsky's Pelagia won the J/88 class, with Brice Dunwoodie's Ravenette the other J/88 racing.
Receive emails when 'Lectronic Latitude is updated.
SUBSCRIBE