Latitude 38 May Issue Out Today
Hooray for May, and the new issue of Latitude 38! The sun is shining, the weather is warming, and our sails are filling. As we launch into this next month we're excited for all the sailing opportunities that are laid out before us. This month's magazine covers a host of stories and blasts from the past about sailors and sailboats, along with details of races past and races to come. See the sneak previews below, or jump right in and start at page 1!
Fifty Years Ago I Set Sail From Sausalito — Jim Shaw reflects on his epic voyage out the Gate.
Fifty years ago, I set sail from Sausalito's Napa Street Pier with three of my best friends for a vaguely planned trip to sail south along the Pacific Coast. We had no destination in mind and no time limit — just a youthful desire to find good surfing and whatever adventures came our way.
Our crew was made up of our neighborhood schoolmate surfing buddies: Zack Schlesinger, myself, Pete Conidi, who went on to be the S.F. cable car head splicer, and Eric Olsson, who had a career in the Merchant Marines.
Zack, now a professor of physics at UCSC, had just returned from Puerto Rico, where he crewed on the delivery of a three-masted tall ship from Los Angeles to Puerto Rico, and I had just returned from a year sailing on an 84-ft Baltic ketch, the Johanne Regina, up and down the Caribbean, bringing tropical fruits from the down islands to the barren Virgin Islands.
I was 20 years old and Zack was 21, and now that we were back home in San Francisco, we went looking for the next adventure. Zack's idea was to get a whaleboat from the Navy surplus auction, put together a simple rig, and head south. He loved the whaleboat design, especially after reading of Bligh's 3,700-nautical-mile voyage that got underway after mutineers set him and 18 loyal crewmen adrift in a 23-ft ship's launch, and Shackleton's 1,700-kilometer voyage as well, in double-ended, whaleboat-designed small boats.
We were lucky to win a bid for a sturdy 26-ft fiberglass whaleboat launch situated in National City, by San Diego. We took Zack's father's new Ford station wagon to the Mission High School night metal shop, and Max Vela installed a heavy-duty towing rig. Towing the boat from National City probably destroyed Zack's dad's car, but that was how we were then — a little out of control.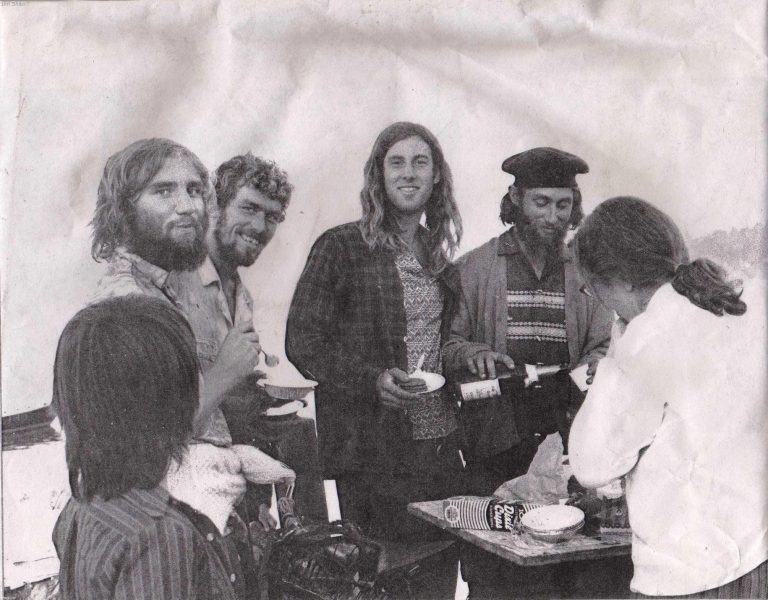 SailGP — Winging It in the Frisky City
As it did at the conclusion of Season 1 in 2019, the Sail Grand Prix traveling road show came to San Francisco for the grand finale of Season 2. The eight-boat fleet arrived the week ahead of the March 26-27 race dates and took to the Bay waters for practice.
The week did not proceed smoothly for all of the teams. Jimmy Spithill's USA Team and Tom Slingsby's Australia Team endured capsizes during training sails. Coincidentally, they were the only two teams already guaranteed spots in the three-boat championship race, due to their points accumulated during the long season.
The Aussie F50 was still undergoing repairs after Thursday's capsize that caused damage to the wing sail, resulting in the team missing Friday's practice racing session. Slingsby was the defending champion, having won Season 1. Nathan Outteridge's Japan team was considered the most likely to round out the top three that would race for the $1 million prize.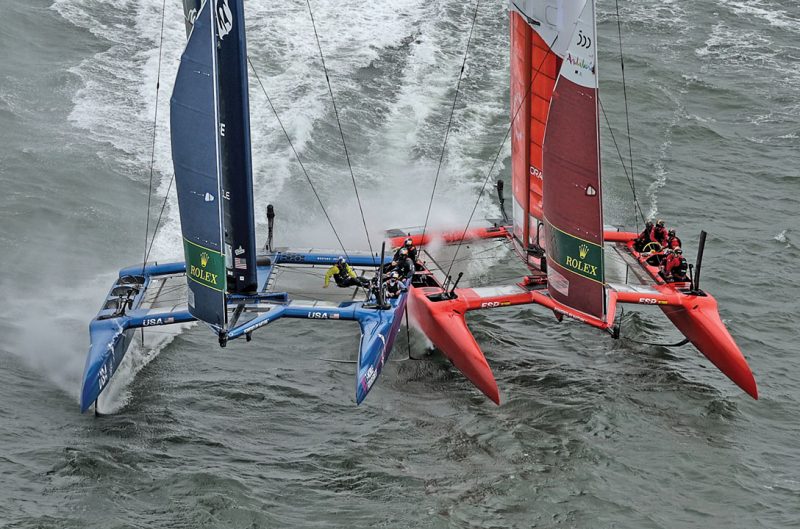 A 72-year-old wooden boat washes up on the rocks after a storm, sails set, but abandoned and looking a mess — what do you do? Do you recognize a rare S.F. Bay Bear Boat, and eagerly adopt the project boat? You do if you are intrepid sailor KC Crowell, who took command of the recovery of a wooden Bay Bear Boat in December.
There are only 20 or 30 Bay Bear Boats remaining of the 65-boat fleet. The Bear Class sloop was designed by Ernest Nunes and Marty Martinson in Sausalito, the first keel laid in 1932. Crowell's found sloop is hull #47, built in 1949. Thanks to recent neglect leading to its crash landing on the rocks in the Alameda Estuary, the wooden boat has seen better days, but its quality and craftsmanship are obvious. Crowell is more than ready for the restoration project as a sailor with a knack for traditional boats.
"I started getting involved in sailing more seriously in 2013 or 2014," describes Crowell. "I had a regular day job, just an office job. I would sail on the tall ship Lady Washington when she was visiting the Bay. But I was pretty burned out from my office job. I got into conversation with the captain and crew on Lady Washington, quit my job, and did their volunteer program. I never looked back!"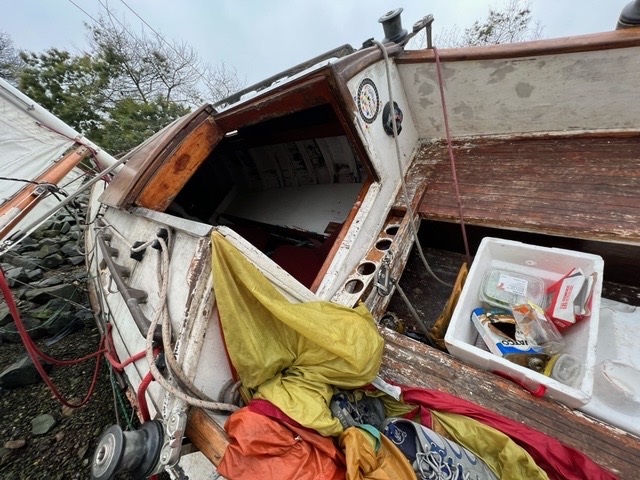 Also in the May issue:
If you've subscribed to Latitude 38, you should receive your May issue in the mail any minute now. If you haven't subscribed, you're missing out. But you can pick up your copy from your favorite distributor.

Receive emails when 'Lectronic Latitude is updated.
SUBSCRIBE