Kenichi Horie Sets Sail Aboard 'Suntory Mermaid III'
On Saturday morning the compact, 5-ft frame of 83-year-old Kenichi Horie bade farewell to a small crowd of well-wishers and mostly-Japanese media who gathered to see him ahead of his intended 6,000-mile/70-day voyage from San Francisco to Japan. It couldn't have been a nicer morning on the docks of event host San Francisco Yacht Club, which has hosted Kenichi in the past, and which he considers his 'lucky' club for his voyages.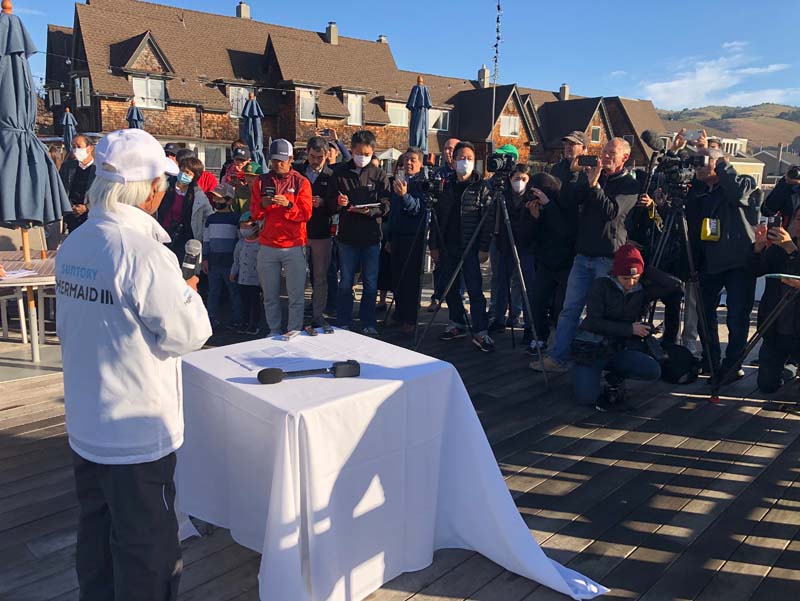 His unique, purpose-built 19-ft aluminum cutter is designed specifically for this voyage and for its skipper, Kenichi Horie. The boat is cutter-rigged with two roller-furling headsails, a windvane and modern GPS navigation, though he also carries a sextant as he did on his first voyage in 1962.
While the boat is much more modern and robust than his first Mermaid, Kenichi's sailing style and plans retain an essential simplicity. He does not carry a watermaker. Instead he has 70 2-liter bottles of water, and also a beer for each day. The boat has no engine and has a solar panel for power. When asked about what he does at night he simply said, "I go to sleep." He brings some books to read and a radio to listen to on the crossing. And when asked why he was going from San Francisco to Japan rather than Japan to San Francisco again, he said, "Because it's warmer. On the Japan-to-San Francisco route you have to go north of the Pacific High, which is cold, and I want to wear a T-shirt. I will sail about two miles south of Hawaii, so it will be warmer."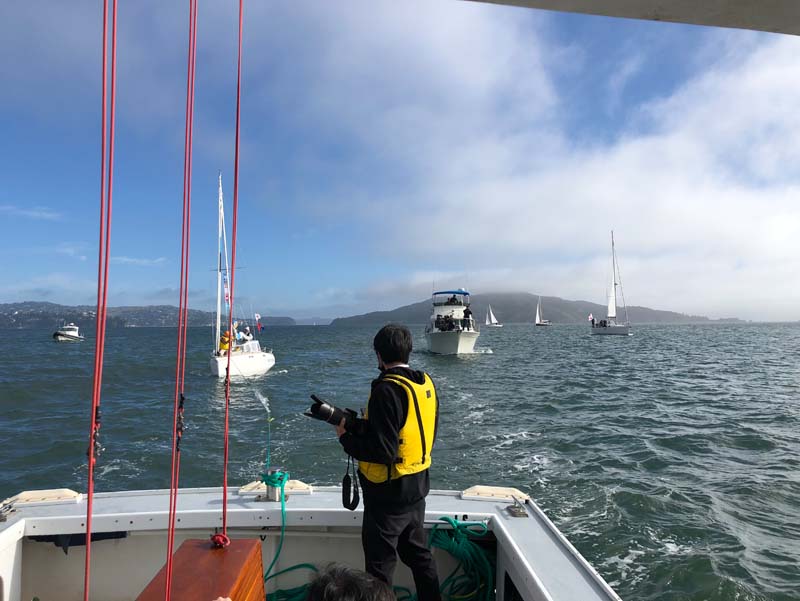 Just before 10 a.m., with a nice breeze and strong ebb, we cast off Suntory Mermaid III. Kenichi had a couple of handlers aboard to help raise sails and get things settled, and after a very short sail, he came alongside the Victory to drop them off. Kenichi then unfurled the jib and got the boat trimmed, and Suntory Mermaid III fell into her own groove, traveling at around 5+ knots upwind to the open Pacific. Naturally, there was a large tanker arriving, so Kenichi had to hold over toward the San Francisco shore to let the tanker pass before heading back to the middle of the ebb and the magic carpet ride out toward Point Bonita.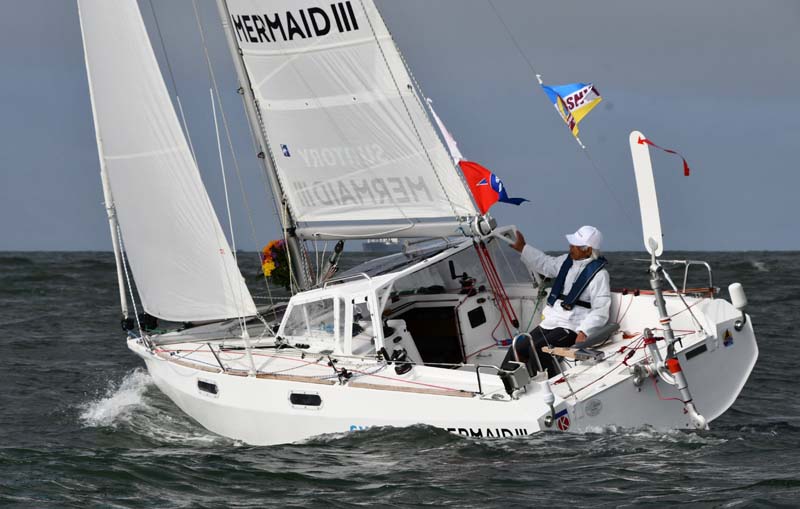 His calm demeanor, the comfortable-looking sailing, a well-equipped boat and his smiling wave made the whole proposition look entirely reasonable. To spend 70 days alone on a 19-ft boat thousands of miles from land certainly takes a difficult-for-most-to-achieve mental and emotional attitude. Still, 70 days is less than half the 148 days he was solo aboard a solar-powered, recycled aluminum boat with which he set the record for the fastest Pacific crossing of 10,000 miles in a solar-powered boat.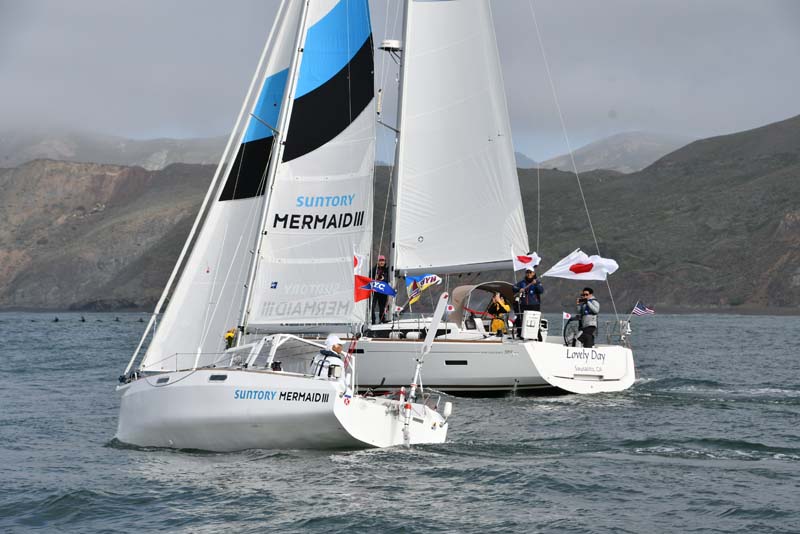 This is Kenichi's eleventh major voyage. While he is understated and humorous when speaking, he's not inattentive to the records he's setting and the message he's communicating. After setting the record at age 23 for being the youngest person to solo sail from Japan to San Francisco, he's happy to now be setting the record for the oldest person to do the same course in reverse. He also wants to demonstrate the idea of simplicity and treading lightly on the planet. Each of his voyages has highlighted ecological possibilities such as crossing the Pacific in a catamaran made of beer kegs, pedaling from Hawaii to Japan (he said that was too much work!). He also sailed in a boat made primarily of recycled whiskey barrels — and the list goes on. He's small in frame but carries a big message and belief in the need for a circular economy where nothing is wasted and everything is reused.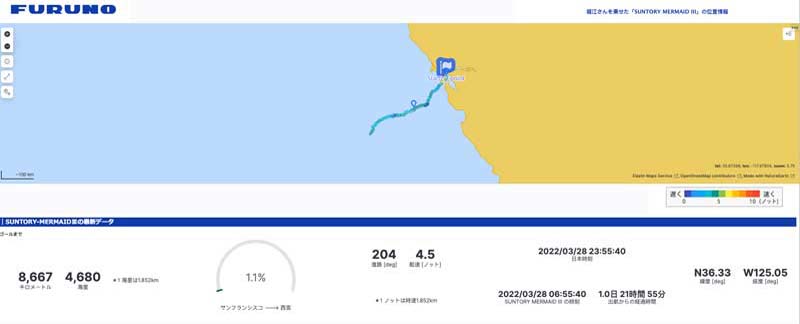 To follow Kenichi Horie you can click here. You will see a blue box like the one below. Click that. Though it's all in Japanese, you should be able to follow along.

In his keep-it-simple approach, Kenichi says he doesn't have any particular training regimen ahead of his voyages, and for food he carries mostly corn flakes and rice. If all goes according to plan he'll be averaging about 3.5 knots across the Pacific, but we get the sense he's in no rush and is just as happy to be at sea as ashore.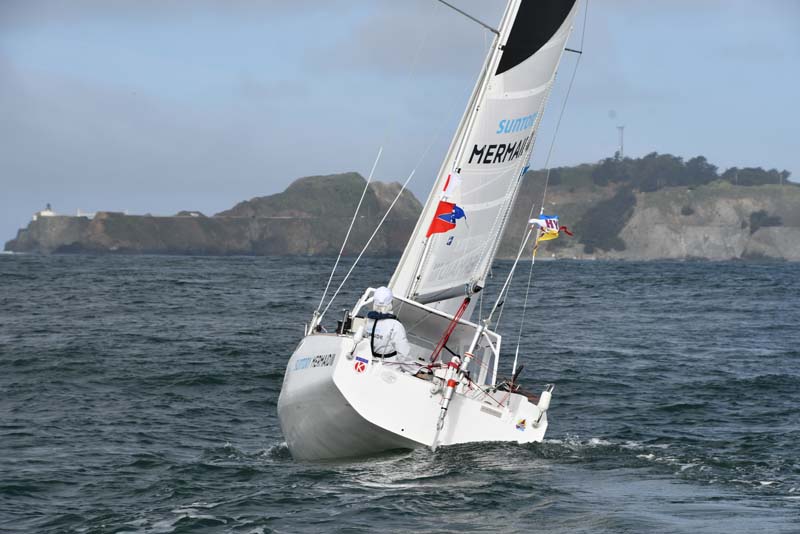 At the press conference, the solo sailor was asked what he was thinking about as he prepared to go. He apologized to the crowd, acknowledging it was a beautiful morning and he just wanted to leave and start sailing. So he put down the microphone and headed to the dock, and we hooked up a towline and off we went. A dozen or more boats came out to escort him under the Bridge. He gave everyone a wave and sailed away. We'll be following him on the tracker, and hope everyone in Hawaii can give him a wave as he sails by. Then we'll look forward to his arrival in Japan.
Receive emails when 'Lectronic Latitude is updated.
SUBSCRIBE