Jim Immer Enjoys 'Latitude 38' Crew List Success
The Latitude 38 Fall Crew List Party is right around the corner, and sailors around the Bay are asking each other the most important question: "What are you going to wear?" This may seem like a joke, but here's the thing — Sausalito is known for its chilly breezes that blow through the fog-covered hills. It may not happen that way on party day (Thursday, September 7, in case you're wondering), but be prepared. It's almost guaranteed to be five to 10 degrees cooler than most other parts of the Bay and surrounds. Unless you're coming from San Francisco, in which case you already know what to do.
But we've digressed. We wanted to talk about why people are coming to the Crew List Party, and in that regard, the most important question prospective partygoers are asking is, "Are you looking for crew, or looking for a boat to sail aboard?" The answer to that question doesn't matter too much, because either way we've got you covered. The Crew List Party is the ideal place to meet an "all sorts" bag of sailors who will be happy to chat about their favorite pastime, sport, or weekend activity, and most will be wearing a really cool sticker that will tell you exactly what they're looking for.
And although it's not specifically a "party" story, here's a great example of how Latitude's crew list works. Jim Immer from El Dorado Hills often races in Richmond Yacht Club's Wednesday night beer can series. But after expressing a wish to sail even farther, he turned to the Latitude Crew List and ended up joining the Baja Ha-Ha, and doing multiple coastal trips — all aboard other people's boats.
"Since the time I retired early in 2021, I decided I wanted to do more long-distance sailing. My not-yet-retired wife supported my idea, but not including me buying a boat! So I started with the Latitude 38 Crew List and the Baja Ha-Ha Crew List where I have found great rides and made some good sailing friends. It helped that I had attended sailing schools, done a fair amount of Bay Area racing and some chartering over the years, so had a decent sailing résumé to begin. However, not all boat owners are looking for deep experience but want enthusiastic sailors who are ready to learn and pitch in for whatever needs doing.
"I had a blast on the last two Baja Ha-Ha's to Mexico, with the last one being a round-trip cruise to Cabo and back up to San Diego. Being willing to crew both directions was key for the owners of Vanadium, a Beneteau 41 about which I wrote an article that was published in the January 2023 edition of Latitude 38. This coming fall I was contacted through the Crew List to do another round-trip Baja Ha-Ha on a plush Jeanneau 54 named FIO. After committing to FIO I heard back from another boat owner with a Jeanneau 44 who I had reached out to via email. Although I can't do the Ha-Ha with him, I am helping him deliver Salty Dancer from S.F. southward in September, plus have gone out for two lovely daysails in the Bay recently."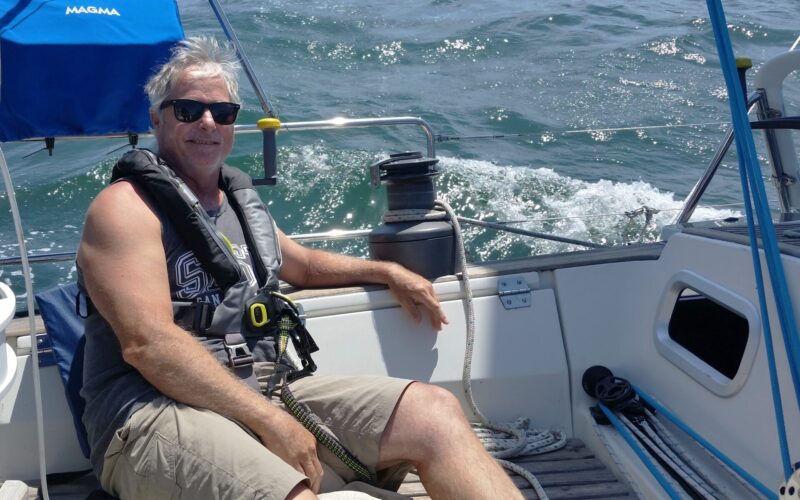 Do you see how easy it is? And how much fun you can have? And, being at the party gives you the opportunity to meet prospective sailing partners right away.
The Fall Crew List Party is also the Baja Ha-Ha party and cruiser's seminar. So what do you say? Will we see you there?
If you have a Crew List or Crew List Party story to share, we'd love to hear from you. Send it to [email protected].
Party Details:
THE SEMINAR!
We will be holding our annual cruising seminar for our Baja Ha-Ha sailors and cruisers preparing to head south. The seminar will run from 4 p.m. to 5 p.m. with half an hour of Q&A from 5 p.m. to 5:30 p.m. Doors will open for the cruising seminar at 3:30.
Call of the Sea will offer tours of the Matthew Turner for Latitude 38 Fall Crew List Party guests from 3 p.m. to 5 p.m.
THE PARTY!
The Fall Crew List Party will run from 6 p.m. to 9 p.m.
The event will be mostly outside, in the Spaulding Marine Center boatyard, with vendor tables set up inside. (This is Sausalito — so please dress in layers!) Casablanca Mediterranean Food Truck will be on hand serving from 6 p.m. to 9 p.m., and Spaulding will be hosting the bar with all proceeds going to benefit their education programs.
There will be vendors to answer your questions about cruising and heading south to Mexico, along with local partners who want to help you get sailing on the Bay. San Francisco Sailing Science Center will set up an entertaining and educational exhibit.
Our crew parties are geared toward helping people find sailing opportunities for cruising, racing, or daysailing. The Fall Crew List Party is ideal for boat owners seeking crew who want to head south to Mexico, or crew who want to do the same. It's also well suited for folks looking for midwinter race crew or anyone who just wants to sail the Bay.
ADMISSION DETAILS!
Admission includes free munchies, entry to door prize raffle, a sailing slide show, and connecting to the most vibrant sailing community in the Bay Area!
Admission to the Fall Crew List Party is $10
Admission to the Mexico Cruising Seminar* is $10
Admission to the Party and Seminar* is $20
*Each skipper and first mate registered for the 2023 Baja Ha-Ha gets free entry to the Fall Crew List Party and Mexico Cruising seminar.
If you are considering joining the 2023 Baja Ha-Ha fleet, sign up before September 1 and get two free tickets to the Crew List Party and Mexico Cruising Seminar.
PARKING!
There is parking around Spaulding. Please do not park at Clipper Yacht Harbor.
Skip the wait at the door and get your tickets online now. We look forward to seeing you all on September 7!
Receive emails when 'Lectronic Latitude is updated.
SUBSCRIBE