First Transpac Finishers Arrive in Oahu
First Finishers
As this article 'goes to press', the first finishers in the 2021 Transpac race have begun to sail across the finish line at Diamond Head Buoy. First to finish, at 2:53 a.m. HST, was Roy P. Disney's turboed Volvo 70 Pyewacket 70, which sailed the 2,217-mile course in a provisional time of 5 days, 16 hours and 23 minutes. They were tied up at the dock and drinking mai tais by the time we wrote this. Not only was Pyewacket the first boat to reach Honolulu, but the former round-the-world racer will also claim the coveted Barn Door Trophy given for the monohull with the fastest elapsed time.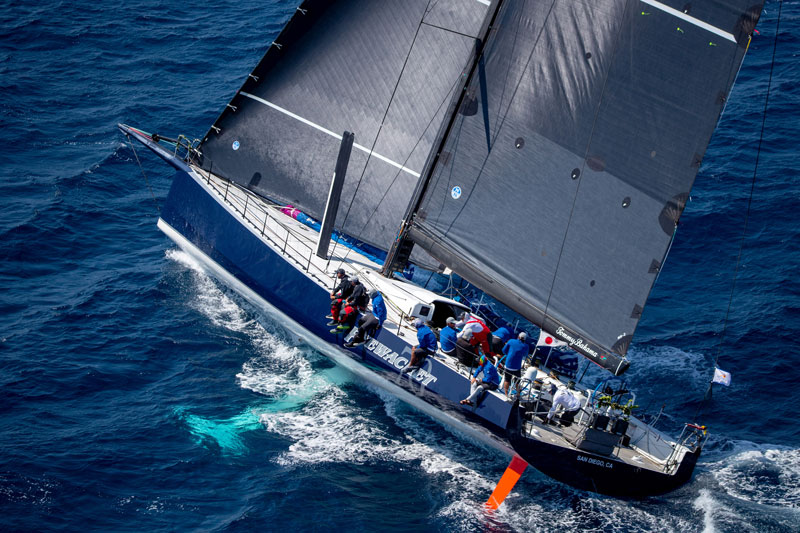 Cecil and Alyson Rossi's Farr 57 Ho'okolohe will probably have finished by the time you read this. The fastest boat to start on the first day of starts, Ho'okolohe had been well out in front of the fleet the whole way since leaving Long Beach, only to get passed by a much, much faster boat right before the finish. The most current tracker data shows Ho'okolohe correcting out to a win in Division 8. Pyewacket is likely to end up in second place in Division1, though she still has a shot to win if the J/V 72 Lucky should lose some steam approaching the finish.
Overall Leaders
Behind the boats that will be first into Honolulu, the rest of the fleet is making great time in picture-perfect conditions. With a strong and stable Pacific High blanketing the course in steady trade winds since the start, Transpac 51 is turning into a fast year for this relatively small fleet of just 40 boats. Leading the race overall is a pair of blue 52-footers heavily influenced by the TP52 box rule. Chris Sheehan's baby-blue Pac52 Warrior Won currently sits atop the ORR Overall ratings, though Thomas Furlong's beautiful dark-blue R/P 52 Vitesse is nipping at their heels. A couple of sleds and a Rogers 46 round out the top five on overall corrected time.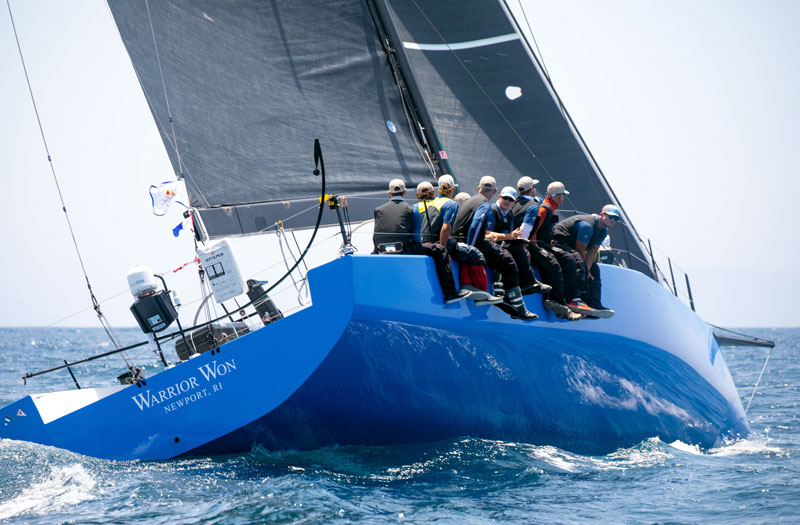 Bay Area Transpac Teams
Notable Bay Area boats include Dave MacEwen's Rogers 46 Lucky Duck, which sits second in Division 5 and eighth place overall as of this writing. Rufus Sjoberg's J/125 Rufless is not far behind Lucky Duck in fourth, in what has become a very closely contested Division 5. Mike Moradzadeh's Santa Cruz 50 Oaxaca is locked into a close battle in Division 6, while Greg Dorn's Dehler 46 Favonious has a commanding lead in Division 7. Several other Bay Area yachts are also leaving their mark on the race.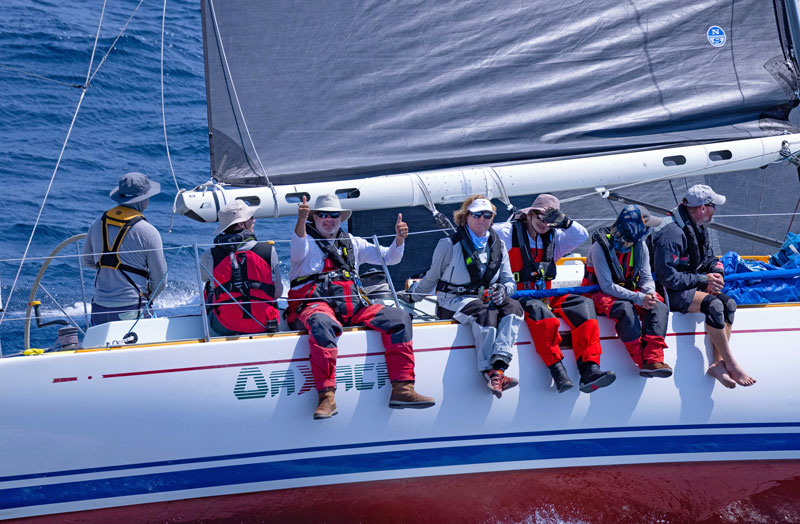 A Cautious Honolulu Aloha
When Transpac racers get to Hawaii, they'll have a decidedly different experience than in years past. As part of Transpac's efforts to remain as safe as possible during these pandemic times, individual awards and perpetual trophies will be presented to teams shortly after they finish, as the race will have no central awards ceremony in an effort to avoid large crowds. The race will also have no major official parties.
Make sure to check in with 'Lectronic Latitude next week when most of the fleet will have finished and we have more clarity on the overall results. In the meantime, continue to track the fleet here. We'll have a complete recap of the race in the September issue of Latitude 38.
Receive emails when 'Lectronic Latitude is updated.
SUBSCRIBE