About Next Month's Doublehanded Farallones Race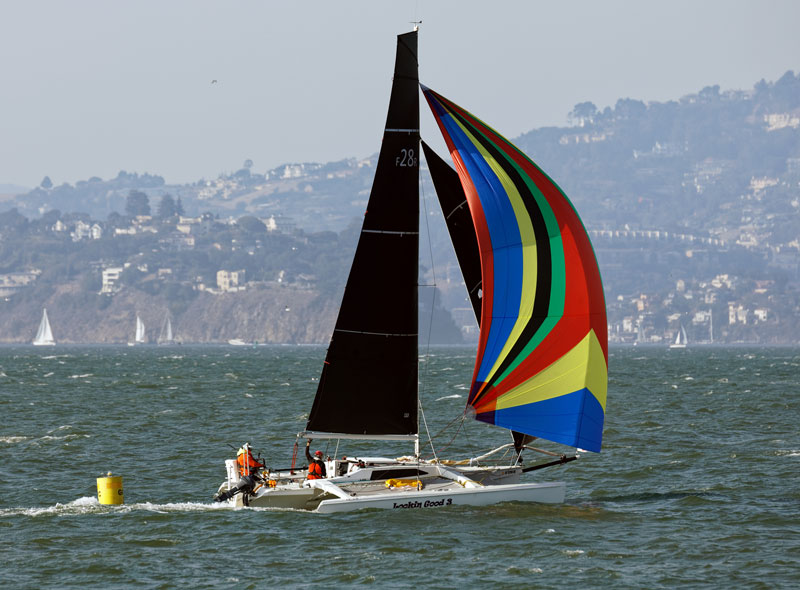 The Bay Area Multihull Association has incorporated some changes to the Doublehanded Farallones Race that harken back to the Farallon races run back in the early 1980s.
Race officer David Wilhite explains: "The DHF has always started and finished at Golden Gate Yacht Club, a diversion from the common-at-the-time Baker Beach start area, which had been traditionally used for more than 50 years. Shama Kota, who ran the first DHFs, never had a committee boat, so the GGYC deck worked. Over the years other groups have followed suit. Given the tidal issues encountered with close shore starts in the early mornings, BAMA typically had messy starting lines with fleets often overlapped simply trying to get across the start line.
"I'm not saying that Baker Beach is perfect. However, the two advantages are that you can get going to the ocean right up and nobody has to deal with the constriction between Lime and Fort Points, which can cut more than 30 minutes off time on course. Last year we tried the Baker Beach start, and the feedback we got from crews was very good. The parking lot directly behind the start area provided an excellent place from which to spectate.
"Another change we implemented last year was to partner with the San Francisco [Ham] Radio Club to boost our ability to communicate with competitors. The three advantages we gained are ability to listen and to reliably transmit all the way out to the SE Farallones. Importantly, radio communication is more consistent because of the Ham operator's experience. Finally it relieves the race committee so that we can better focus on race administration. We are now able to reliably use VHF radios, which has always been an issue.
"Finally, we have allowed competitors to round the SE Farallones in either direction. This may sound like a small thing but the original Farallon race (run by San Francisco YC) always allowed the option. In many cases it pays well to round in a clockwise direction. Although I'm not totally sure about this, the BAMA option of a counterclockwise rounding only stemmed from the thought that multihulls can't tack easily in a seaway, so the limitation was made. Today's multihulls not only point well, they also can tack easily. So we thought, why not open up the tactical option?
"One thing that Truls Myklebust has been big on is posting results as soon as possible. To that end he's mastered posting results on the fly, almost in real time. It's pretty awesome to watch him smile as he does the updates.
"BAMA has dropped our unique safety requirements and adopted OYRA safety regulations. This has made it easier for competitors to outfit their boats and eased the USCG permit process.
"On the note of safety, two years ago we implemented random safety checks by drawing names from a hat and announcing during finish procedures what specific boats had been picked. I felt this was a huge success. Three of the four boats passed; one failed only to have a 20% time penalty assessed. So that the inspectees didn't feel picked on, we awarded each a brand-new thermos filled with hot tea (not spiked unfortunately). One of the great things that's come out of this is that competitors have called us to pre-inspect their boats so as to avoid the lottery, which I love because I get to clamber on boats and meet with owners. What can be better than talking about sailing?
"Jibeset has been running experiments on AIS position posting, which I think is really cool. However we need more boats to install transceivers. The Yacht Racing Association has proposed that all boats have AIS transceivers by 2025; we in BAMA are talking about implementing that plan at least a year sooner. To have AIS information from boats on the course is a huge advantage in terms of safety and tracking. We also feel it would be good to have transceivers running so that ship traffic sees a positive ping rather than relying on radar reflectors. I imagine their plotters will light up.
"With the loss of life and boats over the 40+ years of racing, Truls and I are committed to keeping the race cool and safe, avoiding the paranoid safety reactions of the last decade, and focusing on solid preparation and competent seamanship."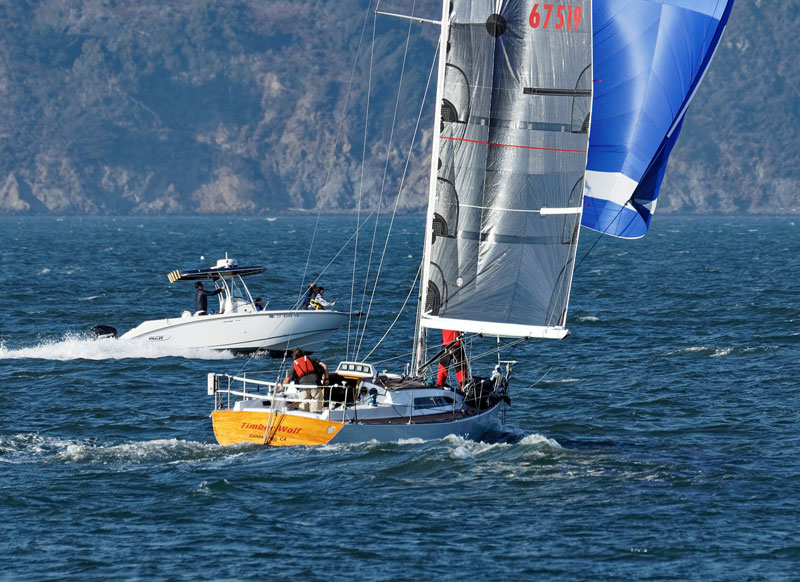 This year's race will be held on September 25. The registration fee will be $70 until August 31; thereafter it will be $80. No entries will be accepted after 9 p.m. on September 23. Go to Jibeset to sign up, and learn more at https://sfbama.org.
Receive emails when 'Lectronic Latitude is updated.
SUBSCRIBE