Doing the Regatta Shuffle
Smoke, not COVID-19, Postponed These Regattas
With "Very Unhealthy" air quality throughout the Bay Area and indeed most of the West last weekend, race organizers postponed several events. The YRA's Encinal Regatta had already been postponed from July 25-26 to September 12 (and made a doublehanded event). Now the new date is October 10, a conflict with YRA's Great Vallejo Race.
Planned for the Sunday after the Encinal Race, the multi-club Estuary Extravaganza has moved from September 13 to October 11 due to the smoke.
On Friday, we received the following notice from the Singlehanded Sailing Society: "The SSS Half Moon Bay Race scheduled for Saturday, September 12, is postponed due to hazardous air quality conditions. While we are generally inclined to allow individual racers to make go/no decisions based on their own risk tolerance, we believe that this is now a public health/welfare issue. As an organization, the SSS cannot sanction a two-day outdoor activity that demonstrably endangers people's health." Several racers had already indicated that they wouldn't race due to the bad air quality.
Later this week, the SSS announced: "We are rescheduling the 2020 Half Moon Bay race for Saturday, September 26. There will be no major changes to the race format or Sailing Instructions. The first start will be at 10 a.m. off the Golden Gate YC. Racers who registered for the September 12th race will not be required to re-register. Registration will be opened on Jibeset for additional entrants. If you registered for the September 12th race and do not wish to register for the September 26th rescheduled race, please email the RC at raceinfo@sfbaysss.org. There will be a Zoom skippers' meeting on Thursday, September 24, at 7:30 p.m. We anticipate some level of access to the Half Moon Bay Yacht Club outdoor facilities on that Saturday night."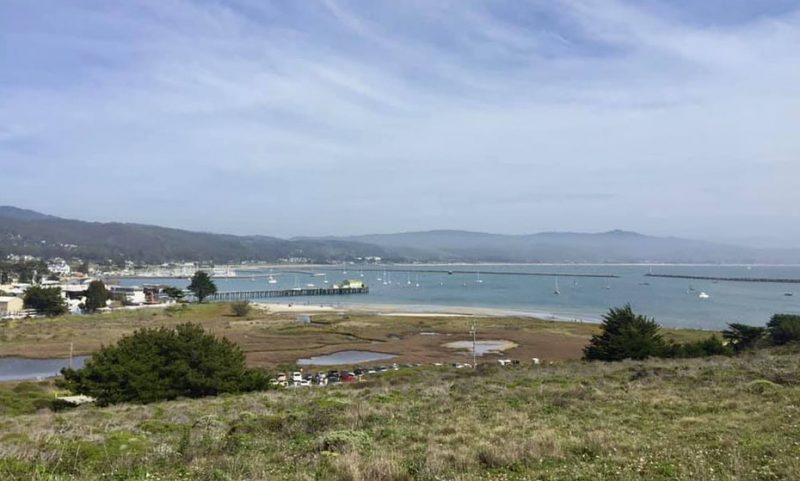 "Fellow racers, as I am writing this the sun is starting to peek through the dark ash clouds a bit, but I guess it's time to stop holding on to hope," wrote Sequoia YC's Anja Bog on Saturday the 12th. "A few of you have already commented that you don't want to be out there in the unhealthy air. The forecasts agree that there's going to be no significant change with the air pollution staying around unhealthy levels, so with sadness I'm cancelling Quarantine Cup Race #5." That installment in the club's new series had been scheduled for Sunday. October 11 is the next Quarantine Cup race date.
Paul Kamen from Berkeley YC let us know yesterday that "We started Friday night races two weeks ago, but then canceled due to air quality. We might try again tomorrow." (That would now be today.)
The first race of San Francisco YC's Fall Fiasco Series, on September 12, was canceled due to air quality. But read on for more about that new series and other SFYC regattas.
But COVID-19 Prompted These Regatta Cancellations
SFYC canceled the Fall Classic/Easom Founders Trophy, scheduled for the weekend of October 3-4. The regatta had invited the Etchells, S.F. Bay IOD, Knarr, Folkboat, Bear and Bird fleets.
South Beach YC canceled their women's Red Bra Regatta, scheduled for October 17.
St. Francis YC canceled October 17's Jessica Cup wooden boat regatta and October 24-25's Fall Dinghy Regatta.
Also off the calendar is Berkeley YC's Oktoberfest, which had been planned for October 17-18.
Blue Skies (Metaphorical, at Least) Ahead
Last Friday, Corinthian YC wrote, "This smoke is forbidding, casting a literal pall over an already depressed Bay Area. So what do we do? Plan to sail on alternate Saturdays. Short crews, local courses." The CYC Fall Series starts tomorrow, September 19, and runs every other Saturday through November.
Skippers can select:
Long courses for PHRF, Non-Spinnaker and Doublehanded divisions, with one race planned each day; or
Short courses for PHRF and One Design divisions, with shorter windward/leeward courses and two races planned each day.
Neighboring SFYC's Fall Fiasco Series, on alternating Saturdays through the end of October, will start on September 26. SFYC has also announced dates for the Perkins Challenge and Leukemia Cup. Those regattas had been scheduled for October 17-18; now they'll be held on May 15-16, 2021. Plus, they've selected October 3 as the new date for the 2020 Midnight Moonlight Maritime Marathon that had been scheduled for late June.
Berkeley YC has added the S.I.P. Escape — a Make-Up Race to the schedule for October 3.
Oakland YC will hold their Oktoberfest regatta on October 17, but will keep the racing in the Estuary.
Richmond YC has extended their beer can series into October. "Your PRO Eric Arens has requested additional beer can dates for October; this will require new starting times for all fleets," says race chair Fred Paxton. "Effectively, all start times are moved back one hour [in October]. Reminder on the Racing Rules of Sailing: It is the skipper's responsibility to decide to sail or not. The sun goes down early in October, so make sure your running lights are good to go." The club runs super-casual races every Wednesday night.
RYC's usually epic Great Pumpkin Regatta will consist of a pursuit race on Saturday, October 24, only. They'll hand out prizes on the water at the finish. Costumes and pumpkin hunting will be included, but there won't be a post-race party.
We'll post a more extensive preview of October races here in 'Lectronic Latitude later this month.
Receive emails when 'Lectronic Latitude is updated.
SUBSCRIBE