Come to the Crew List Party, and Turn In Old EPIRBs at the Same Time!
This is it — there's only one more day until sailors from around the Bay and beyond gather together at Spaulding Marine Center in Sausalito for the Latitude 38 Crew List Party. Among the partners who will be there to answer your questions about sailing locally or heading south with the Baja Ha-Ha is a team from the US Coast Guard Rescue Coordination Center Alameda. They're a great resource of information, and they have let us know that they will collect your old, out-of-date 406 MHz EPIRBs or PLBs for proper disposal and recycling. Here are the details:
"During the Crew List Party, members from the US Coast Guard Rescue Coordination Center Alameda will be on hand to discuss and answer questions pertaining to search and rescue offshore or south of the border as you prepare to participate in the Baja Ha-Ha or Pacific Puddle Jump rallies. 

Additionally, they will be accepting old 406 MHz EPIRBs or PLBs that have been sitting on your shelf or in the storage unit and you have been meaning to throw away.
"This year, Rescue Coordination Center Alameda has responded to 322 SARSAT activations with five being actual vessels in distress. Although a high false alarm rate, Lt.j.g. Madelynn "Maddie" Widmeier, a RCC Alameda SAR Controller, says, 'The vast majority can be resolved by a quick telephone call to a current owner listed in the NOAA Beacon Registration Database, closing the case and saving valuable SAR resources.'"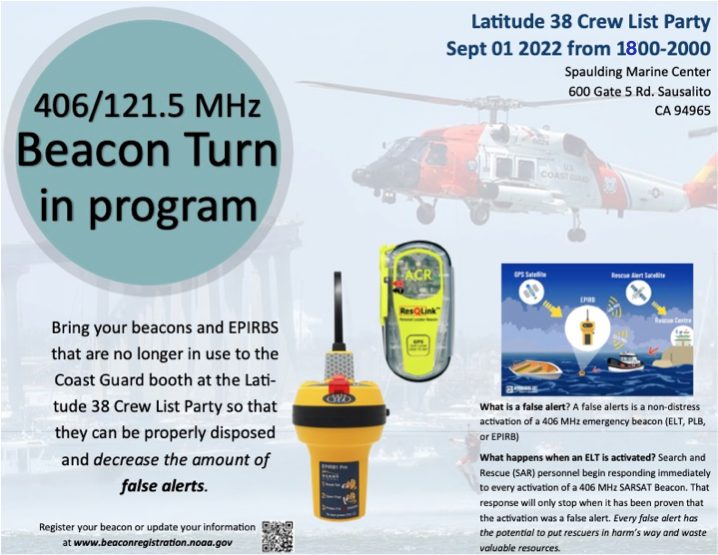 "Unfortunately, some activations were the result of improper disposal of the EPIRB. A recent case in San Francisco caused local Coast Guard personnel to search for three hours before the EPIRB was found in a trash bin along the Pier 39 waterfront. 'These false alerts waste the precious time and resources that should be used for real emergencies,' Lt.j.g. Widmeier said.
"In an effort to reduce this false alerts, Maddie and her team will be accepting your old 406 MHz EPIRBs or PLBs during the Crew List Party. They will disconnect the battery, remove the beacon from the NOAA Registration Database, and properly recycle all components."
We're looking forward to seeing old friends and new at the party. Will you join us? Tickets are available at the door, but we recommend you save time and get them online at L38 Crew Party Tickets.
When you arrive, please do not park at Clipper Yacht Harbor. There is parking around Spaulding Marine Center, and we ask that you please use the map to find your parking place. Parking Map.
Receive emails when 'Lectronic Latitude is updated.
SUBSCRIBE