Coville Pulls the Plug on Jules Verne Attempt
Sodebo Ultim 3 Ends Record Attempt
On Friday, after a little more than 16 days at sea, skipper Thomas Coville and crew decided to end their try for the Trophée Jules Verne on Sodebo Ultim 3.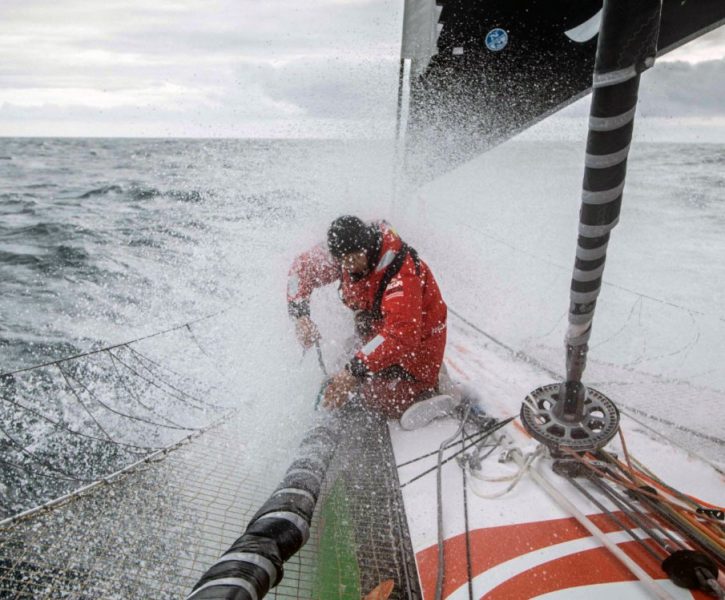 After trying to repair the starboard rudder, Coville chose not to "tempt the devil." While sailing at more than 30 knots between the Kerguelen Islands and Cape Leeuwin, the crew noticed damage to the rudder. They then worked on the problem for several hours before deciding to head to Réunion Island, 2,300 miles to the northwest. There, they plan to effect repairs to improve the 105-ft trimaran's reliability before sailing home to Lorient, France.
The Jules Verne Trophy recognizes the fastest nonstop circumnavigation of the globe via the Great Capes. Francis Joyon and crew on IDEC Sport are the current record holders.
Vendée Globe Reaches Australia
Meanwhile, the solo sailors in the Vendée Globe nonstop around-the-world race are making quick work of the Southern Ocean. Race leader Charlie Dalin lit the afterburners on his IMOCA 60 foiling monohull Apivia. He sustained averages of 24 knots. He crossed the longitude of Cape Leeuwin at 11:25 hours UTC Sunday. Thomas Ruyant on LinkedOut crossed Leeuwin 3 hours and 9 minutes later. Yannick Bestaven on Maître CoQ IV followed only nine minutes behind, and has since passed Ruyant to take over second place.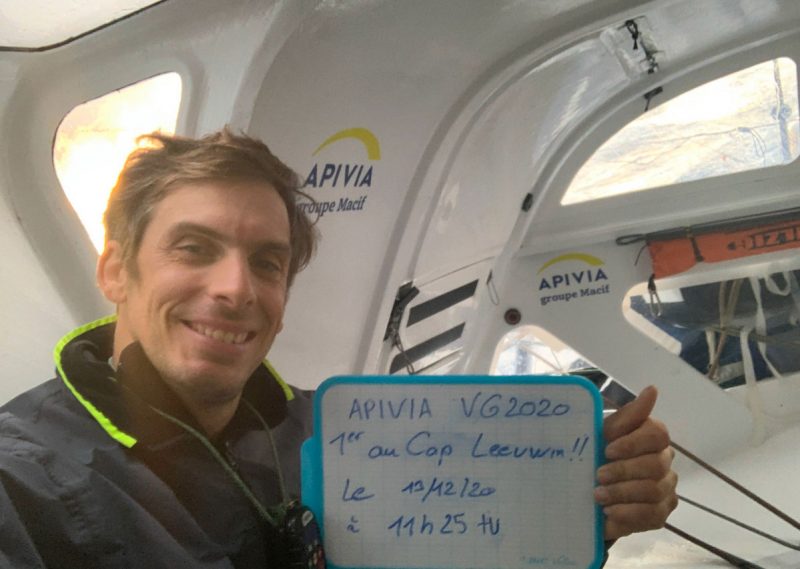 The jury is still out on how much redress to give Jean Le Cam for his rescue of Kevin Escoffier, whose boat, PRB, folded in half and sank south of the Cape of Good Hope. Le Cam was in fourth place at the time that he diverted to go to Escoffier's aid. Escoffier had been sailing in third place at the time. Also awaiting the decision are Yannick Bestaven, who was sailing in sixth place at the time, and Boris Herrmann, eighth, who also diverted from their race. Yes We Cam! is now in fifth place and passing Cape Leeuwin, the southwest corner of Australia.
The latest dropout is Frenchman Fabrice Amedeo, 42, on Newrest – Art & Fenêtres. The failure of his backup computer on Thursday capped a number of problems. On Friday he wrote, "Since yesterday I have literally been blind. Due to a new computer problem, I can no longer download the weather files, calculate the optimal course, the fastest possible route and importantly the safest possible." Twenty-seven boats out of the 32 starters remain on the race course.
Solo Solo Circumnavigation Carries On
Going on his own, alone both on his boat and on his course, is Californian Whitall Stokes, continuing his San Francisco-to-San Francisco attempt. Whitall and his Open 50 Sparrow are seeing nice conditions at latitude 39 south on their way to Cape Horn. "We are enjoying a champagne sailing day today," he writes. "Cooler and drier weather, and seas much calmer than yesterday. Decks mostly dry, so that allows me to eat and read outside. Lovely going."
Receive emails when 'Lectronic Latitude is updated.
SUBSCRIBE