Atlantic-Caribbean Hurricane Outlook; Early Pacific Storm
WRI Prediction for North Atlantic-Caribbean
The North Atlantic hurricane season will begin on June 1 and run through November 30. Forecasters expect activity to peak in early September.
Ernesto Findlay, meteorologist for Weather Routing Inc., issued a report on the outlook for the upcoming hurricane season in the North Atlantic. "Over the last 30 years, the North Atlantic hurricane basin has averaged a total of 14 named storms, 7 hurricanes, and 3 major hurricanes per season.
"One of the main sources of year-to-year variability of hurricane activity in the North Atlantic hurricane basin is the El Niño Southern Oscillation (ENSO), which has strong effects on the upper level wind patterns over the Atlantic Ocean. Looking ahead, we expect the current weak La Niña state to persist through early summer and then transition into a neutral phase state. The Neutral Phase of ENSO is expected to persist through the autumn with a small chance of transitioning into a weak El Niño later in the autumn."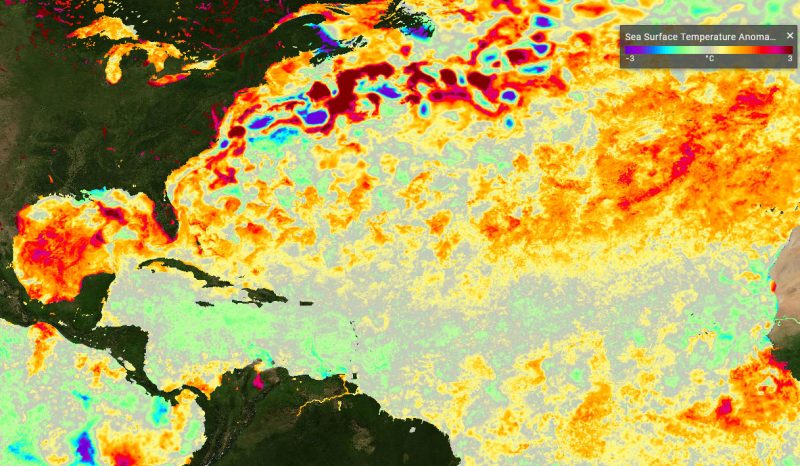 "WRI expects a slightly above average tropical activity for the 2021 North Atlantic tropical season, with an anticipated 15-18 named tropical storms, 7-10 Hurricanes and 2-4 Major Hurricanes (Cat 3+)," continues Findlay. "Agencies … agree that the 2021 season is expected to be above normal. Colorado State University is predicting 17 named storms, while Accuweather is predicting 16-20 named storms."
Read Findlay's entire report here.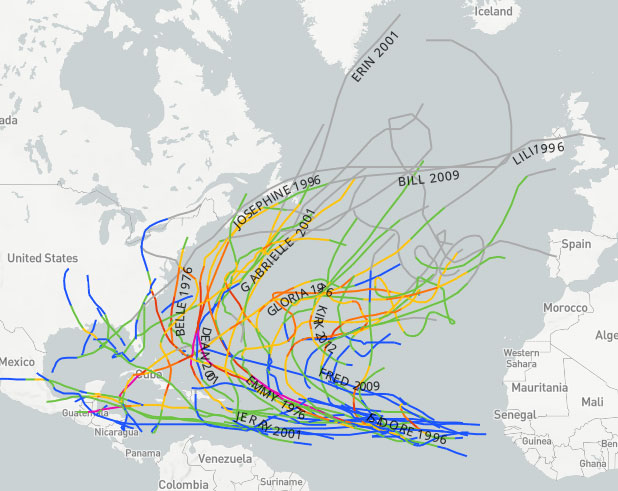 BoatUS Comments
The Boat Owners Association of The United States (BoatUS) offers free help at BoatUS.com/Hurricane. Boaters can create their own hurricane plan, watch a video on how to set lines, or review the BoatUS Magazine Hurricane Planning Guide to help protect their boats.
"Beginning with this year's hurricane season outlook, NOAA's Climate Prediction Center will now use 1991–2020 as the new 30-year period of record for the seasonal average, rather than basing it on the prior 1981–2010 period," reports BoatUS. "This means the annual Atlantic hurricane average seasonal outlook has increased to 14 named storms, while the previous 1981–2010 data averaged 12 named storms a year."
Eastern Pacific Jumps the Gun
Meanwhile, in the Eastern Pacific, Andres was born prematurely. The National Hurricane Center has been tracking him since Sunday. The first named tropical storm of the year jumped the official start of the season by six days, becoming the earliest tropical storm system to ever form in the Eastern Pacific. The Eastern Pacific hurricane season runs May 15-November 30.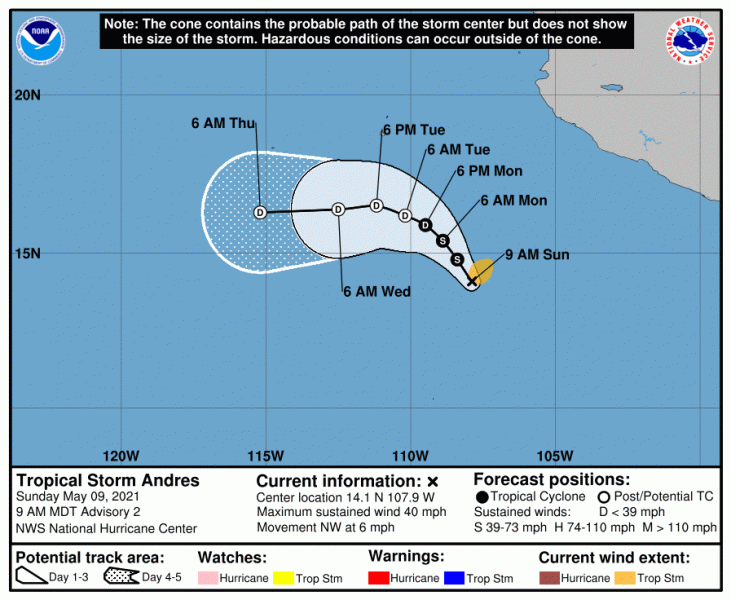 Andres developed well off the coast of Mexico. The National Weather Service described Andres as "weak" and "ragged." Forecasters expect him to dissipate by tomorrow. The NWS has no coastal watches or warnings currently in effect.
Receive emails when 'Lectronic Latitude is updated.
SUBSCRIBE