An Upcoming Panel, and Cautionary Tale, About Waterfront Gentrification
On Thursday, March 25, the Sausalito Working Waterfront Coalition, or SWWC, will host an online, roundtable discussion about the gentrification of the nation's shorelines. A panel of speakers from the Bay Area and beyond will discuss how communities across the nation are "losing working waterfronts at an alarming rate, along with the good jobs, creative industries, and artists that they sustain," SWWC said in a press release.
As we've been reporting, there has been discussion over zoning for, and ultimately building, housing in the Marinship, Sausalito's working waterfront. "The Marinship is now threatened by wealthy landowners and the local real estate lobby that are pressuring the City Council to re-zone," SWWC said. Included on next week's panel is the owner of a boatyard in Florida, which has been under attack for "nuisance complaints," and might serve as a cautionary tale about the dangers of rezoning for housing near the working waterfront.
Please click here to register for tickets for next week's discussion. The event is free.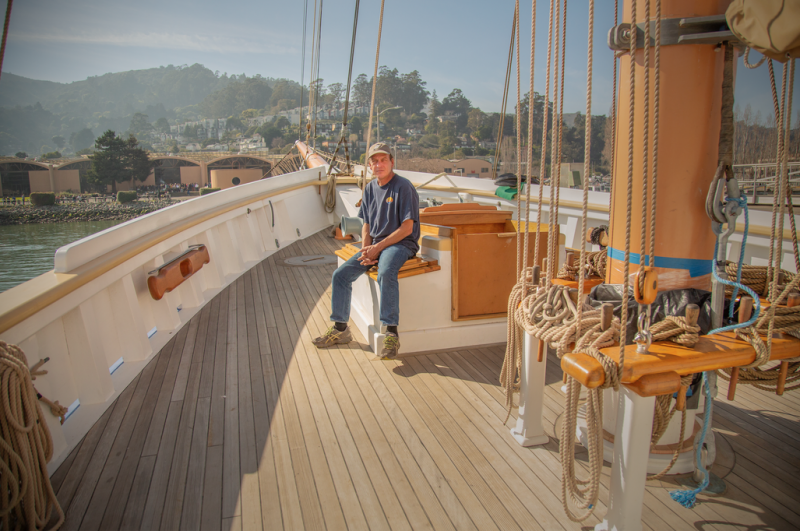 Waterfront real estate is among the most desirable land for housing and "mixed-use development," which can blend commercial, cultural, institutional, and entertainment uses into one space — though the commercial element typically must be extremely low-impact. (More on that in a bit.) There are huge profits to be realized when commercial properties are rezoned for housing, though there is fierce debate over how much tax revenue high-density developments will generate for municipalities. (As we've said before, pushing for strong, unambiguous protections for working waterfronts might paint advocates as "anti-housing." We don't think that housing and a thriving waterfront are mutually exclusive; we support sensible, sustainable and affordable solutions.)
Housing in or near an industrial area can potentially open the door to "nuisance complaints." A former Sausalito city official once stated, "The minute housing is approved in the Marinship, its manufacturing, light-industry, working waterfront is a goner, because no one wants to open their window to the sounds and smells of a true working waterfront."
That's what's been playing out in Naples, Florida. Molly Strassel, owner of Molly's Marine Service — who will be on next week's panel — is being sued by residents at the nearby Naples Boat Club Condominiums over noise complaints. Almost three years ago, the city ran noise-check and -variance tests, and found that the boatyard was within acceptable levels on all counts. The condo owners then filed a civil action, and also alleged that the boatyard was polluting the bay. Strassel said that Florida's Department of Environmental Protection investigated, and found no violations.
The boatyard property in question was built in 1943. Allied Marine became tenants on the property in 1996, as a new boat dealership, and hired Strassel. In 2009, Molly officially opened Molly's Marine Service, which is currently still operating as a full-service boatyard. The condominiums were built in 2001, and the legal complaint was filed in 2018.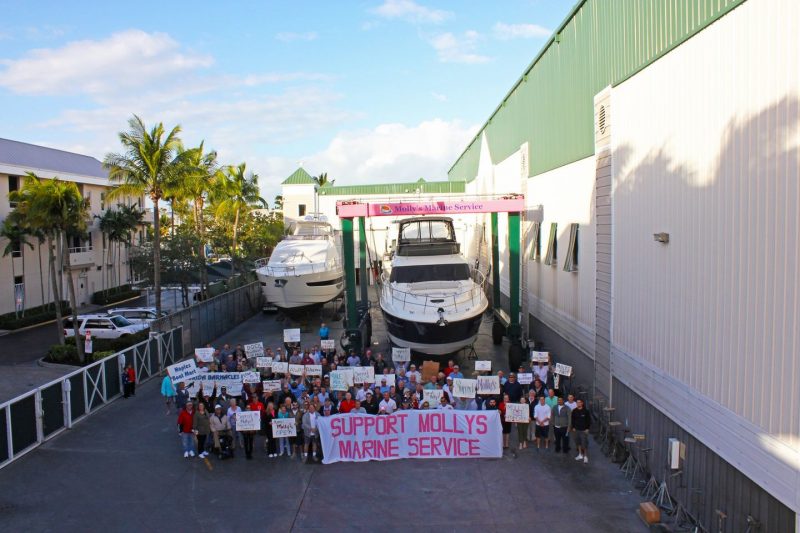 "Even if I win, Molly's Marine Service will never be the same," Strassel told us. "The whole premise has changed, and the boatyard is vulnerable. In this county, people can sue you for anything. This started out as a frivolous lawsuit. People realized their property wasn't appreciating the way they thought it should."
Strassel said that there might be a fundamental misunderstanding within the community about what, exactly, defines the waterfront. She said she's heard people use "marina" and "boatyard" as synonyms. "I'm surrounded by attorneys and people who are making decisions, and use the words interchangeably to no one else's dismay but mine." If new residents have an expectation of placid docks and quiet boats, they'll probably be alarmed to find a working boatyard instead.
For the Sausalito Working Waterfront Coalition, and for all those advocating to preserve the culture of the nation's shorelines, this debate is about more than boats. "It's about the economy, and about people's livelihoods," Molly said. "It affects the local economy, or any place that has boating — that's a grassroots part of it. If you push everything out, it's going to be very hard to fix.
"I have 12 employees who have worked very hard for a very long time," Strassel continued. "I give them 401(k)s and paid vacations, because I want people to look at working for a small business as profitable for themselves."
After three years of back and forth, Strassel is headed toward non-binding arbitration. She said she has support from the city, as well as the local boating community, but that the "flow" of the dispute changes day by day. "I think it's going to take someone winning the first battle," she told us. "If Molly Strassel can win the first battle, maybe some momentum gets started. Whose boatyard will set a precedent?"
Yet Another Cautionary Tale
For the last few years, English sailor Leo Sampson Goolden has been restoring the 109-year-old yacht Tally Ho in Sequim, Washington, near Port Townsend. In the February 28 episode of the immensely popular YouTube show Sampson Boat Co, Goolden revealed that he had received a noise complaint from a neighbor.
We reached out to Goolden, but did not hear back by press time. It's important to say that, to our knowledge, Tally Ho is being restored on private property, and is not necessarily part of a zoned working waterfront. Still, we think that the charming YouTuber's brush with the county illustrates the many challenges faced by the maritime trades. Goolden begins the discussion about the county issues around 22:15 in the video below. (The following video, released on March 13, suggests that Goolden may have found a solution. You can read about the kerfuffle in the Peninsula Daily News.)
This article originally — and mistakenly — said the panel discussion would take place on Wednesday, March 24. The panel will be held on Thursday, March 25 from 6 to 7:30 p.m.
Receive emails when 'Lectronic Latitude is updated.
SUBSCRIBE