While in Maine, we stopped by the Maine Yacht Center in Portland to see Ronnie Simpson, who is preparing his 1994 Open 50 Sparrow for his start in the Global Solo Challenge from A Coruña, Spain, on October 28. The Global Solo Challenge is a singlehanded, unassisted, around-the-world sailing event, with boats grouped in "by performance" characteristics, and setting off in successive departures starting on August 26.
While at the Maine Yacht Center we also ran into Dave Linger, a Seattle sailor who was preparing his 2006 Class 40 Koloa Maoli, and who will start on the same date as Ronnie. Both boats are closing in on final preparations before they cross the North Atlantic ahead of the fall starting dates. Ronnie has already done the 2,000-mile qualifying sail, while David will be using his transatlantic voyage to qualify.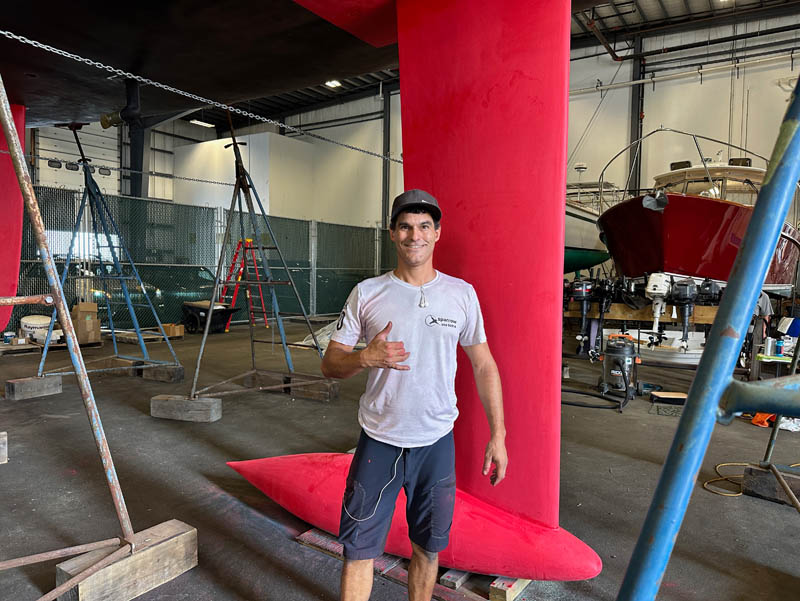 The smaller boats will start on August 26, and the final fleet is scheduled to start on December 9. The pursuit format is set so the first boat to cross the finish line wins!
We had a great conversation with Ronnie, whose energy and enthusiasm were on full display. He's in pursuit of a victory in the Global Sailing Challenge as a stepping stone for an opportunity to compete in the Vendée Globe. He's been working hard to prep the boat while still searching for a title sponsor to help carry him to victory in the event. Many marine industry companies have stepped in to help, while individual contributions can be made on his website.
A video of Ronnie's adventure is being put together, with the recently released first trailer created by filmmaker Aidan Gray.
Ronnie described how grateful he's been to sailing for raising him out of his post-Iraq war injuries and recovery, to now — 130,000-plus miles of sailing, with a tremendous number of sailing community mentors and supporters helping him along the way.
Sparrow looked clean and fast as she rested in the shed at the Maine Yacht Center, waiting for an evening high-tide launch.
David Linger is a lifelong sailor from Seattle with over 20,000 sailing miles, whose heroes include Chichester, Colas and Tabarly. He's done a number of offshore doublehanded races and some deliveries back from Hawaii in the '80s and '90s, but more recently has been involved in local and international Six-Meter racing. His sailing/marine trade experience includes building boats with Schooner Creek Boatworks in Oregon.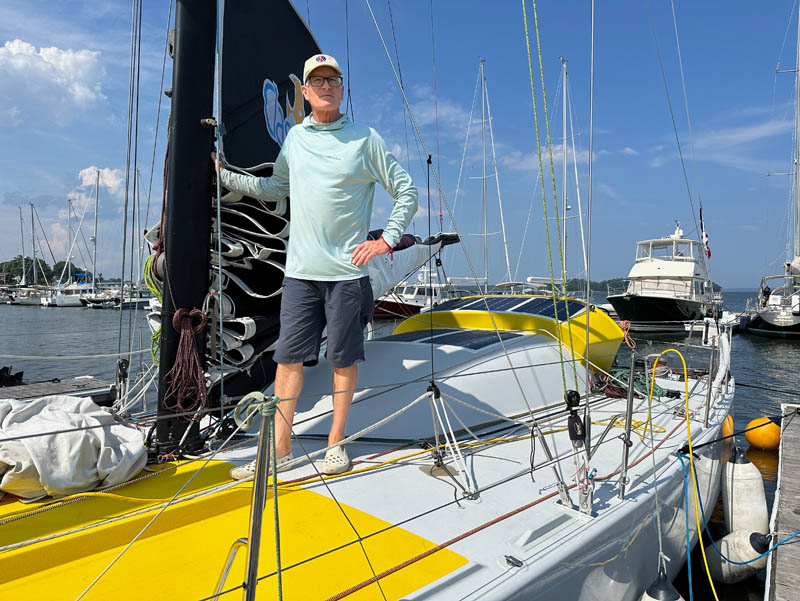 He'll be racing his new-to-him 2006 Jazz Marine Class 40 Koloa Maoli (ex-Bolands Mill), designed by Owen Clark Design. He gives a lot of credit to his twin sister, younger brother and girlfriend (a rigger in the NW) for helping him prepare for the event. David is sailing his boat in Maine and looking to outfit it with some added equipment, including a heater to help in the deep southern latitudes. At present, he's completing system upgrades while doing shakedown sails off the coast of Maine before he heads east for Spain and his 2,000-mile qualifier.
Both Ronnie and David are head-down, hard at work while singing the praises of Maine Yacht Center and its general nanager, singlehanded sailor Brian Harris, as an ideal place to fit out for such a demanding endeavor.
We wish both sailors the best of luck in their upcoming challenge.
Receive emails when 'Lectronic Latitude is updated.
SUBSCRIBE