At the recent Pacific Sail & Power Boat Show in Redwood City, we chatted with Andrew Leslie, who told us about the fun he was having sailing aboard an Open 5.70. A "what?" we asked. As Andrew began his animated chat about the fleet that sails locally, we realized we needed more info, so we asked him to send us something. And he did! After reading all about these little boats, and seeing how much fun the sailors were having, we knew we had to share. Here's what Andrew wrote:
"Back in 2019 I was teaching a sailing class from Spinnaker Sailing in Redwood City, while Peninsula Youth Sailing Foundation was hosting the Chubb US Junior Championships. One of the classes at that fleet was a funky-looking little sport boat that looked almost as wide as it is long. But whatever the boat looked like, the junior sailors (three to a boat) were having an absolute blast in the rowdy summer conditions. At the time I had no idea what the boat was, but I'm an ex-dinghy and keelboat racer and I thought, 'That looks like a ton of fun!'
"I learned that the boats were Open 5.70s, a design from the drawing board of legendary French architect JM Finot, and the fleet of 11 boats was on loan from their owners for the championships.
"After the championship event, many of the boats stayed in Redwood City, where there is a dry storage yard and municipal launch ramp opposite Sequoia Yacht Club.
"The boat is quirky, with a fully battened rig reminiscent of an F18 catamaran, an asymmetric spinnaker set on a retractable sprit, twin rudders, and a hull that looks like a miniature version of the Open 60 ocean racers.
"Fast forward to 2020 and I became the second owner of Open 5.70 number 296. Since then, eight of the 11 boats in the fleet have been purchased by new owners. One more was bought out of state and brought to the Bay Area and we now have an active and engaged one-design fleet racing from Sequoia Yacht Club."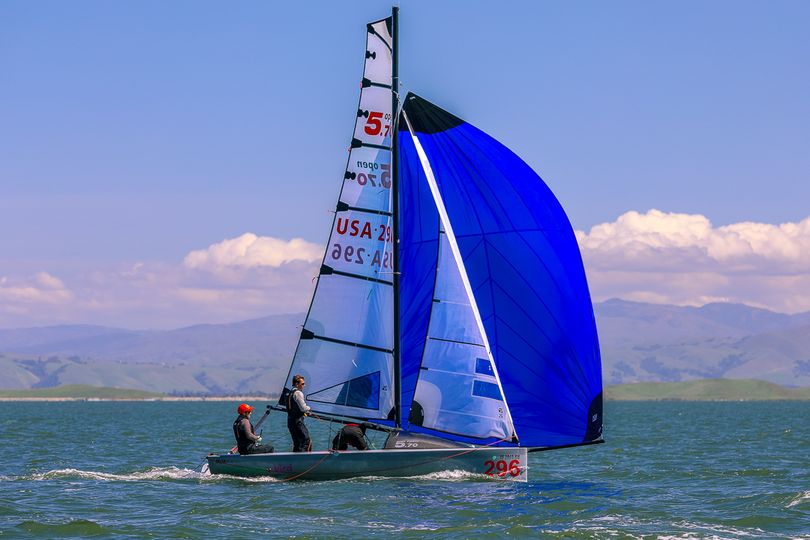 Andrew also sent us more great photos of the Spring Regatta held on April 1.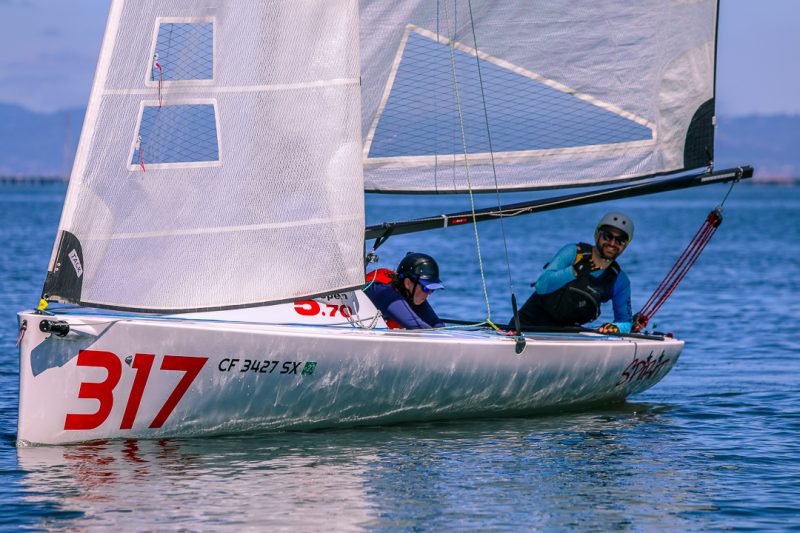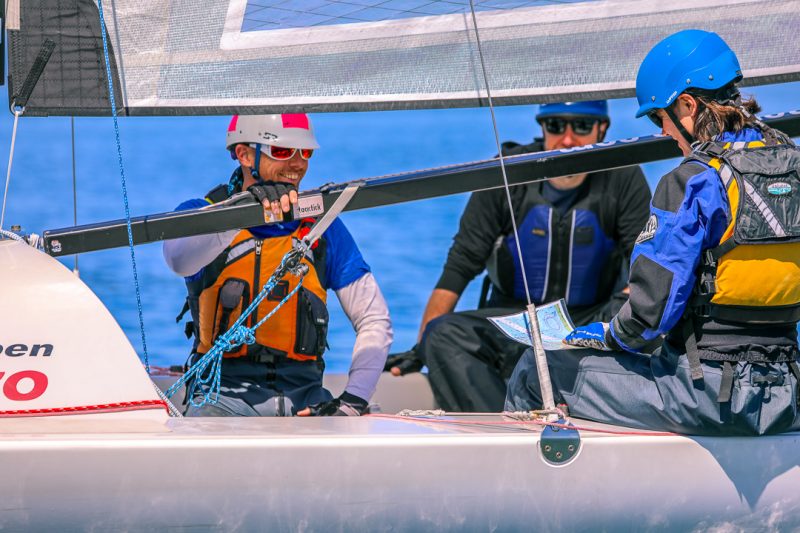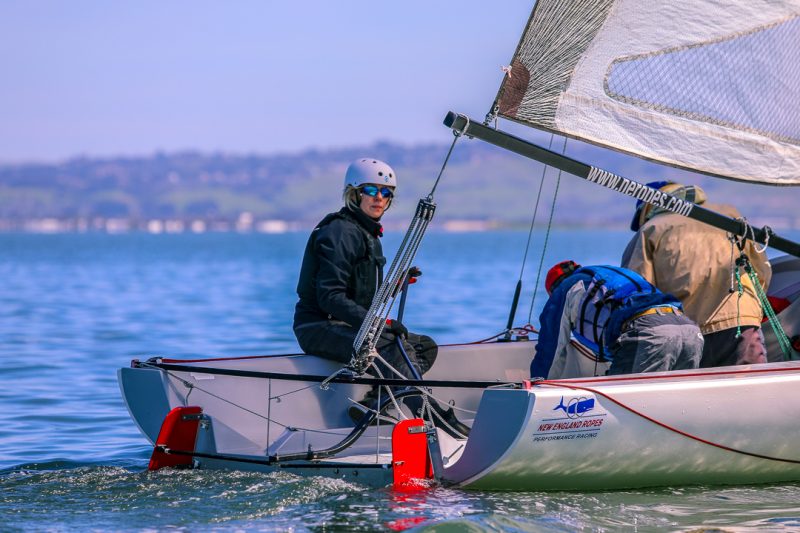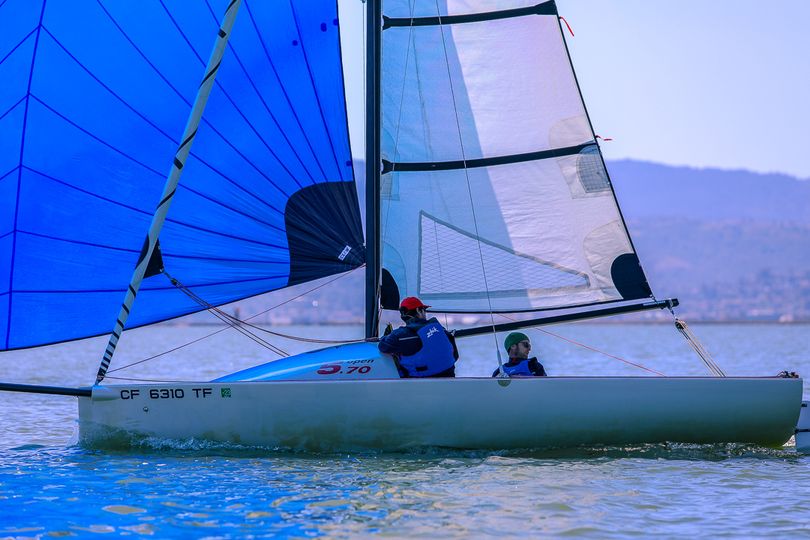 The first 5.70s were brought to the US in 2007. Andrew tells us they're aware of 29 of the boats and are in contact with 15 of their owners — 12 are in the Bay Area.
As for the technical details, he writes, "Length 19ft, Beam 8.4ft, Draft 5.8ft, All-up weight 990lbs, Keel ballast 400lbs, Upwind sail area 208 sq ft, Asymmetric spinnaker area 380 sq ft. PHRF (if you care) 138, Fun Factor — off the scale!
"Boats were built by Phileas in France, and by Columbia Yachts in the USA. Construction is both durable and repairable, hardware is from readily available manufacturers, and the fleet sailmaker is UK sails."
Are you a 5.70 sailor? The fleet welcomes new crew (and skippers) and is especially interested in hearing from other Open 5.70 owners looking for new racing opportunities, or even to sell their boat to a new owner.
The fleet is well supported by the racing program at Sequoia Yacht Club, with weekend racing all year, Wednesday evening racing from April to September, and club regattas where the Open 5.70s race as a fleet. The latest addition to the calendar is a class regatta specifically for the Open 5.70s for the 'CHISPA' trophy offered by Pacific Inter-Club Yacht Association. "I believe 'Chispa' means lively or energetic, and the Open 5.70 is certainly that," Andrew adds.
All race dates (except the CHISPA, which is on July 9) are at https://www.sequoiayc.org/ and on the YRA master calendar.
Receive emails when 'Lectronic Latitude is updated.
SUBSCRIBE