Shorthanded racing is all the rage today. Two events on the 2023 St. Francis Yacht Club calendar will add to the spectrum of racing opportunities on the Bay. Though very different, both are doublehanded — one for offshore and one a dinghy world championship. For 2023 the StFYC is introducing a new event to the Bay, the Offshore Mixed Doubles Race, scheduled for July 29–30, 2023, open to doublehanded crews of mixed gender. They will also be hosting the Worlds for the two-person 5O5 dinghy.
"We are very pleased to announce the Offshore Mixed Doubles Race," said Dave MacEwen, offshore sailor and vice chair of St. Francis Yacht Club's Executive Race Committee. "Doublehanded racing is extremely popular on San Francisco Bay — look at the success of the Three Bridge Fiasco. Adding an offshore element will take this format to a new level locally."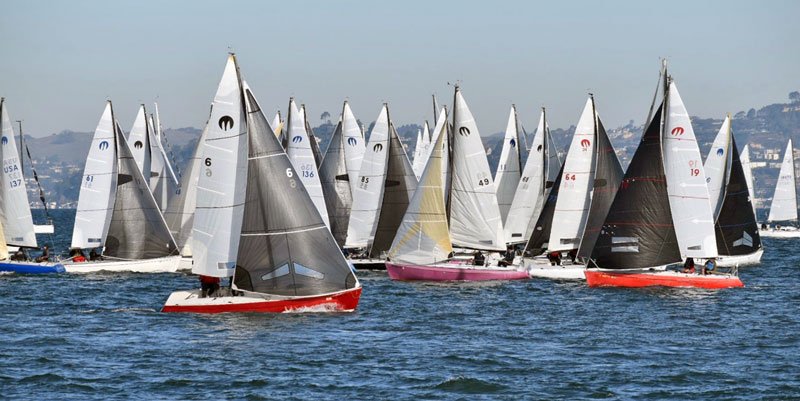 The single-distance race of approximately 24 hours will stretch across San Francisco Bay and its approaches to the Gulf of the Farallones. Boats eligible to enter include monohulls with a minimum LOA ≥ 23-ft 9-in and a current NC PHRF rating, plus multihulls with a minimum LOA ≥ 23-ft 9-in and a current SFBAMA PHRF rating. An ORC Double Handed (DH) ORCi or ORC Club certificate is optional.
"As an ocean racer for 25 years and as a St. Francis Yacht Club member for longer, I'm excited to see this regatta on our shores, in a format developed for the Olympics and designed to reduce barriers to the offshore version of our sport," said Michael Moradzadeh, Principal Race Officer for the event.
Doublehanded offshore racing has been considered one of the fastest-growing segments in the sport of sailing, with new events worldwide and new doublehanded classes in many ocean races. Races for mixed-gender crews are a growing part of the doublehanded movement, and this format has been considered for addition to the Olympic Sailing program. Though not selected for the 2024 Paris Games, interest in mixed-doubles offshore racing is growing globally.
If you're not already planning to sail shorthanded to Hawaii in the Singlehanded Transpacific Race leaving on June 25, this could be the shorthanded race for you.
5O5 Worlds
The club has also recently opened registration for the 5O5 World Championship and North Americans, to be held September 21 to October 1. They expect up to 80 boats to participate, making the winner a likely candidate for the Jake Wosser Trophy as the winner of the largest one-design regatta on the Bay in 2023.
The two-day 5O5 Pre-Worlds and North American Championship will be sailed in advance of the regatta on September 23–24. The 5O5 World Championship will be sailed September 26 through October 1, with five days of racing plus one lay day for a total of six days. Initially slated to be held in Santa Cruz, CA, the event was redirected to San Francisco due to harbor access issues in Santa Cruz.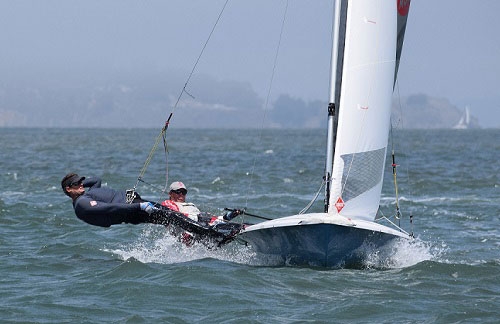 "St. Francis Yacht Club is happy to host this world-class event," said Beau Vrolyk, 2023 commodore of St. Francis Yacht Club. He has helped run regattas for the 5O5 fleet for many years, including World and Continental Championships, and is thrilled to be hosting the 2023 World Championship.
For three-time 5O5 World Champion Mike Holt, to be able to participate in a World Championship event on his own turf is exciting — particularly in a fleet as competitive and challenging as the International 5O5.
"It's great to have the regatta in California. It's an amazing venue in an iconic, spectacular piece of water," Holt stated. "It was very gracious of StFYC to step in at the last minute to host the event. It'll be fun and I'm looking forward to it."
"I've pretty much done only 5O5 sailing all those years. I've maybe taken a few years off here and there and sailed other things — keelboats, dinghies, 49ers, 18s — but it's what I keep coming back to," said Holt, who resides in Santa Cruz. "When you live on the West Coast it's really the only good high-performance sailing that you can do safely, and it is a great fleet."
Holt will be racing with his two-time World Champion crew Carl Smit, from Annapolis, MD, and the pair have a longtime friendly rivalry with Mike Martin, "the other Mike," Holt noted with good humor. Martin, who lives and trains in the Bay Area with crew Adam Lowry, is a four-time 5O5 World Champion and twelve-time 5O5 North American Champion.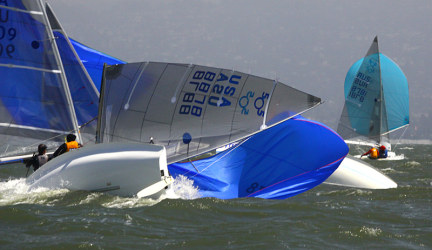 "We've heard a lot of interest from Europe, Australia and from all over North America — we're expecting as high or higher than numbers for Cork, Ireland, last year," Turner continued. "Holding the event on the West Coast of the US can be a bit of a hurdle for the European fleets, but we have fantastic support from the local fleet as well as the Port of Oakland close by, so logistics will not be as challenging as they may appear for our overseas competitors — we hope they come!"
StFYC commodore Beau Vrolyk encouraged sailors to look forward to more than just world-class racing: "This fleet and its epic sailing style have a special place in the hearts of St. Francis members. It's great to have them back again. This year, we are going all out to give everyone what they came here for: good breeze, close competition, and a racecourse in the most beautiful spot on the San Francisco Bay. It'll be a beam reach to the bar!"
Looking at past champions since 1999, you'll see all the winning Americans are from California. Can you name them without looking at the list? Also, don't forget to wish all the 5O5 sailors Happy 5O5 Day, coming up on Cinco de Mayo.
The St. Francis YC Offshore MIxed Doubles Race and the 505 Worlds are two great challenges coming up on San Francisco Bay.
Receive emails when 'Lectronic Latitude is updated.
SUBSCRIBE