It was like an excerpt from a Herman Melville book: "Vessel has sunk. They were hit by a whale." Those words were shared across social media channels on Monday as sailors networked to send aid to the stricken crew of Raindancer (we believe a Kelly Peterson 44). Also in the shared post were the words "Not a drill."
The post was created by Tommy Joyce, a member of Facebook's "Starlink on Boats" group. Tommy is a friend of Raindancer's owner, Rick Rodriguez, and was alerting the boating community to the situation. "They hit [have] a liferaft and have Iridium on board."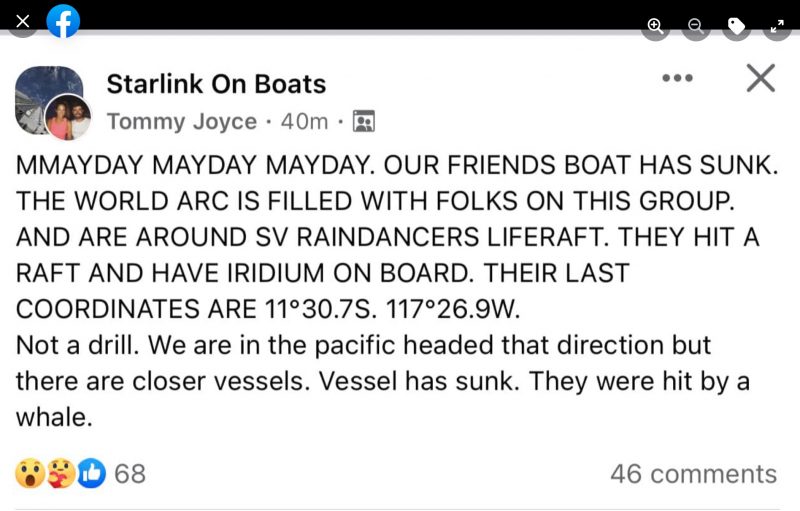 They were almost in the middle of the Pacific with no other boats in sight. But a successful rescue was coordinated through the power of social media and modern communications, including new kid on the block Starlink.
We contacted Paul Tetlow, managing director of World Cruising Club, who is operating as "rally control" for the World ARC cruising rally. He told us that upon learning of Raindancer's demise and the position of the crew, he contacted the Maritime Rescue Coordination Center (MRCC) who then assigned MRCC Peru to coordinate the rescue. But before the official rescue had been executed, a network of communications had quickly arisen, much of it via Starlink, and around eight ARC vessels diverted their course to assist Raindancer's crew. Along the way, ARC participants aboard S/V Far were able to keep up the communications with the lifeboat using Iridium and Starlink.
Here's what we understand about the incident. Raindancer was "13 days into a 20-22-day, 3000nm ocean crossing," Vinny Mattiola wrote on Facebook, when the vessel was struck by a whale, which "damaged the skeg and prop strut, and the boat was completely underwater in <15mins, forcing all four crew to abandon into the life raft." They were approximately midway between the Galápagos and French Polynesia.
Fortunately the crew were cool-headed and quickly loaded the raft with water, provisions, and emergency communications and survival equipment, and secured Raindancer's dinghy alongside. Mattiola believes the crew's Iridium GO! device, which they carried along with their SPOT tracker, was instrumental in their rescue.
Within 10 hours of Raindancer going under, her four crew were rescued and taken aboard the sailing vessel Rolling Stones. "A very quick response time," Tetlow said. "A good achievement." Tetlow believes Starlink adds "another layer of ability to solve problems quickly," and that the Starlink communications probably did add to the expedience of the rescue.
According to reports, the boat's EPIRB hadn't worked as intended, but the US Coast Guard later confirmed that it had indeed worked, the crew just "didn't know it." When we learned of Raindancer's distress, we contacted Douglas Samp, USCG Search and Rescue Program Manager for the Pacific, and Kevin Cooper, Search and Rescue Program Manager, Hawaii, who were already coordinating rescue with MRCC Peru. Samp later explained, "There is no country in the world that has SAR resources able to respond 2400 miles offshore, so we rely upon other vessels to assist. RCC Alameda assisted MRCC Peru with a satellite broadcast to GMDSS-equipped vessels and diverted an AMVER (Automated Mutual-Assistance Vessel Rescue) vessel, M/V DONG-A MAIA, to assist, but the Rolling Stones got there first. BZ to your sailing community for rescuing your own."
Mattiola concluded his post: "All crew are safe and even sent me a voice message thanking everyone involved."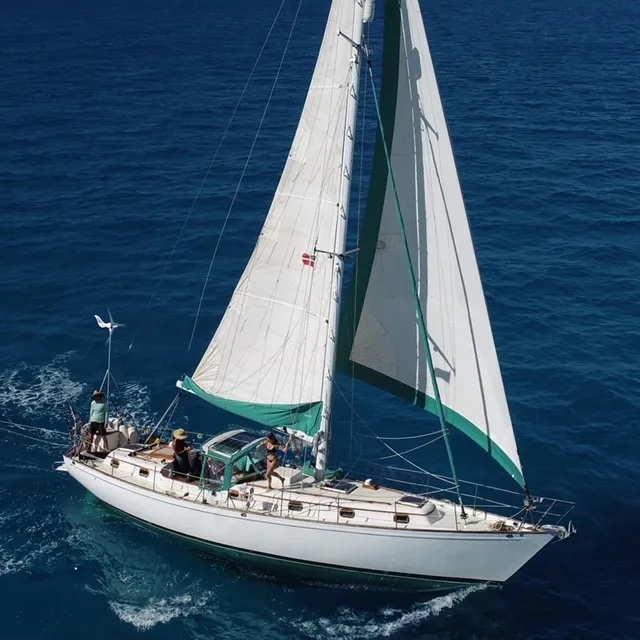 We hope to share more about this story in the next issue of Latitude 38.
*Editor's note: Upon learning the full details of this story, the headline was changed from Sailboat Sinks After Being Rammed By Whale in South Pacific toSailboat Sinks After Collision with Whale in South Pacific.
Receive emails when 'Lectronic Latitude is updated.
SUBSCRIBE