Happy New Sailing Year!… almost. We'll be ringing in the new year along with everyone else, so we decided to get our January issue out today. We're excited to be starting afresh with a new 12 months of sailing stories, photos, and news. This month's magazine has some great features and stories. Take a peek at what's inside:
Moore Memories — The Birth of the Ultralight Boat
The Moores knew they needed a product with broader market appeal, and were entertaining the idea of a small keelboat. But until spring 1971, the only action was a lot of head-scratching and ideas coming in off the street. Finally, I think it might have been John Moore who said, "What about that old Grendel plug out back?"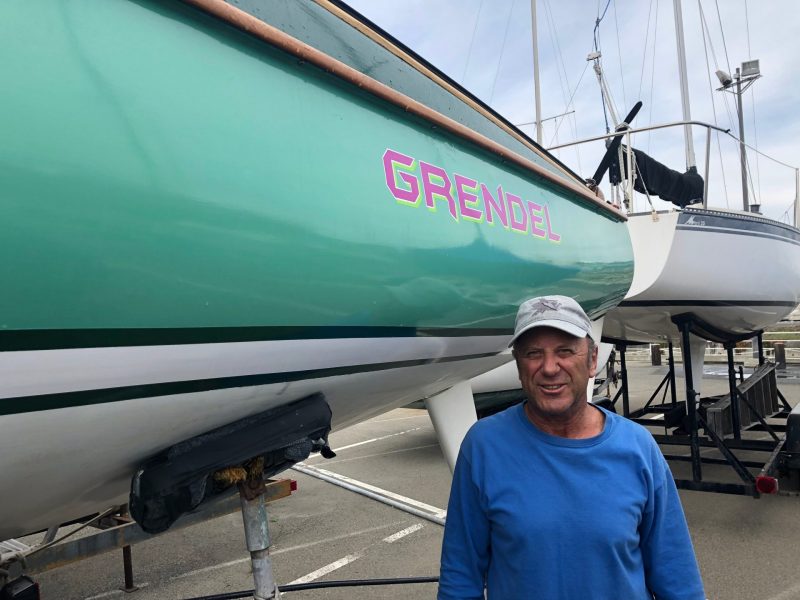 On November 19, 2022, Bay Area sailmaker, sailboat designer and artist extraordinaire Jim DeWitt passed away at home in Point Richmond under the care of hospice. He was 92 years old and had suffered a stroke a couple of weeks before.
Jim graduated from Oakland High School, but he didn't enjoy school — turns out he was dyslexic at a time when no one understood what that was. But he did well in his art class, and his mom got him into art school. He attended the California College of Arts and Crafts in Oakland, then the Los Angeles Art Center in Pasadena. To save money while going to school, he started making his own dinghy racing sails, building the first, for his El Toro, in 1959. "I was my first customer," he said.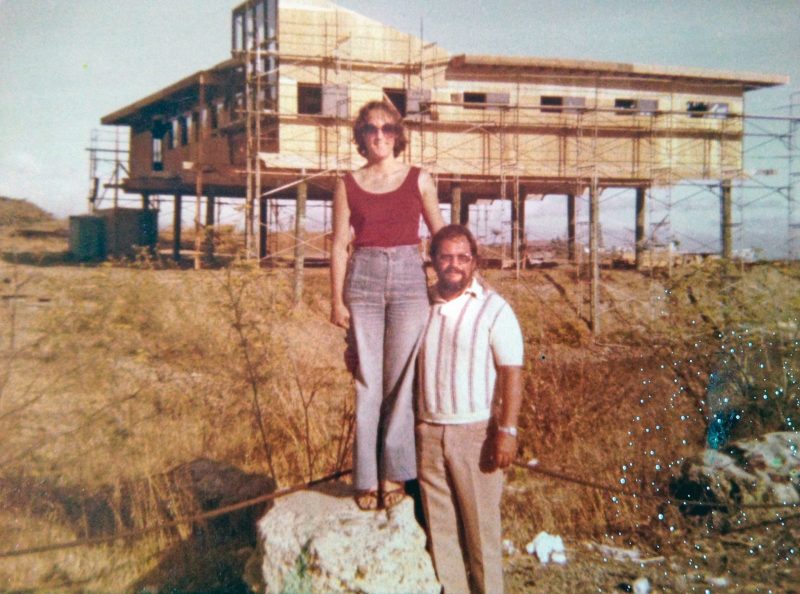 Also in the January issue:
If you've subscribed to Latitude 38, you should receive your issue shortly. If you haven't subscribed you're missing out, but you can still pick up your copy from your favorite distributor.
Along with the January issue of Latitude 38, the 2023 Northern California Sailing Calendar has been delivered to our Northern California magazine distributors.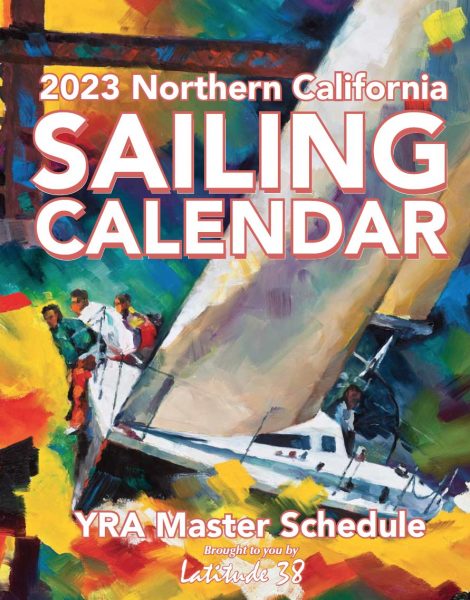 If you get yours now, you can plan your sailing menu for the year and have no excuse to miss any of the great events on the Bay. (And if by some weird twist of fate you have no idea what the calendar is, here's a link to the 2022 edition.)
Race into 2023 with CYC or CPYC
The Corinthian Yacht Club in Tiburon invites singlehanders and doublehanders to shake off 2022 with a Resolution Regatta on Sunday, January 1. Enter no later than Saturday, December 31, at noon. The course will be a figure-8 pursuit around Angel Island and Alcatraz.
Coyote Point YC in San Mateo will likewise host a New Year's Day Race, called Brrrr Rabbit (the number of r's in the *shiver* seems to vary), kicking off their 2023 regatta series, which runs most first Saturdays throughout the year. They also offer Winter Races on the second and fourth Sundays from January through March.
Oakland YC Sunday Brunch Series
OYC's Sunday Brunch Series will start on January 15 and run roughly every other Sunday until April. A speaker's series precedes the races. First up on the 15th will be Kame Richards of Pineapple Sails, a true guru of Bay Area yacht racing. He's recently downsized from the champion Express 37 Golden Moon to a Harbor 20, Obsession, which he races often on the Estuary (including in the Sunday Brunch Series). He'll share his tips on sail trim. The presentation is free, but tax-deductible donations will be accepted for the Alameda Community Sailing Center. OYC requires an RSVP; send an email to [email protected] by 5 p.m. on the previous Saturday. Note the number of people going to the presentation and the number planning to eat brunch. The talk will begin at 10 a.m.; first gun is at 12:55 p.m. Sign up for the racing at www.jibeset.net/OYC000.php?RG=T001382083.
Update as of January 6: OYC posted on their Facebook page, "Please be advised Keynote Speaker Kame Richards' talk on January 15 has been canceled. He will be rescheduling and a new date will be posted as soon as it is available. OYC is still welcoming guests for Sunday Brunch on Jan. 15. We hope to see you there."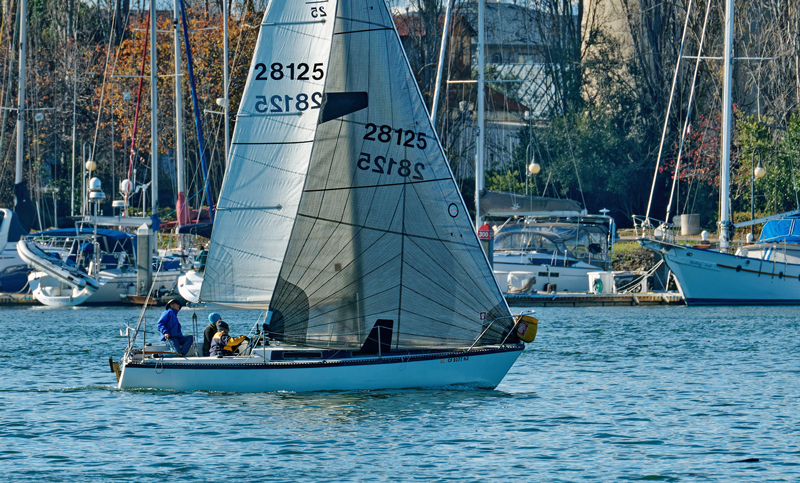 Corinthian YC Midwinters
Registration is open for the CYC Midwinter Regatta, to be sailed on January 21-22 and February 18-19. "Come and enjoy a day of great racing followed by snacks at the raft-up and a band taking you through the early evening," invites CYC. "Chef is preparing a special racers' buffet for the event. Classic San Francisco winter racing at its best."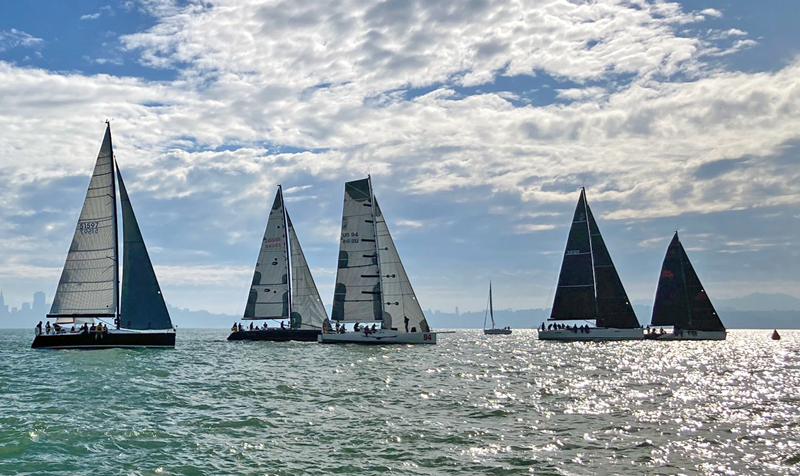 Find many more midwinter series already in progress in our Latitude 38 Calendar.
Three Bridge Fiasco — the Big One
The biggest yacht race in this part of the world returns on the last Saturday of January, this year on the 28th. The Singlehanded Sailing Society will run the Three Bridge Fiasco with a start and finish at Golden Gate YC on the San Francisco Cityfront. From there, singlehanders and doublehanders will loop around Blackaller Buoy (Golden Gate Bridge), Yerba Buena/Treasure Island (Bay Bridge), and Red Rock (Richmond-San Rafael Bridge). The competitors will choose their order of rounding — and the direction of starting and finishing. It's a strategy puzzle, a challenge as much cerebral as athletic. Registration will open on Jibeset early in January.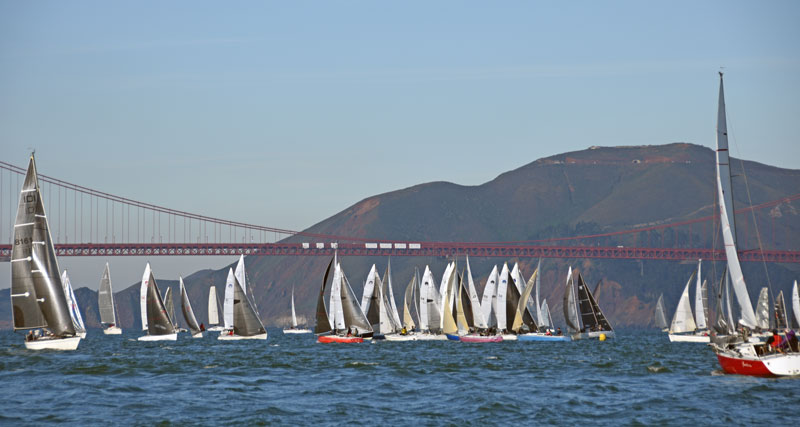 For many more races in January and for all of 2023, look for the Northern California Sailing Calendar and YRA Schedule, coming out today with the January issue of Latitude 38.
Yacht Racing Seminars
Speaking of the SSS, whether you have a Singlehanded Transpacific Race on your bucket list or not, you may be interested in an upcoming seminar on January 11 about rigging, sails and repairs at sea. The SHTP seminars are free and offered via Zoom at 7:30 p.m. Register here.
And speaking of seminars, Sequoia YC will host a North U Racing Tactics Seminar at their clubhouse in Redwood City. Andrew Kerr will lead the presentation.
SoCal So Cool
A few highlights for our friends to the south:
2021 Dufour 390 at the Docks in Alameda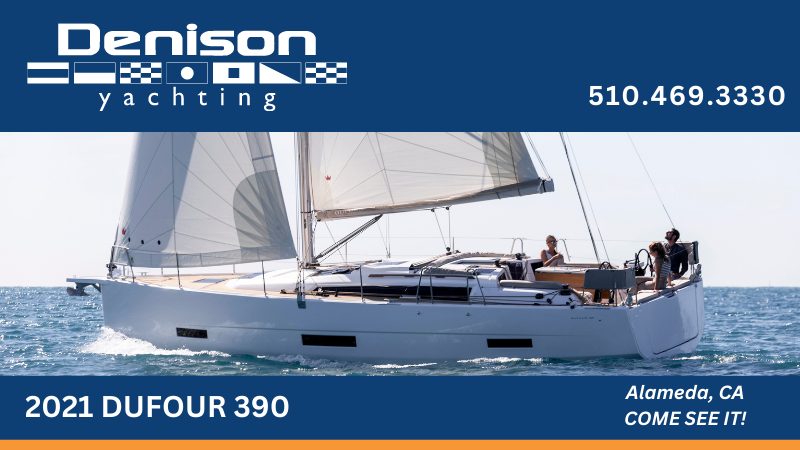 Come see our the 2021 Dufour 390 at our docks in Alameda. Call us to schedule a showing or get more information. (510) 469-3330.
Receive emails when 'Lectronic Latitude is updated.
SUBSCRIBE