On March 26, Kenichi Horie set sail upon his 6,000-mile/70-day voyage from San Francisco to Japan. The 83-year-old, who at age 23 was given a visa and key to the City after his unofficial arrival in the Bay, was treated to a farewell by a crowd of well-wishers before being accompanied out the Gate. We've been keeping track of Kenichi's voyage and want to share some updates with our readers. We hope our readers will forgive any errors, as none of the Latitude crew are native Japanese speakers and Google Translate does not recognize some of the nuances in other languages. Here goes …
Kenichi's first logbook entry talks about a storm that he encountered soon after his departure. "I was baptized by Arashi [storm] as soon as I set sail. Both rain and wind have become a little weaker, but according to the weather forecast, it will continue until tomorrow morning. Tight! I just endure it."
Suntory Mermaid III rode out the storm, and by March 28 Kenichi was enjoying the first sunshine he had seen since exiting the Bay. Weather conditions appeared favorable, with winds averaging 10 knots from the north and waves of around 3 meters (9-10 feet). "I am heading southwest at an average speed of 5 knots. Everything is going well. According to the weather forecast, stable weather will continue for the next week. Appreciated."
Before setting off, Kenichi had practiced sending emails from his device, thinking it would be an easy way to communicate, but with a moving base the procedure proved a little more difficult. "The sea was stable and the waves were about 2m [6-7 feet], but it was a narrow and swaying ship. Under these circumstances, it was difficult to write an email with a smartphone. After hitting it for a while, it felt like 'sea sickness'."
By March 30 Kenichi's thoughts had turned to organizing the stores in his tiny cabin. Fresh fruit and breads that were brought onboard on the morning of departure had yet to be allocated a proper home. "… the arrangement of the items to be loaded has changed significantly. For this reason, I was in a state of 'I don't know where it is.' It seems that every day of exploring goods will continue for a while."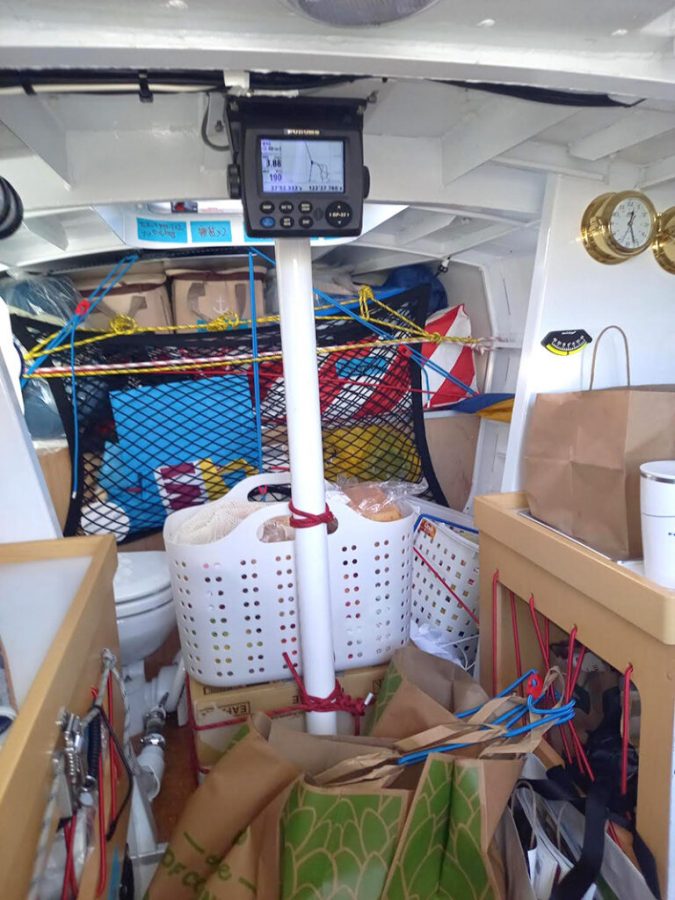 As the purpose-built, 19-ft aluminum cutter continued sailing the north winds, Kenichi attempted communications using the satellite phone, a piece of equipment he did not have aboard the original Mermaid when he crossed the Pacific in 1962. "If you don't speak Japanese for days, you will get stressed. It spit out all at once, sometimes causing trouble to the other party. Even if you can use satellite phones and keep in touch every day, 'tools' that allow you to talk with many people and get energized are now a must-have tool." And by April 2, he was able to communicate with someone on Oahu, Hawaii, and later people on the coast of Japan.
On April 3 Kenichi reported he was sailing at around 4.8 knots and that all systems aboard his boat, and he himself, were working well. "I am in perfect physical condition. So far, it is a perfect score of 100 points." Ten days into the voyage, Suntory Mermaid III was 1,850 km (about 999 nautical miles) out to sea; approximately half the distance between San Francisco and Hawaii. The seas were calm with a swell of around 6 feet. "It is a sky full of stars. Is beautiful. At night when the wind stops and there are no waves, the starry sky is reflected on the surface of the sea and surrounded. It's a breathtaking view. It's not a good condition for a yacht driven by the wind, but …" The storm a few days earlier had left Kenichi with a spell of seasickness and lack of appetite, and the light winds were appreciated.
Kenichi takes meals twice a day. "Breakfast is between 7 and 8 o'clock. Supper is served around 1800. Snacks are mainly cookies (pictured) and fruits. I regret that there are a few snacks."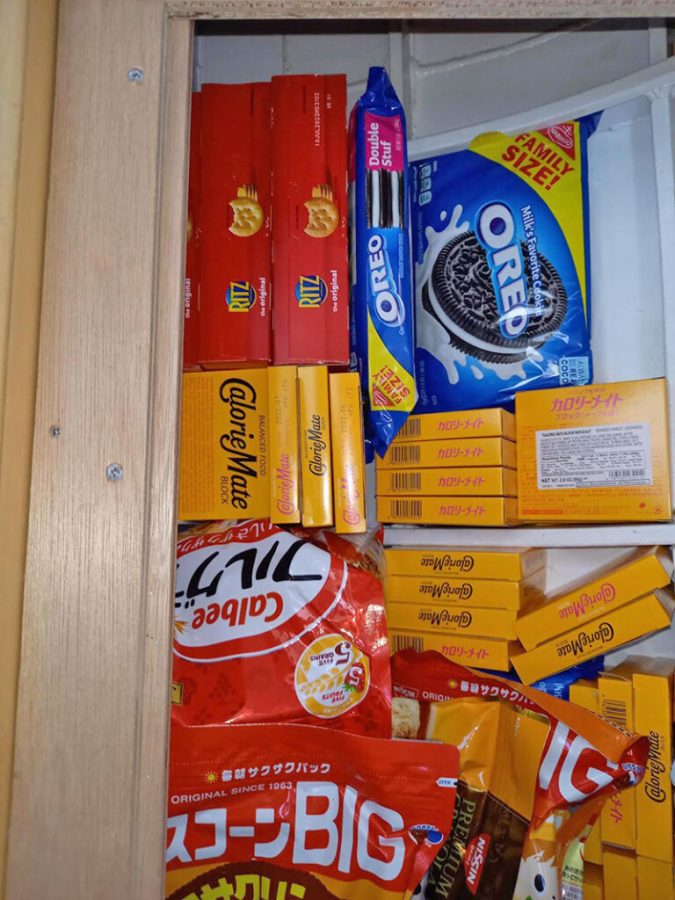 As the days pass the weather gets warmer, and, as all voyaging sailors do, Kenichi dreams about land-based conveniences. "The temperature is 20 degrees [68°F]. The seawater temperature is 17 degrees [62°F]. I want to take a shower little by little. All you have to do is draw seawater from a bucket and put it on your head. I think it's refreshing just to wash your head with seawater soap. But it's a little cold. A little more patience."

According to Kenichi's latest report on April 7, the winds are increasing and expected to peak on around April 10. "The wind speed is up to 40 knots, and the wave height is 4m. It's best to be careful."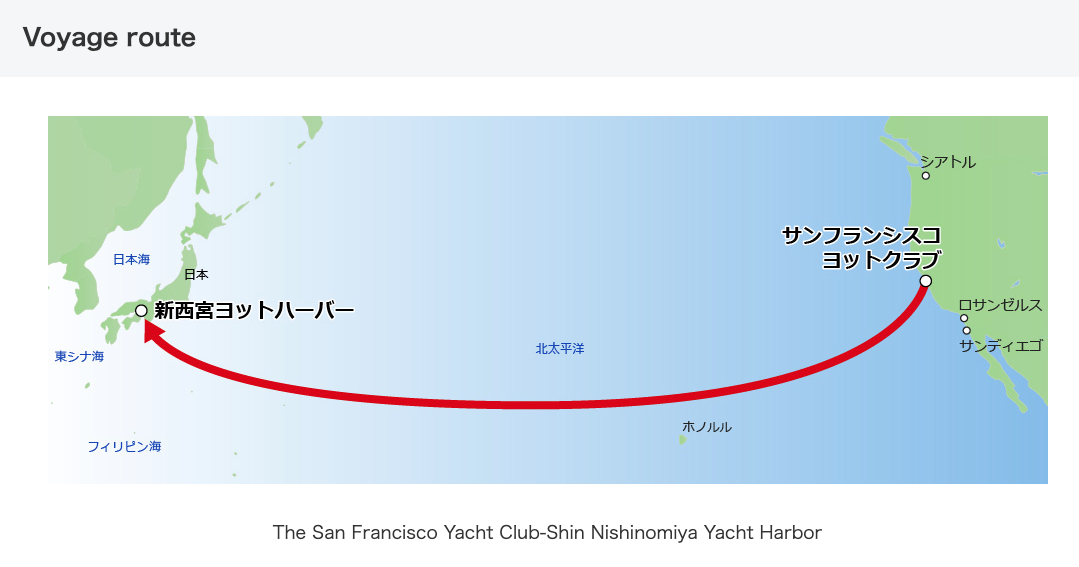 We'll be following Kenichi Horie's voyage over the coming weeks and invite you to join us. In the meantime, if you'd like to follow his journey daily, you can do so here: Suntory Mermaid III Logbook.
Receive emails when 'Lectronic Latitude is updated.
SUBSCRIBE