Back in the late '80s, we challenged ourselves by racing in the then-active J/29 fleet as skippers of John Marsh and Andy Paul's J'Ouvert Mornin. One of our most exciting and fun competitors was Peter Cunningham aboard his J/29 PowerPlay. (A member of his talented crew, Bill Dana, is the current St. Francis Yacht Club commodore.)
Peter moved away from the Bay Area to the Cayman Islands years ago, but he never moved away from competitive sailing. In fact, he's taken it to a whole new level. Peter was back in the Bay Area for California Offshore Race Week and then the Transpac in 2019, aboard his MOD70 — also named PowerPlay. While he was in the Bay Area we got a very fast ride around the Bay, but he  generously took out lots of junior sailors as well.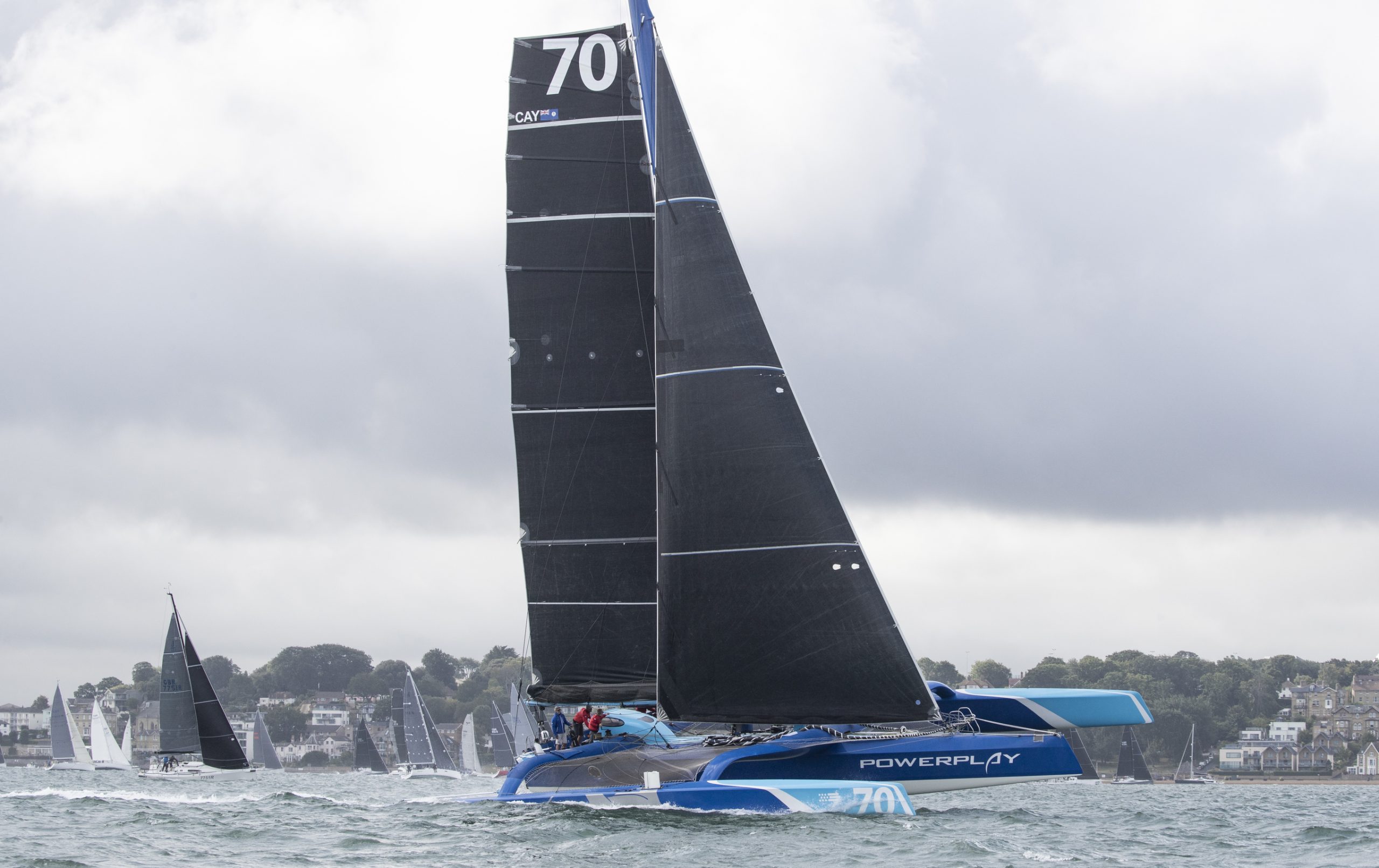 Beyond challenging the world in competitive oceangoing trimarans, Peter remains a strong force in one-design racing. We spotted his name in the results of the recent Bacardi Cup, in which he came seventh in the J/70 fleet. We emailed him to say congratulations, and Peter replied, "That was just our second race with the new team and the first with any wind." Clearly, they're going to be a force to reckon with when they take part in the J/70 Worlds coming up at California Yacht Club in Marina del Rey this August.
Meanwhile, he updated us on his MOD70 plans, saying, "Now in UK on the Solent with the MOD70 to try for some records, as nothing much else seems to be happening. We hope to be the first to go 'round Isle of Wight in under 2 hours. We went out for a training spin on Monday and hit 38.2 knots — blew out all the cobwebs! Hope all is well at L38; I still read it." Wikipedia shows the current record as 2 h 22 m 23 s, set in 2017 by the MOD70 Concise 10.
Peter Cunningham was both fun and impressive on San Francisco Bay in the '80s and continues to be so today.
Receive emails when 'Lectronic Latitude is updated.
SUBSCRIBE