The Dana Point-based tall ship Pilgrim, an iconic replica that has served as an education platform for hundreds of thousands of students, sank at her dock on Sunday. The cause is unknown.
"We are very sad to announce that Pilgrim, our beloved vessel that has served as an inspiring real-world classroom to hundreds of thousands of students and visitors, keeled overnight in her slip on our dock, rendering her useful life over," said Ocean Institute, the nonprofit that operated the Pilgrim. Ocean Institute president Wendy Marshall added that Pilgrim is "incapacitated beyond repair," according to the Dana Point Times.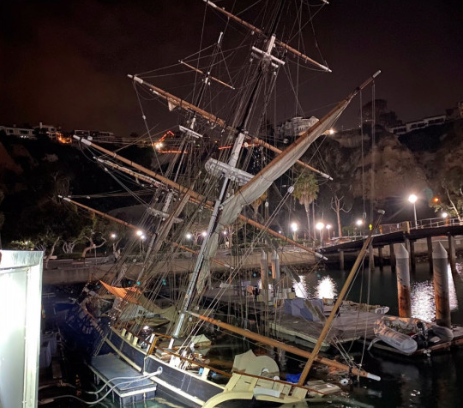 The 98-ft Pilgrim is a "full-sized replica of the merchantman brig immortalized by Richard Henry Dana Jr. in Two Years Before the Mast."
Several news outlets have reported that the Pilgrim was hauled out and surveyed in 2016. Ocean Institute began a fund to support the haulout and repair scheduled to take place in January 2020. That work was postponed until June due to overload at the yard," NBC Los Angeles reported.
The original Pilgrim was built in 1825 and sailed from Boston to California in 1834, according to the Dana Point Times. Richard Henry Dana sailed aboard her as a common seaman, and would go on to pen one of the greatest seagoing novels of all time. "This Pilgrim, a replica, was built in 1945 in Denmark for lumber trade. In 1975, the ship sailed to Lisbon where it was converted to its latest rig," the Times said.
"The replica Pilgrim came to Dana Point Harbor [which, of course, was named after Richard Henry Dana] in September 1981. The Pilgrim provided national award-winning living history programs to the students and helped celebrate maritime history in the annual Tall Ships Festival each September," the Times added.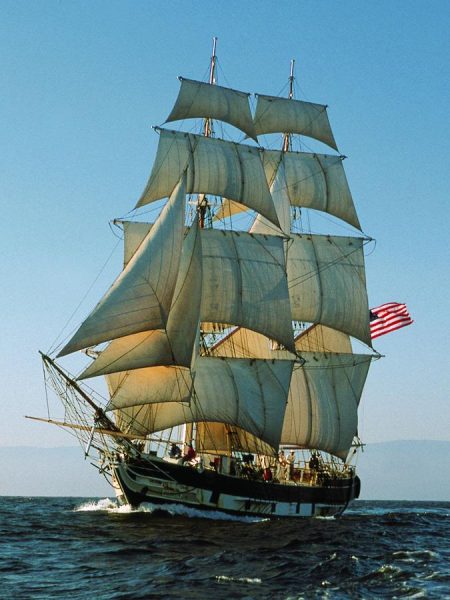 "We are sad to bid farewell to this iconic vessel which has been such an important part of Ocean Institute's programs and to the children that they served," Wendy Marshall said. "Our staff was informed this morning and we all feel like we lost a dear friend, as I am sure many of you do."
Did you ever sail on the Pilgrim? Please let us know by commenting below, or writing us here.
According to the Dana Point Times, the Ocean Institute is also welcoming stories, images and other posts from patrons and visitors on how the Pilgrim made an impact on sailors over the years. "You can either post on social media with #brigpilgrim or email [email protected]."
Receive emails when 'Lectronic Latitude is updated.
SUBSCRIBE