Who us? Nah, we've never done anything like that.
We were looking at some past issues of Latitude 38 when we came across some stories from July 2002. There's always a lesson in them.
Ken Brandt wrote:
"One of the first things I learned from my dad was that in times of panic you should let go of the mainsheet and tiller and your sailboat will head up to park herself while you collect your wits.
"During my teens, I was enjoying the freedom of escaping to Long Island Sound in a borrowed Sunfish on a summer vacation. Sailing downwind in light breezes a half mile offshore, I had the daggerboard on the deck, when a swell tipped the boat and the board slid off. I hesitated a split second while imagining my options. I didn't think I could sail upwind to the board without it in its trunk so I dove off to retrieve it knowing my boat would park herself and wait for me, right?
"With the daggerboard in hand, I turned to swim for the boat and was horrified to see it sailing merrily away — it had no board for the sail to pivot around, which would have allowed it to park! Luckily, an adrenaline-fueled swim reunited me with my ride. Ever since I have always been sure to wear flotation."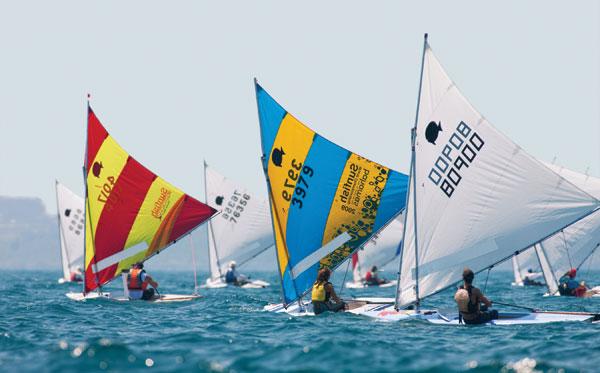 Michelle Slade wrote:
"The dumb thing that happens to me regularly on a boat is that someone asks me to pour cocktails."
Seventeen years later Michelle wrote last month's story on Rob and Andi Overton, and has a feature coming out in the January issue on Monday about Bill and Melinda Erkelens.
Got a sailing gaffe you want to share? Like us, probably not. Or maybe you really do. If so send it here. We'll have a few more on Monday and Friday next week.
Receive emails when 'Lectronic Latitude is updated.
SUBSCRIBE