Hitching Another Ride Back Across the Atlantic
Worlds are colliding. In her search for low-carbon transportation, climate activist Greta Thunberg is hitching a ride on another sailboat — this time with well-known sailors. Thunberg will jump aboard the 48-ft Outremer 45 La Vagabonde with YouTube sensations Riley Whitlum, Elayna Carausu and their new baby Lenny, as well as Englishwoman Nikki Henderson. "La Vagabonde will take roughly three weeks to reach Spain, where Ms. Thunberg hopes to arrive in time for the next round of United Nations-sponsored climate talks," The New York Times reported.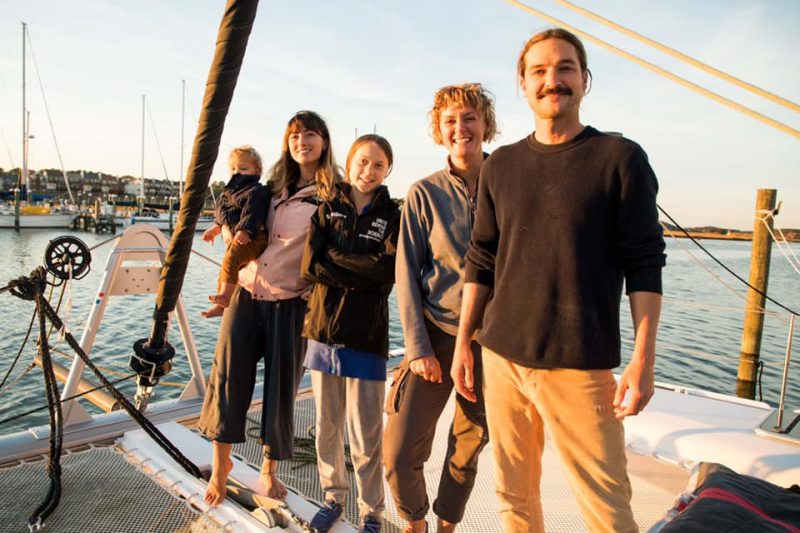 "'I decided to sail to highlight the fact that you can't live sustainably in today's society,'" Ms. Thunberg said by phone from Hampton on Tuesday afternoon. 'You have to go to the extreme,'" the Times added.
"We're about to sail Greta Thunberg across the Atlantic," says the La Vagabonde Facebook page. "A spontaneous decision to move our home across the other side of the ocean, but I mean we love Europe so we're looking forward to some Caldo Verde upon arrival. Setting sail at 7:30 a.m. [today]. You can track our live progress directly at sailing-lavagabonde.com once it goes live tomorrow morning!".
In August, Thunberg sailed from Europe to New York aboard the IMOCA 60 Malizia II; she spoke at the United Nations. Thunberg has since "travelled across the Americas by overland train and an electric car borrowed from Arnold Schwarzenegger," according to The Guardian.
Coast Guard Soliciting Feedback About Harbor Bar Entrances
The United States Coast Guard is asking for public comments about proposed safety requirements at several bar entrances in Central and Northern California. "Regulated navigation areas are being proposed for the harbor bar entrances to Crescent City Harbor, Humboldt Bay, Noyo River and Morro Bay," a press release said.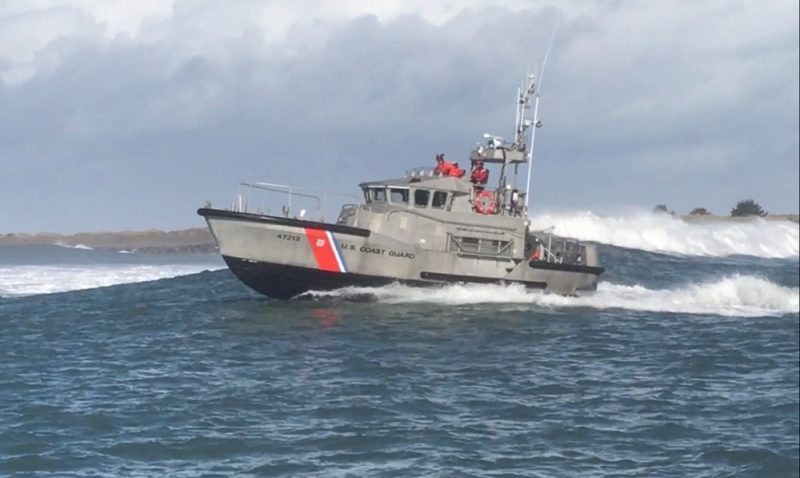 The proposed new rules would "create additional safety requirements for recreational and small commercial vessels operating in these areas during periods of hazardous conditions, such as high wind or breaking surf, as well as establish clear procedures for restricting and closing these harbor bar entrances in the event of unsafe conditions," the Coast Guard said, adding that comments should be made prior to December 9.
"Further information regarding the proposed Regulated Navigation Areas is available from Lt. Andres Ayure, the 11th Coast Guard District Waterways Management Aids to Navigation operations officer; by email at [email protected], by phone at (510) 437-2982, or by mail at Commander, 11th Coast Guard District, Waterways Management Branch (dpw), Bldg. 50-2, Coast Guard Island, Alameda, CA 94501-5100, Attn: ATON Operations Officer."
As AC75s Go Up and Foil, They Must Come Down and Crash . . .
What goes up . . . must come down. We think that's, like, a rule of physics . . . or something (we'll be sure to ask Max Ebb). As the AC75s have started to hit the water in earnest, they have really hit the water in earnest.
Last week, Emirates Team New Zealand's AC75 Te Aihe had "another high-speed smash while training in moderate to fresh winds on the Hauraki Gulf," Sail-World reported. "The incident happened in a steady sea breeze (NE) of around 18kts, with some chop/wind waves with no accompanying swell. The nosedive happened very quickly while the AC75 was sailing at very impressive speed to windward and suddenly nosedived. The sequence was caught on camera, at long distance, by Sail-World NZ. Please excuse the graininess of the images."
There is no video of the crash and splash, but the picture is certainly worth a handful of words: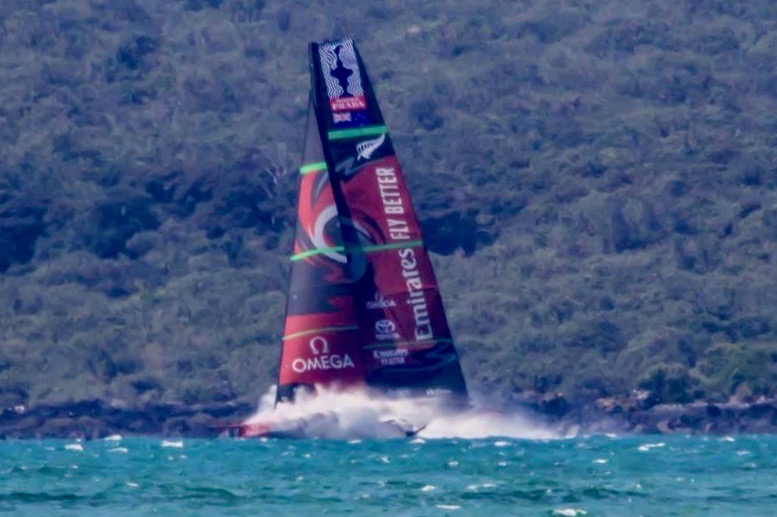 "After a pausing sailing for a few minutes, presumably to check and mark the data stream, and converse with design engineers on the chase boat, the AC75 took off again sailing very quickly to windward, before turning downwind and sailing at high speed without further nosediving," Sail-World continued. "The incident was later dismissed as 'learning.'"
Since video is worth, like, maybe 400 pictures, we thought we'd leave you with this:
Receive emails when 'Lectronic Latitude is updated.
SUBSCRIBE