Catching Up with the Leukemia Cup Perkins Challenge
At the end of October, St. Francis YC staff commodore John McNeill sent us a photo and a few additional bits from the Leukemia Cup that we didn't include in our reporting right after the event. Though this is late, we wanted to share these nuggets from the race, as well as the fundraising results.
Beyond the Leukemia Cup itself (which was on Sunday, October 20, this year), McNeill pointed out there's another part of the event that deserves coverage. The Tom Perkins Challenge was sailed in the club's J/22 fleet on the Cityfront on Saturday, October 19. StFYC hosts the Challenge each year.
The Challenge fleet of seven sponsored boats completed five races, featuring a close competition between StFYC board chairman Paul Cayard and junior member Liam Kilroy. Young Liam prevailed by a slim margin. Amazingly this is Liam Kilroy's fourth Perkins Challenge win.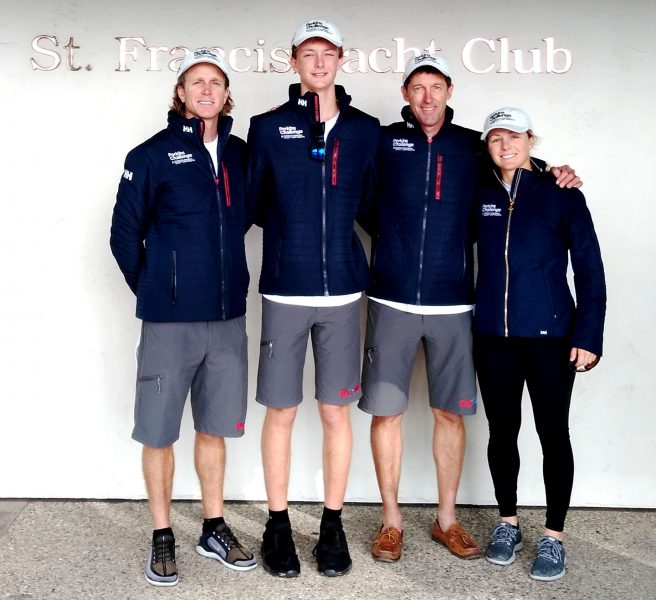 Perkins Challenge results:
1) Kilroy, 1 1 2 2 2, 8 Points
Liam Kilroy, Steve Hunt, Stephanie Roble, Malcolm Page
2) Wells Fargo, 4 2 3 1 1, 11 Points
Paul Cayard, Molly Carapiet, Maggie Bacon, Jacob Heiw
3) Hannig Law, 2 5 1 5 3, 16 Points
Bill Melbostad, Ryan Simmons, Tim Russell, Nick Dugdale
4) Diversified, 3 3 4 4 4, 18 Points
Caleb Yoslov, Duane Yoslov, Ellise Smolenyak, Noah Barrengos
5) LLS, 5 4 5 3 5, 22 Points
Chris Kostanecki, Matt Frymier, Nicholas Sessions, Will Foox
6) Accel, 6 6 6 6 6; 30 Points
Jen Browne, Larry Swift, Shaum Sinawi, Joel Aves
In addition, 101 Surf Sports hosted the SUP Cup the following weekend, with John Dye winning the long-course division out of 46 competitors and Kris Muller winning the short-course division out of 23 competitors.
The Bay Area Leukemia Cup succeeded in raising over half a million dollars for the fight against blood cancers. That effort sent San Francisco to the top of the national Leukemia Cup fundraising ranks for the 13th year in a row. Out of 40 Leukemia Cup events nationwide, the Bay Area again holds on to the Jobson Cup, awarded to the top Leukemia Cup fundraising event in the country.
Congratulations to all the winners, and especially the successful fundraisers for the Leukemia & Lymphoma Society.
Receive emails when 'Lectronic Latitude is updated.
SUBSCRIBE