Maiden was more than another entry in the 1989-90 Whitbread. Maiden is more than a thrilling and wildly successful documentary about the first all-female crew racing around the world. Maiden the boat, a 58-ft 1979 Bruce Farr-design Disque D'Or III, is alive and well, and the mothership for The Maiden Factor, a 30-plus city world tour to raise money for charities working to provide an education for young women in need.
And . . . for the cherry on top  . . . Maiden just arrived in the Bay Area on Monday. The boat will be here until the end of August.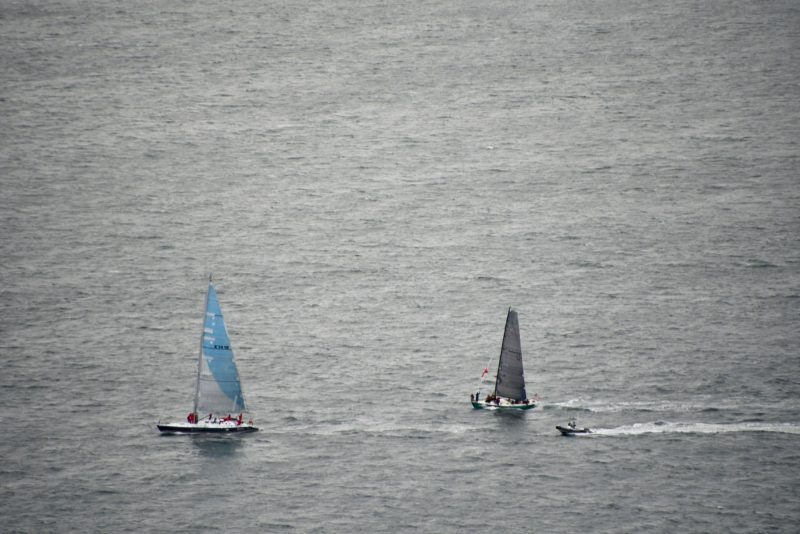 Maiden arrived at the St. Francis YC docks on Monday evening at about 7 p.m. after slipping under the Gate on a gray, chilly evening. The all-female crew consists of full-time professional sailors, each of whom is an ambassador for one of six affiliated charities, as well as guests who crew for legs of the voyage.
Maiden's route has taken them from England, through the Med and Suez Canal, and across the Indian Ocean to Fremantle, Australia, Auckland, NZ, Vancouver, Seattle and now San Francisco. And that's just the start. Crewmembers Courtney Koos (USA) and Matilda Anjanko (Finland) said the run down from Seattle was generally brisk, though the wind ran out 24 hours away from San Francisco and, as always, picked up on their final approach against a strong ebb running out the Gate.
Latitude has been invited to join Maiden and her crew for a sail on the Bay tomorrow, so stay tuned for part 2 in Friday's 'Lectronic.
Maiden will remain in San Francisco for a program of speaking engagements, tours of the boat, crew changeovers and the usual ongoing boat maintenance. If you want to step aboard, you'll have the opportunity this coming weekend. And if you haven't seen it yet, we recommend catching Maiden the movie prior to your visit.
Maiden's Bay Area Schedule
Saturday, August 24 — Open Boat Tour at St. Francis Yacht Club. Maiden will be open to the public. You'll find on the club's guest dock in the San Francisco Marina. Come aboard and meet the crew from 11 a.m. to 3 p.m. Maiden's San Francisco Open Boat was originally planned for South Beach Yacht Club. But, due to the tides at Pier 40 and the keel's draft, it's been moved to StFYC.
Sunday, August 25 — Open Boat Tour at Richmond Yacht Club from 12:00 p.m. to 4:00 p.m.
Friday, August 30 — Maiden Departure from St. Francis Yacht Club from 8:30 a.m. to 9:30 a.m.
After leaving San Francisco, Maiden will sail down the coast to L.A. and then continue her voyage around the world via Cape Horn.
Correction: Tracy Edwards, Maiden's original skipper and star of the film, was scheduled to be at South Beach Yacht Club on Saturday, but her appearance has since been canceled. 
Receive emails when 'Lectronic Latitude is updated.
SUBSCRIBE