Randall Reeves Punches Through the Northwest Passage
"One big chapter in the Figure 8 is closed," wrote Randall Reeves on his blog yesterday. "Just a quick note to report that Mo is through the ice and sailing fast on a north wind for Cambridge Bay, 235 miles southwest."
Reeves has been jumping around in the narrative in his posts. Yesterday, he shared the message you just read. Today, he's begun a detailed recounting of the full story. And only a few days ago, Reeves wrote about preparing to encounter his first pack ice — an expanse of large pieces of floating ice driven together into a nearly continuous mass, according to the dictionary — which caused him no small degree of trepidation.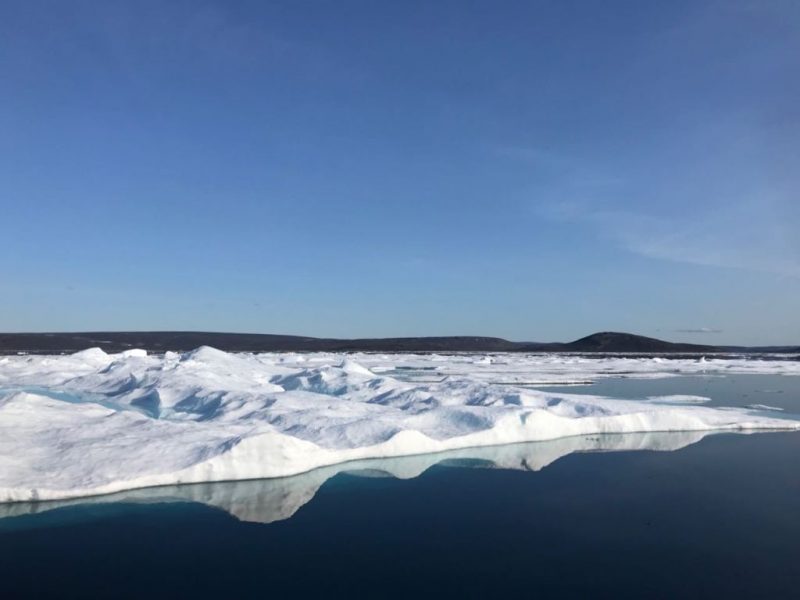 Making it through the Northwest Passage is not a given, and for Reeves, reflected a stark difference between the south and north legs of his Figure 8 Voyage. "In the south we were following the wind, at least. Mo was in her groove, and if a particular low was hell on wheels, I just had to keep my bird floating and hang on. Eventually an Ushuaia or a Hobart would hove into view. Here we are decidedly pushing against the flow, a flow with hard, pointy teeth that has not met its match in boats this small. It may or may not spit us out the other side."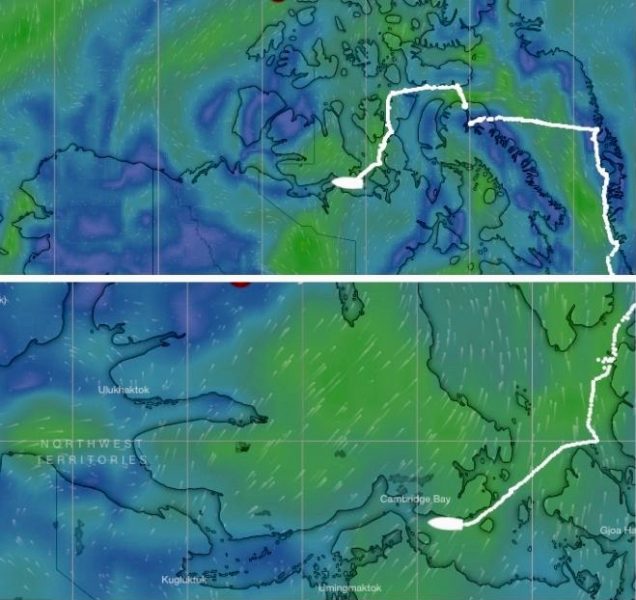 Singlehanding through the Northwest Passage is even less of a given. It has been done, but sailing alone makes an already challenging proposition monumental in scope. Given the increasingly narrow and icy transit through the Canadian Arctic Archipelago, Reeves had to resort to long shifts of hand steering. "The day's mirage picks up this image and makes it look like a tidal wave of white rolling toward us. Now we are in it, solid 5/10ths ice. Still, with care and concentration I am always able to find a lane just when it is needed. We weave back and forth; I am pulling on the tiller as though it were the handle of an oar. It is exhilarating. And still we are at full speed. Ice goes thin then thick then thin again. Hours pass and I am still working the tiller.
"I have been hand steering for nearly 12 hours and can feel the fatigue in my leaden eyes. My thighs feel shaky. In the dusk ahead I see a long, dark opening. There is white further on but it must be a whole 10 minutes distant. I flip on the autopilot, drop below, and set the alarm for a five minute nap. I collapse against a bulkhead; am immediately asleep.
"On the fourth minute there is a heavy crashing sound. Mo shudders as if hitting a wall. She stops dead. The engine grinds right down. I leap for the throttle and back her off and then look forward. There Mo and ice the size of a car are drifting as if dazed. But the ice block has been split in two."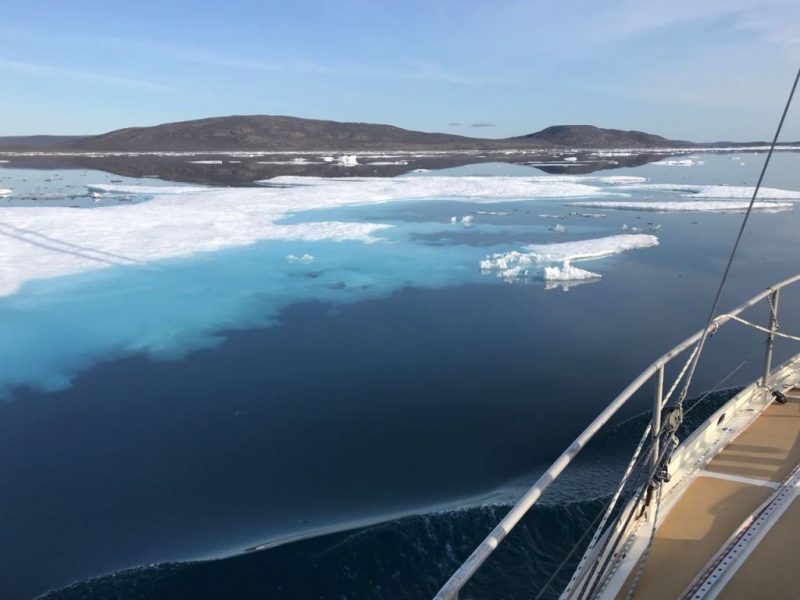 Fast forwarding a bit, Reeves apparently pushed through the last section of heavy ice with a group of boats that are transiting the Passage. "We've all been sweating bullets over this last 30 miles of ice," Reeves said, "and for four days I've been underway and hand steering for 18 to 20 hours a day through 3 – 5/10ths ice to get here. Only a few hours sleep a night this last week.
"As it turns out, [it] was a piece of cake. We saw huge ice floes the size of city blocks but with wide lanes in between. [Two other boats] sailed downwind without trouble with Mo bringing up the rear under power just in case. We got underway at 2 p.m. and by 6:30 p.m., we were in open water."
Whereas Reeves' eight-month nonstop Southern Ocean loop was bookended with massive Pacific and Atlantic passages, his time in the North has been marked by dramatic, outlandish anchorages, constant stops to replenish fuel, a nonstop study of icebergs, and hiking. Reeves seemed to be on foot the last few weeks as much as he was onboard Moli making precious miles back to the Bay.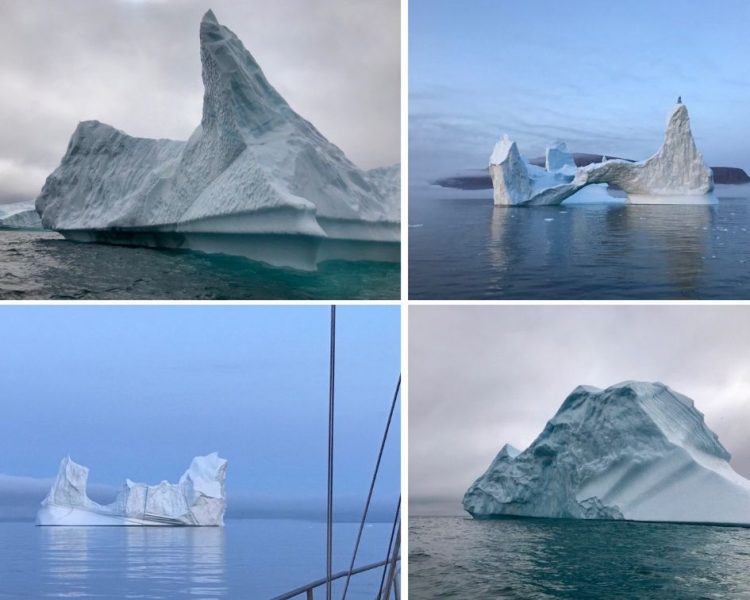 On August 10, Reeves found himself at an especially tucked-away anchorage. " An Inuit camp in the southeast arm and an empty fuel barrel on a near beach suggest we are not the first humans to discover this gem. But as neither the charts nor the Pilots give this spot a name, I do: Hatt Trick Harbor, a nod to the northern Cape and the fact that this is really three excellent anchorages in one.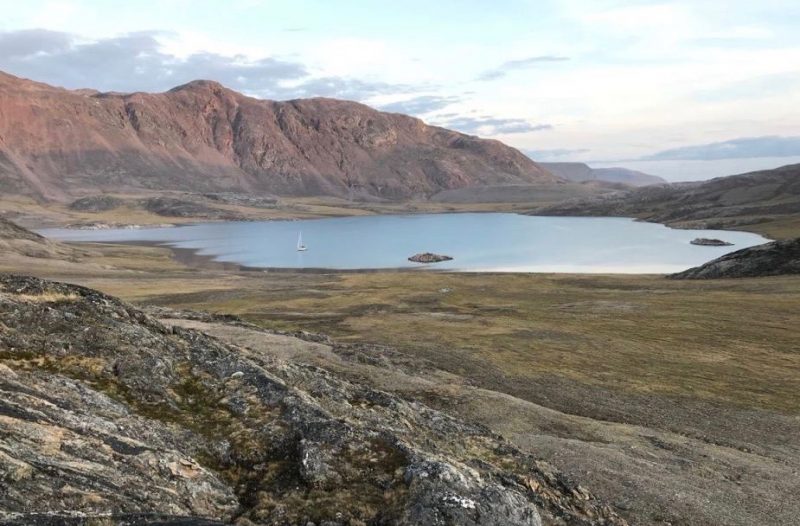 "All is indeed landlocked, profoundly landlocked," Reeves wrote of 'Hatt Trick.'  "Here we feel not the tiniest hint of the rolling chop and crashing breakers outside. And from where Mo sits on the hook, I can't see the entrance or even where one might be. It is as if we had been transported in an instant to a high desert lake."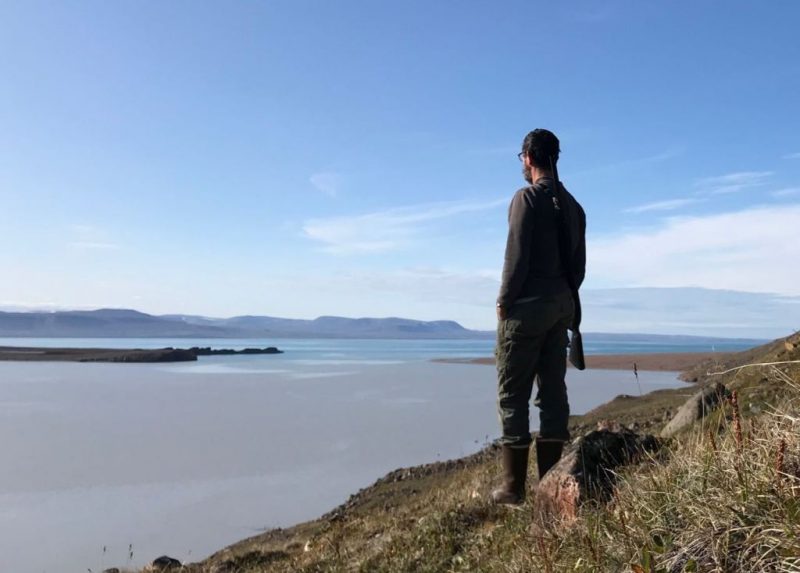 "The fine, long days have monkeyed with my sleep schedule as much as the travel," Reeves wrote. "Back at Hatt Trick Harbor, my evening hike lasted until 1 a.m., when the sun at last dipped behind the ranges to the north. Now I never rise before eight o'clock."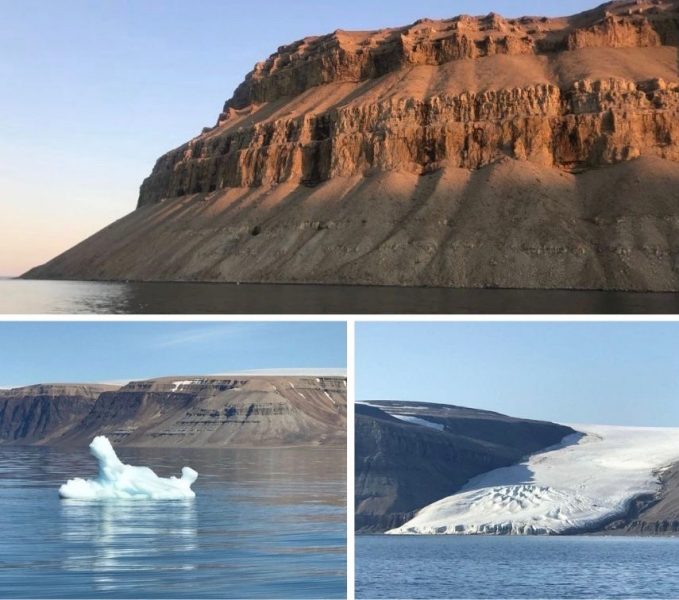 Reeves said that one long chapter of the Figure 8 remains: "The 4,000-mile slog home."
Meanwhile, on SV Nereida . . .
We'll have an update soon on Jeanne Socrates, who is zeroing in on her return to the West Coast.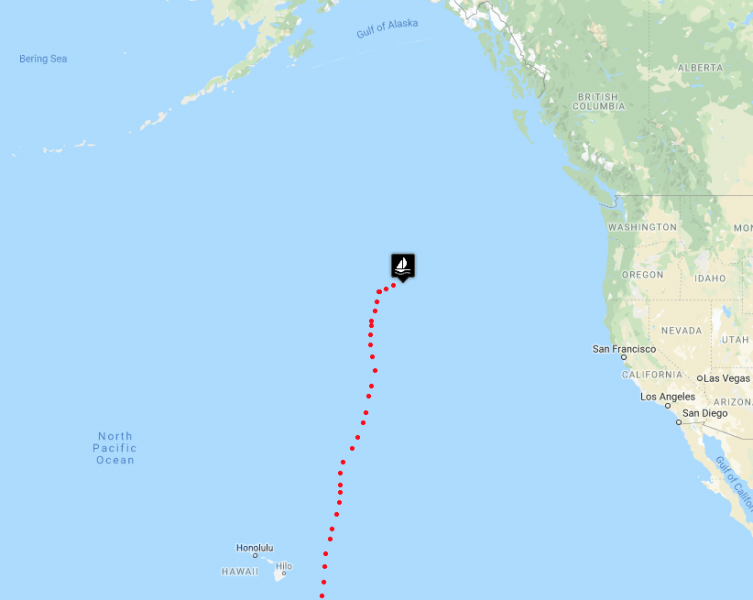 Receive emails when 'Lectronic Latitude is updated.
SUBSCRIBE