Back in late March, a sail drone made the first-ever autonomous rounding of Cape Horn. Richard Jenkins, the CEO and co-founder of the Alameda-based Saildrone, said that the vessel, known by the designation SD 1020, had been "released from New Zealand two months ago, and is on track for a six-month circumnavigation of Antarctica." The drone had been "bouncing off a few icebergs in 'iceberg alley', so it has been a bit tougher than expected, but still going strong."
On Saturday, 1020 completed that mission, a 13,670-mile, 196-day circumnavigation of Antarctica — marking another first-ever in autonomous seafaring and "a technological feat that was unfathomable just a decade ago," according to the National Oceanic and Atmospheric Administration, or NOAA, which partnered with Saildrone for the mission. Saildrone said on its website that "SD 1020 survived freezing temperatures, 15-meter [50-ft] waves, 130 kph [80 mph] winds, and collisions with giant icebergs." The sail drone was collecting a range of data on weather, seal and krill populations, and levels of CO2 in the air and water, according to the NOAA press release.
"On four previous voyages in the Southern Ocean, the wings on our saildrones broke after just a few days, so we went back and built something we thought was indestructible," Jenkins was quoted as saying in the press release. "It was a long shot, but it worked out exactly as we hoped."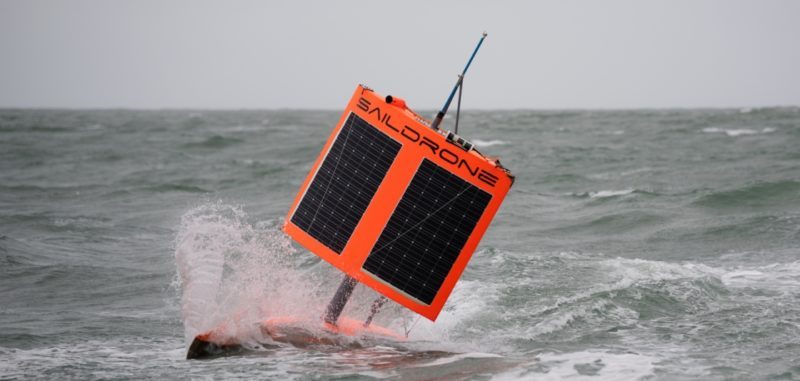 Sail drone 1020 was part of a three-vessel fleet that departed New Zealand on January 19. The other two sail drones, 1022 and 1023, which were initially forced to return to port for repairs, are en route around Antarctica again.
"Until recently, scientists assumed that the Southern Ocean steadily absorbed large volumes of CO2 from the atmosphere — a big contributor to the entire ocean's uptake of up to 40% of the greenhouse gases driving global warming," NOAA said. "However, scientists also knew shifts in winds and circulation around Antarctica could alter CO2 uptake from the atmosphere, and recent measurements from instrumented Argo floats [buoys packed with scientific instruments] showed that under certain conditions the Southern Ocean could emit CO2 instead of absorbing it."
In our August 2018 interview at Saildrone, chief operating officer Sebastien de Halleux said that humanity is moving toward a "quantified planet," where the abundance of data will start to lead toward incremental epiphanies that will be significant in the aggregate. Statistics about CO2 levels might seem too academic to be relevant, but such data can become the building blocks that lead to innovation. "We know more about other planets than our own," de Halleux said in a 2017 TEDx Talk. With the completion of this latest mission, Saildrone hopes to unlock more of the planet's secrets.
We tip our hats to the many Bay Area sailors who are part of the Saildrone team.
Receive emails when 'Lectronic Latitude is updated.
SUBSCRIBE