We are saddened to report the loss of Peter Bailey's lovely yawl Bertie, which was capsized by what he believes was a white squall 65 miles off Atlantic City, New Jersey, at about 8 p.m. on May 29. Bailey and his wife, Heidi Snyder — the only ones aboard at the time — managed to activate their EPIRB and were rescued about three hours after the capsize. At that time, Bertie was on her side and awash, but still floating.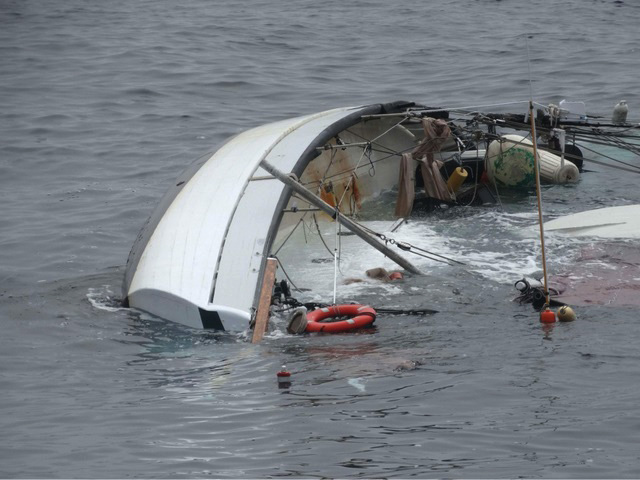 "We were literally swamped and swallowed under within 60 seconds," said Bailey.
The couple was not seriously injured and was released from the hospital after being checked for hypothermia. They both expressed gratitude to the Coast Guard and hospital staff.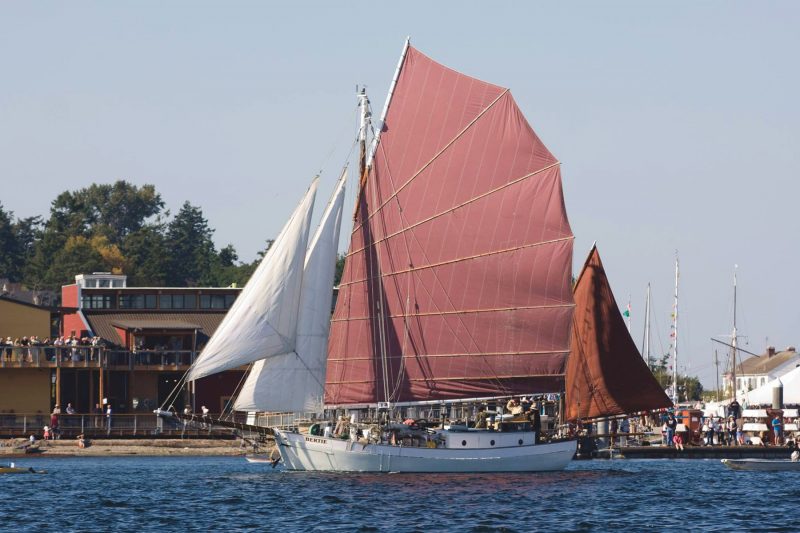 Bailey built Bertie — a 39-ft LOD modified version of Joshua Slocum's famous Spray — over seven years in the late '70s and early '80s at Sausalito's Gate 3 Co-op. The boat was launched on July 11, 1984 and christened by her namesake, his grandmother. The boat, with her tanbark sails and unusual rig — a fully-battened Chinese lug main and a gaff mizzen — was easy to spot sailing the Bay for years afterward, and she always looked impressively trimmed, shipshape and well cared for.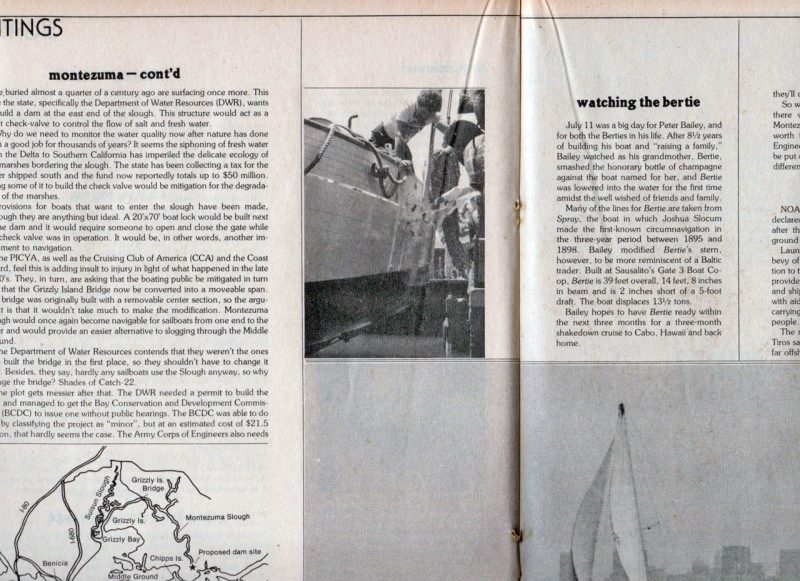 We're not sure when Bailey and Snyder sailed her out of the Bay, but according to reports following the capsize, they were on the last leg of a circumnavigation. They were headed from the Bahamas to Boston when the squall hit.
The couple lost everything but the literal clothes on their backs. If you want to help them get back on their feet, check out their Gofundme page.
What is a white squall?
A white squall — also occasionally referred to as a microburst — is "a sudden and violent windstorm in tropical or subtropical waters, which is not accompanied by the dark clouds generally characteristic of a squall." The name refers to froth on the water that is easily seen as it approaches.
We once thought this was an old sailor's tale until we were clobbered by what could have been one in the Caribbean in the mid-'70s. It came out of nowhere on a partly cloudy day, and, as noted, you could see the water whipping up as it approached. About all we had time to say was, "WTF is tha…?"  before the boat we were on — a heavy-displacement 60-ft ketch — was laid over on its ear. Luckily, we were motorsailing (the wind was light seconds before), with only a steadying sail up, and Mar popped right back up. It was all over in about half a minute. It scared the hell out of all of us, as none of us had ever seen anything like it before (or since, for this writer), and it was only years later that we heard the term 'white squall'.
The loss of Bertie to a possible white squall reminds us of two other incidents in which boats — and in these two cases, lives — were lost. The first was the loss of the original Pride of Baltimore, a 135-ft recreation of a Baltimore Clipper, which was capsized by a reported white squall about 250 miles north of Puerto Rico in 1986. Four of her 12 crew, including the captain, perished. In 1961, the 92-ft brigantine Albatros — once owned by author Ernest Gann — was capsized off Yucatan in what then-captain Christopher Sheldon called a white squall. Six of 18 people aboard went down with her. Both these incidents also occurred in May.
If you have had any direct experience with a white squall, or a phenomenon like it, we'd like to hear about it.
Receive emails when 'Lectronic Latitude is updated.
SUBSCRIBE